Last Updated on
Our editors independently research the best products online to produce this list. We may receive commission on purchases made from the links below but this will never affect our product choices.
---
Top 10 Best Binoculars for Safari
When you're out on the plains searching for wildlife, having the best binoculars for safari will ensure you make the absolute most out of your trip. Whereas cheap binoculars can leave you struggling with blurred or discoloured images, a top-quality pair will bring your subjects into close, crisp focus. 
Choosing the most suitable binoculars for your wildlife spotting adventures isn't easy, especially if don't know where to start. Should you opt for ED glass? What magnification level is best? And when tracking down lions, are lightweight binoculars and multi-layered lenses really that important?
Don't panic. In this guide, we have collated a list of the top-rated binoculars for safaris and reviewed each one in detail. We have also included a buying guide to help you find the best travel binoculars for your upcoming adventures.
How We Compared Binoculars for Safari
To find the right binoculars for Safari, we considered multiple factors, including:
Magnification
Quality of image
Ease of use
Size and weight
Our experienced team created the following list after spending countless hours researching products and fact-checking customer reviews. We carefully chose a range of products suitable for every nature lover out there, analysing and assessing the comparison points above.
To know more about our review process, have a look here.
Binocular for Safari Reviews
Our overall winner for the best safari binoculars is the Nikon Aculon A211. This model has a sleek ergonomic design that is crafted to be comfortable to hold, perfect for those bumpy rides in the jeep. 
This model offers a generous 8-18 x magnification. This is more than enough to bring all the big game into closer view without the need to creep closer and disturb your quarry. The aspherical eyepiece also performs well at limiting image distortions. This works right at the edges of the field of view, so you get to see everything in crisp detail. 
The multilayer lenses provide clear, beautiful images that are bright and true to colour. Therefore, you won't miss out on any of your big game sightings. The rubber eyecups are also comfortable to adjust to your liking. 
Despite its high level of performance, this model is not bulky or heavy as you may expect. In fact, it is compact and incredibly lightweight at just 350 grams. This makes it an excellent option for carrying with you during long days in the bush. 
Another great feature of this binocular is its ruggedness. It boasts cleverly designed rubber armour. The armour acts as an effective shock absorber to protect it from damage should it get dropped.
On the downside, this model lacks waterproofing or even water resistance. This omission is disappointing, considering its numerous benefits. Some users have also commented that the lens caps may not always stay in place, so this may leave the lenses open to scratches. 
Pros:
The ergonomic design is comfortable to hold
Lightweight and compact 
Multilayer lenses provide great detail for wildlife viewing
Rugged, shockproof armour
Cons:
It may be improved by waterproofing
Lens caps may be prone to falling off when stored
Our winner of the luxury choice title is the BUSHNELL LEGEND 10X42 binoculars. This model impressed us with its top-quality engineering, modern design and attention to detail. 
With a 10x magnification, the Bushnell Legend is a fantastic option for getting up close to the big five! The glass objective lenses are made from prime ED glass, which is multi-coated for crisp, high-quality images and excellent resolution wildlife viewing. This model is perfect for game drives at dusk or bright midday. At all times, the lenses will give you great levels of contrast and brightness, and maintain natural colours.
Unlike the NIKON ACULON above, this model does boast waterproofing. It has what Bushnell calls "RainGuard Technology." This defends against fogging, repels water from the lens, and guards against troublesome fingerprints ruining your view. 
On top of this, the Bushnell is ergonomic and comfortable. But it's also super tough, so it can withstand everything Africa has to throw at it. The rugged coating is designed to protect the internal parts from damage caused by drops, bumps or falls.
We also like that they also offer a no questions asked warranty. So, even if the worst happens, you should be able to get a replacement. 
Unfortunately, some users have found that the durability of the dioptre ring may leave a little to be desired. In addition, the focus wheel can be a little noisy when turned.
Pros:
Great magnification levels
Top-quality ED glass optics lenses
Waterproof and fog-resistant
Ergonomic and highly-durable
Cons:
The focus wheel can be a little noisy
The durability of the dioptre rings may be disappointing
Next up is our pick for the title of best value safari binoculars. We have chosen the ADASION 12X42 for this category, as it packs many features into an attractive design. 
The BaK4 16.5mm roof prism system allows you to enjoy as much as 32% more light than a 12.5mm model. This feature enables you to see the image quality much more clearly, even on low light safari game drives. The fully multi-coated lenses give crisp results and enhanced clarity. 
We also liked that this model comes complete with a bonus tripod smartphone adapter. You can photograph/film through the lenses and keep your African safari wildlife encounters as memories for later years. The smartphone adapter is suitable for all leading smartphone models, so the chances that your mobile won't fit are slim. 
This model also boasts large, adjustable eyepieces, making it comfortable to use. They are pretty lightweight at just 560 grams and easy to carry with you on day trips. They come with a carry strap and a sturdy carry case for your convenience. 
In terms of drawbacks, the ADASION 12X42 could have a better field of view. It's also a shame that the image can be slightly washed out when used in bright sunlight. However, considering its design and the quality of glass, we think this model is deserving of the best value title. 
Pros:
BaK4 16.5mm roof prism design allows almost a third more light
Fully coated lenses for sharp images
Bonus smartphone tripod/adapter
Lightweight design
Adjustable eyepieces
Cons:
The field of view could be better
Image may become washed out in bright sunlight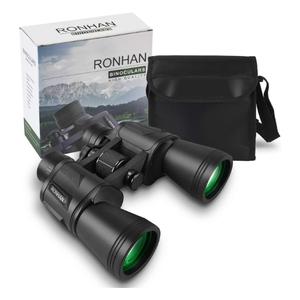 Looking for the most versatile safari binoculars? Then we recommend checking out the RONHAN 20×50. These high-powered binoculars offer a variety of features alongside incredible 20 x magnification. It's a great choice for bringing the wildlife of the plains 20x closer to you without moving an inch. 
The field of view is also impressive at 56m from 1000m away, so you can take in more of the scene in front of you. This enables you to enjoy the view without constantly panning from side to side. 
We like that this model is easy to use and comfortable to handle. It enhances your viewing experience when you're riding safari vehicles or walking safaris. If you need to change focus fast, the centre knob does so quickly and precisely. You won't need to fumble to achieve image clarity at the moment. The multilayer lenses are also aspherical for enhanced light ingress and reduced distortion. This combination results in beautiful, bright and crisp images.
Planning to spend a long time camped out in the bush? Then you'll be pleased to know that this model also has great specs in terms of durability. The outer body is waterproof and coated with rubber for shock absorption and increased grip. With these features, the RONHAN should do well in African weather and rough terrain.
On the downside, this model is larger and heavier than those we have seen so far at 800 grams. Keep that in mind if you are expecting to carry them for long periods. Furthermore, the outer body may be prone to loosening parts with heavy use. 
Pros:
Great magnification levels
The generous field of view
Waterproof and shockproof
Quick and easy to focus
Cons:
It may be larger and heavier than other models
The outer body may not be as durable
Next up, we have our favourite all-rounder safari binoculars, the Celestron 71333. This model is versatile and fits to challenge more expensive models on the market.
With a 10X magnification, these binoculars are well-suited to wildlife spotting trips. The phase-coated prisms are BaK4 specification. Therefore, it enhances light transmission for bright views even in low light conditions. This, alongside the multi-coated optics and fog proof qualities, means that the clarity of image detail is very impressive.
The width of the field of view provided by this set is also very impressive. With this pair, you can observe more of your surroundings at any one time. We particularly liked the close focus capabilities, which allow you to focus crisply on subjects only 6.5 feet away. This feature is especially useful when watching smaller critters.
No binoculars would be suitable for safari unless they are resistant to the hazards of the Great Outdoors. Thankfully, the Nature DX binoculars are waterproof and feature rubber armouring. They also boast a lightweight polycarbonate outer housing that provides peak protection to the delicate workings within. 
With regard to comfort during use, this pair of binoculars perform well. The eyecups twist up and provide customised eye relief, so you can find the most comfortable position for your needs (even if you wear glasses). The compact design is great for taking with you in a pocket or a day pack. At a little over 700 grams, they're not too heavy either.
That said, there are some potentially negative aspects of this model to bear in mind. The adjustability of the eyecups is convenient, but they may also become loose over time. They may also not open far enough to be comfortable for users with wide-spaced eyes.
Pros:
BaK4 prisms
Multi-coated optics
Waterproof and fog proof
Close focus capabilities
Cons:
Eyecups may be prone to loosening
It may not open far enough for those with wide-spaced eyes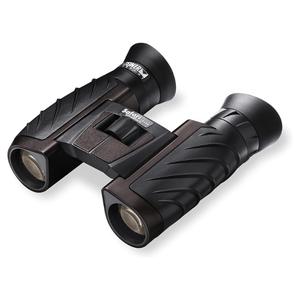 If you're looking for a pair of compact binoculars to take with you travelling, then the Steiner Safari UltraSharp is tough to beat. These pocket-friendly binoculars are perfect if you like to travel light or if you simply have minimal packing space for your trip. 
As the name suggests, this model has been designed with safaris in mind. They are incredibly lightweight at just shy of 300 grams – making them the best lightweight binoculars on our list. 
These binoculars, which have a 10x magnification, hold their own among the other players on this list. The high contrast optics are great at creating crystal clear images with true to life colours. They even allow you to focus sharply on subjects as close as 2 metres away – great for bird watching.
The Steiner Safari UltraSharp is super tough, too. The rubber-armoured body coating is crafted to withstand knocks, bumps and drops in the safari vehicle. They are also waterproof to IPX4 standards. 
The lens' objective diameter stands at 26mm. While this may not be the widest out there, it still performs well. The multi-coated optics let plenty of light in for bright viewing, despite their small size.
In terms of drawbacks, this model has a couple of issues that are worth noting. This pair of binoculars may not always perform well if you're looking up into the trees during midday. The strong light can wash out the image, so it almost appears a little misty. To counteract this, you can shield the edge of the lenses with your hand, but that can be a little awkward. 
Furthermore, the focus wheel can turn a little way before any change in the focus is detected. While this isn't a dealbreaker, it may be somewhat frustrating. 
Pros:
Lightest binoculars at just 300 grams
Perfect for keeping in your pocket
Waterproof and rugged design
Close focus capabilities
Cons:
Image may get washed out in strong sunlight
The focus wheel may not always take effect immediately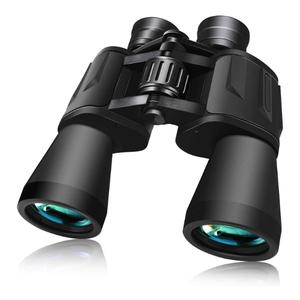 Safaris can be tough on your equipment. That's why it's important to choose a pair of binoculars that can really stand up to the punishment. Our top pick for the best sturdy safari binoculars is the BRIGENIUS 10×50.
This pair of binoculars features a super-tough outer cover that is made from eco-friendly leather. It also has a slip-proof rubber grip that helps you to keep a firm hold. The shockproof outer casing is designed to protect the binoculars from sudden impacts to ensure they last the test of time. 
With regard to the image quality, these binoculars offer a 10x magnification, which is a good standard for safari usage. The 50mm objective lens diameter allows for a good, clear view of your subject. The multiple layer coated lenses are also aspherical for optimum brightness and clarity with minimal distortion. However, some users have commented that the image could be a little crisper. 
The BRIGENIUS 10×50 isn't the lightest option we have seen, though. Its ruggedness likely contributes to its increased weight of 798 grams. This may be a little too heavy if you are carrying it around your neck for long periods. 
Pros:
Its tough, rugged design offers great durability
Eco-leather cover
A comfortable, rubberised grip
Multilayer coated lenses for bright images
Larger objective lenses
Cons:
The image could be a little crisper
Quite heavy at 798 grams
If you're looking for a pair of mid-sized binoculars for low-light drives or dusk wildlife viewing campouts in hides – the Kylietech 12×42 is our top pick. 
Boasting 12x magnification and a 42mm wide-angle objective lens size, these binoculars provide a bright image that still maintains good crispness. The field of view is also impressive at 330ft/1000 yards – so you can capture more of the action in one glance without having to pan around to see everything. 
The low light capabilities of this model are the result of the clever twilight light management system. This system does everything it can to enhance the amount of light that enters the unit and illuminates the image. The BaK4 prism glass and multilayer-coated optics work together with the wide-angle lens. The result is a bright image even in murky conditions, so you can observe your subjects' every move as darkness creeps in.
This model offers dual-focus and ease of adjustment. It also has a comfortably located central focus mechanism. The dioptre rings and twist adjustable eyecups are simple to use. This makes it easy to configure to your liking, which is especially useful if you are a glasses wearer. 
Another bonus of this model is that it comes complete with a smartphone adapter. The quality of the photographs isn't going to be as good as a DSLR camera with a zoom lens. However, it's a much more affordable alternative for a one-off trip!
On the downside, the Kylietech may not always perform as well as other models on our list at close proximity focusing and sharpness. You may struggle to get any subjects closer than 6m into sharp focus. If you're planning on using these binoculars to view subjects at a greater distance, these are a good choice. However, for smaller, closer subjects such as birds, you may be better off with a different model. 
Pros:
Great for low-light safari drives
BaK4 prism and multilayer-coated optics for enhanced brightness
Comes with a smartphone adapter
Comfortable to use and adjust
Cons:
Close range focus could be better
Clarity of image may have room for improvement
If you need a super compact pair of binoculars for your safari wildlife viewing, then the BRIGENIUS 10 X 25 is our top recommendation. This model is so tiny in size that it will fit into the palm of your hand. It also packs a punch with impressive 10x magnification and a 25mm lens size for great image resolution.
These compact binoculars also have multiple-coated lenses and BaK4 glass. The combination of those features creates high-quality image colours and great light ingress for bright viewing. They perform well in low light but are not as good as our low light pick above.
The main selling point of this pair is their ultra-compactness. Measuring just 10.6 x 10.1 x 4.8 cm, this model is the smallest option we have reviewed. They fold up and can be tucked away into a jacket pocket or a day bag without weighing you down. This makes them an excellent choice for walking safari holidays or for anyone who likes to travel light. They also come with a carry strap and a handy padded carry case.
Even though they are small, these binoculars are pretty sturdy, thanks to the structured rubber outer layer. It is designed to provide a good degree of shock absorbency, should they get dropped or knocked during your walking safari. The rubberised outer helps you to keep a firm grip on them, and the rubber eye relief is simple to adjust for your comfort. 
While this compact pair of safari binoculars have many great features, they do have a few drawbacks, too. We were disappointed to find that the lenses can be prone to fogging, and the eyepieces may be a little too far apart for some users. 
Pros:
Super compact design
Multiple coated lenses and BaK4 glass for bright images
Great magnification and resolution
Good low-light performance
Cons:
The lens may not be fog proof
Eyepieces may be too far apart for some users
Last but not least, we have the BEBANG 10 X 42 safari binoculars. We chose this model as the winner of our best easy to use safari binoculars title. These binoculars have several features that make them a great option for beginners.
The configuration is simple to manage, so you can easily adjust the focus at the turn of a dial. At 42cm, the ultra-wide objective lens allows lots of light to pour into the binoculars. You can enjoy the great brightness and clarity of images without having to make any adjustments yourself.
The 10x magnification is a good standard for this level of binoculars. It will be suitable for most applications, including wildlife watching. The low-light performance is also more than acceptable, so you can view your subject fairly clearly even as daylight fades. 
The lens is high-quality and offers great light transmission and limited distortion, so the images are crisp and clear. The field of view is also good, and you can enjoy reduced glare or ghosting in bright sunlight. This model is also resistant to fogging. It's also water repellent and fairly durable – all useful qualities when you are out in the wilderness.
However, there are a few drawbacks to these binoculars. They may have quite a strong chemical smell when they first opened. It is difficult to say how long that may take to wear off. They also do not focus well at close proximities. So, if you are planning on using your binoculars for safari birdwatching or to observe smaller critters, they may not be the best binoculars for you.
Pros:
Easy to adjust the focus and dioptre as required
Image quality is high
Low ghosting/glare in bright sunlight
Resistant to fogging
Cons:
It may not be best for close proximity focus (7 metres or less)
It may have a strong chemical smell
How to Choose the Best Binoculars for Safari
For most of us, a safari adventure is a once in a lifetime trip that we are unlikely to enjoy again. Of course, you want to be able to make the most of your adventure by being able to view all wildlife as clearly as you can!
The best binoculars for safari will depend on the type of trip you are taking. In this guide, we talk you through all the features to consider when choosing the best safari binoculars for your needs. 
Size and Weight
Comfort and practicality are major factors here when choosing the best binoculars for safari. While larger binoculars usually offer better magnification than compact binoculars, they can be very heavy and cumbersome. This type is often not the best option for travel abroad. 
We recommend looking for a pair of good safari binoculars that offer great performance but are also lightweight and compact binoculars. This way, you can easily pack them in a pocket or day bag, and they won't weigh you down when not in use.
Toughness
Wildlife safaris can be tough on your equipment. It's crucial you choose the best wildlife binoculars that can handle what Mother Nature may throw at them. 
We advise looking for models that have well-designed rubberised "armour" housing to protect against shocks. Those that have high-quality glass prisms (especially BaK4) will defend against scratches and damage during your off-road adventures. 
Lens 
The quality of the lens is an important feature to keep in mind when choosing a pair of binoculars for a safari. You can tell a lot about the quality of the lenses by checking the level of coating the manufacturer has applied to the glass. 
When a light collides with the glass lens, some of the light is reflected and becomes lost. This can reduce the brightness of the image that you see when looking through the binoculars. 
To mitigate this effect, manufacturers apply a thin coating over the lens surface. This limits the amount of light that gets reflected and lost. The result is better overall brightness and clarity of the images. 
The best options will have multiple layer coated lenses and larger objective lens diameter. So, be sure to look out for this before buying.
Magnification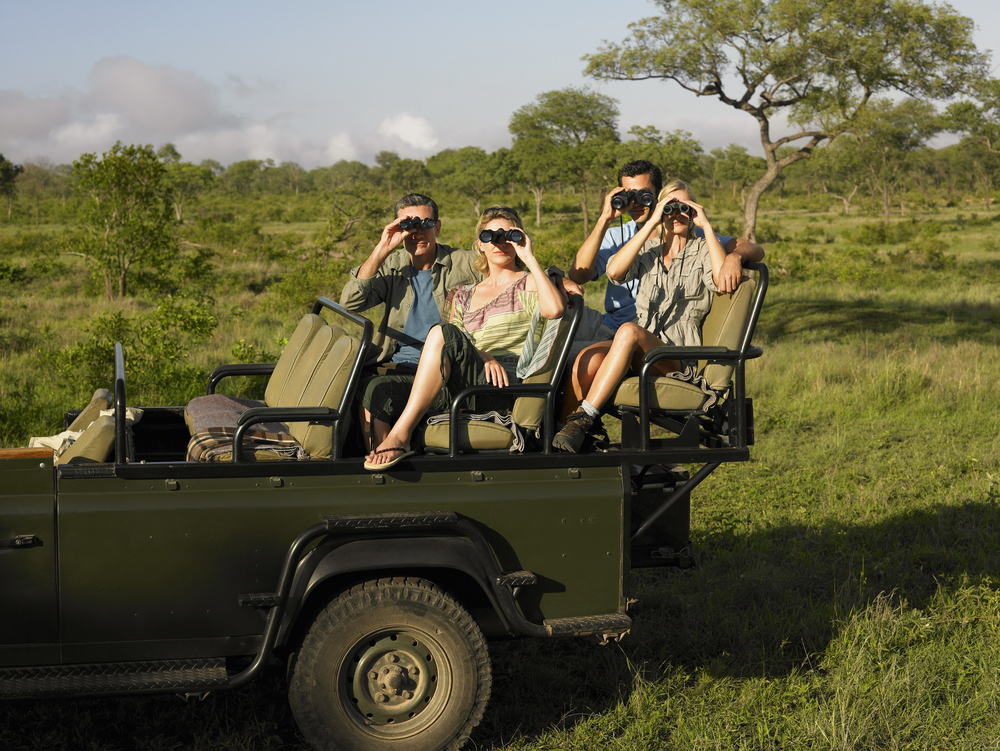 Alongside lenses, the level of magnification is another very important consideration when choosing the best safari binoculars. The lower the magnification, the further away your subject will appear. On the flip side, high magnification can be more difficult to keep the image stable. 
In general, an 8 or 10x magnification is a good benchmark for outdoor pursuits such as safaris and birdwatching trips. This will enable you to get a great view without struggling to keep the image stable. 
If you prefer a model that has a much higher magnification, you may need a tripod or a sturdy surface to rest the binoculars.
Field of View
Field of view refers to the amount of area that you can view through the binoculars from a certain distance away. 
For example, a pair of binoculars that offers a 300ft field of view at 1000 yards – will allow you to look through the eyepieces and view an area of 300ft from 1000 yards away.  
A large field of view is useful if you are observing wildlife, as it allows you to take in more of the scenery at once, so you are less likely to miss something amazing. 
There is a slight compromise to be had between magnification and field of view. The larger an object appears (higher magnification), the less of its surroundings will be in view. Bear this in mind when buying. 
Waterproof and Fogproof
Unless you are in the depths of the desert, almost any safari holiday requires waterproof and fog-proof equipment! 
The chances are that the weather will be unpredictable where you are travelling. We recommend getting a pair of waterproof safari binoculars to prevent moisture from getting inside and ruining your trip. 
Alongside this, we also advise opting for those that feature anti-fog qualities. This will stop your lenses from getting steamed up and prevent you from seeing your subjects clearly. 
Choosing the Best Safari Binoculars
After in-depth research, we believe the best binoculars for safari are the NIKON ACULON A211 – our Editor's Choice. 
We like that these high-end binoculars feature a great 8x magnification capacity, aspherical eyepiece and multilayer lenses. These features allow you to get close to your subjects without losing any image quality. The ergonomic design is easy to grip and comfortable to hold – making it the perfect companion for bumpy game drives. 
At only 350 grams, the NIKON ACULON A211 travel binoculars are ideal for walking safaris. With this model, you can enjoy a compact and lightweight design that is still powerful. Rugged, durable and with shock-absorbing qualities, this pair of safari binoculars is a fantastic choice for your next wildlife watching adventure.   
Additional Resources
Sam loves to learn about animals and their habitats. He has been a nature lover from a very young age, and has been writing papers and articles about wildlife for as long as he can remember.