Last Updated on
Our editors independently research the best products online to produce this list. We may receive commission on purchases made from the links below but this will never affect our product choices.
---
Top 10 Best Compact Binoculars
Compact binoculars are great for all kinds of indoor and outdoor viewing activities such as bird watching, hiking, sporting events, and many other kinds of performances. With all the possible uses, if you don't already own a pair of compact binoculars, they are a good thing to have around as you never know when they'll come in handy.
There are a few things to consider when looking for good compact binoculars like objective lens size, power of magnification, the field of view, and, of course, whether or not they produce sharp images. With all of this in mind, we put together a list of the best compact binoculars in the UK to help you find the best one for you and your intended viewing activities. Keep reading to learn all about them!
How We Compared Compact Binoculars
To find the right compact binoculars we considered multiple factors, including:
Optical Quality
Comfort
Weight and size
Configuration
Performance
Our experienced team created the following list after spending countless hours researching products and fact-checking customer reviews. We carefully chose a range of products suitable for every nature lover out there, analysing and assessing the comparison points above.
To know more about our review process, have a look here.
Compact Binocular Reviews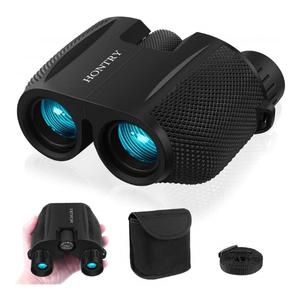 Bringing you a wide field of view and advanced optical quality, the Hontry 8111 pair of binoculars stand out amongst the crowd. These compact binoculars are also pleasantly lightweight and have a folding design for even more convenience and compact transport.
Hontry 8111 Binoculars feature a 10x magnification and have a 25mm objective lens diameter. They contain BAK4 Porro prisms for added clarity and sharpness. They also have fully multi-coated lenses to help keep colours and contrast true to the actual image in life. They come with a field of view of 362 ft and a 1,000-yard viewing distance, so bird watching, hiking, and outdoor events are perfect for this pair of binoculars.
The eyepieces on these binoculars have a 10 mm eye relief distance which helps prevent unnecessary eye fatigue. They also perform exceptionally well in low light viewing conditions and have a robust, sturdy body construction.
An anti-slip rubber armoured body improves your grip, even when you are taking advantage of their waterproof capabilities. To complete your experience, a neck strap, a cleaning cloth, a protective carry case, and a three-year manufacturer's warranty all come included.
Be aware that they might not be strong enough for certain activities, and the rubber around the eyepiece can be somewhat uncomfortable for some. We also think the strap attachment design could be improved, and compared to other top options, they have a smaller eyepiece size and spacing, which could prove to be restrictive for some adults.
Pros:
High magnification of 10x 
Multi-coated optics keep colours true
BAK4 Porro prism design for clarity and image quality
Performs well in low light conditions 
3-year manufacturer warranty 
Cons:
Trickier strap attachment design 
Some might find them uncomfortable
Smaller eyepiece size and spacing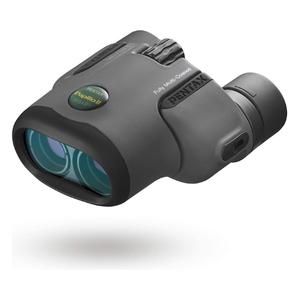 Luxury quality and top quality performance are the names of the game with the Pentax Papilio II Compact Binocular. They have strong construction and feature advanced optics for your top-quality viewing with all kinds of activities.
An 8.5×21 optics configuration with Bak4 Porro prisms and a fully coated objective lens on both sides is the main draw to this luxury pair of binoculars. This design provides you with better colour representation, brightness, focus, and better image quality in general. Aspherical lens elements also make for edge to edge sharpness on the lenses.
Pentax Papilio II is great for close and far viewing, but they excel at close viewing. They enable magnification at a distance as close as 50 cm. This makes them a great option for close bird watching and admiring the finer details in artwork, flowers, and more.
A diopter adjustment is also built into this pair of compact binoculars for people with different eyesight levels from right to left. In addition, they also have adjustable eyecups for ideal eye relief, something particularly beneficial if you wear glasses. A rubber armour coating on the body rounds out the design and lends the user added durability and improved grip.
This pair of binoculars might not fit some larger faces due to their compact size, and they may also be much better for closer viewing than long-distance viewing. The only other thing we think you should know about this option is that they could be a bit tricky to adjust until you get used to the mechanisms and how the focus works.
Pros:
8.5×21 configuration 
BAK4 Porro prisms with fully multi-coated lenses
Excellent for close viewing 
Fog proof and waterproof 
Luxury quality design and features
Cons:
They may not be fit some larger faces  
They could be a bit tricky to adjust 
Better for close viewing 
If a value is on your mind, the DFlamepower Mini AK-002 Binoculars make an excellent choice. They have a solid build and are lightweight and compact, so they hit all the key points of leading binoculars without sacrificing quality.
This compact pair of roof prism binoculars further compresses with a folding design. When folded, they easily fit into large pockets on clothing. For optics, they contain a 21 mm objective lens with 8x magnification. This gives you a visibility distance of 1,000 yards.
A handy diopter corrector allows you to adjust image quality on each side independently, which can help correct for different eye strengths in the user. If you wear glasses, they have an eye relief distance of 11mm.
There is no need to worry about rain with this compact pair of binoculars because they are waterproof. Even when wet, the anti-skid natural rubber on the sides helps ensure you have a good grip of the body at all times. They also come with a protective pouch, a lanyard string, and a lens cloth, so you'll have all you need to get the most out of them.
The DFlamepower Mini AK-002 has 30×60 displayed in the advertisement, which is quite misleading. As you now know, it has an 8×21 configuration. These binoculars may also be somewhat less sharp with lower clarity, and it could be a bit tricky to match the focus between the two eyepieces.
Pros:
Excellent value 
Compact and lightweight 
Anti-slip natural rubber 
Waterproof  
8×21 configuration
Cons:
Misleading configuration advertised 
May not have the best optics 
It could be tricky to match the focus in both eyepieces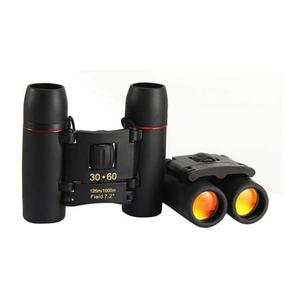 Compact binoculars are great, but sometimes miniature binoculars are even better. Our top pick for the best mini binoculars is a pair of ARPDJK APS-30×60. Not only are they small in general, but they also fold down to a more compact size and are exceptionally lightweight too.
The ARPDJK APS-30×60 could quite possibly be the best pocket binoculars in the UK, as they are smaller than the size of most people's hands when folded down. The body is both durable and waterproof, making them perfect for outdoor excursions of all kinds. They are also a great gift or tool for people of all ages, even smaller kids.
These lightweight binoculars have an 8×22 configuration to give you a good field of vision with decent magnification. An easy-to-turn wheel on the top allows you to make focus adjustments as needed.
These miniature binoculars also come with a cleaning cloth that will not harm the lenses, a lanyard so you can hang it around your neck or from a bag, and a carry case to keep them protected when they are not being used. Of course, due to their smaller dimensions, you may find you just stick them in your pocket for convenience and easy access.
Regretfully, the advertising for these small binoculars is somewhat misleading as it states the configuration is 30×60 when it is actually 8×22. This option could also leave something to be desired for adults when it comes to optics, and the focus might be slightly lacking.
Pros:
Excellent mini binocular design
Lightweight and compact 
Waterproof 
Carry case and cleaning cloth included  
8×22 configuration 
Cons:
Misleading configuration advertised 
They might be better for kids 
Focus may be lacking 
If you are looking for the best compact binoculars under £50, are pair of BEBANG BH-HTK-61 is our top recommendation. While some may consider them to be more mid-sized binoculars, they remain compact in size and excel in the level of optics they establish for the viewer.
With an optics configuration of 10×42, this pair of compact binoculars give you a wide 303 ft viewing angle and a distance range of up to 1,000 yards. The large objective lenses feature FMC with a 99.5% green film coating for better optics that are sharper, more brilliant, and clearer overall. The BAK4 roof prism design also lends to their high-quality optics.
The multi-coated lenses aim to match the human eye when it comes to their focusing to help reduce eye fatigue. Due to the size of the eyepieces, you achieve eye relief at 12, 16, and 18.5mm with different levels of magnification.
BEBANG BH-HTK-61 Binoculars even achieve a nice level of clarity in dimmer lighting, making them highly versatile and ideal for a variety of activities. In addition, they are also waterproof, dustproof, and come with a neck strap conveniently included with purchase.
You should know that these compact binoculars may not be ideal for close-range viewing at 10 metres or less as it could be difficult to achieve focus. The oculars also have the potential to fog in certain weather conditions and may lose clarity with brighter images when more light is present.
Pros:
10×42 configuration 
BAK4 prism for lowlight conditions 
FMC objective lens for better optics 
Eyepiece size reduces eye fatigue 
Waterproof and dustproof 
Cons:
Oculars could fog 
Not ideal for close-range viewing 
May lose clarity in bright sunlight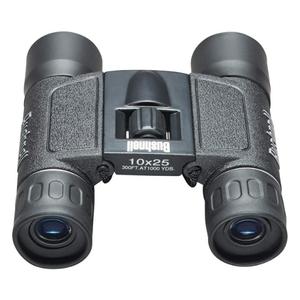 The folding design of Bushnell 132516 Binoculars gives you a wide field of view in a compact package. This is one of the main reasons we chose it for the best folding compact binoculars. They are a great pair of everyday binoculars that are more than suitable for various activities.
Aside from the compact construction and folding design, we love the sharp images these Porro prism binoculars achieve. They feature a high magnification of 10x and a 25 mm objective lens diameter. The objective lenses also feature a single layer of coating for improved optics, and the spotting scopes have a 9mm eye relief distance.
Waterproof binoculars are good for all kinds of outdoor activities, and the Bushnell 132516 Binoculars are just that. To further help with outdoor conditions, they have a good grip and a sturdy and robust body that is more than capable of withstanding the elements.
These binoculars come in a black or camo colour, something hunters may prefer. They are also lightweight, reducing arm fatigue and making them more comfortable to hold for longer periods of time. Lastly, they come with a neck strap so you can hang it around your neck while you are out adventuring.
These may be some of the best small binoculars in the UK, but they might be slightly blurry around the edges. They are also not the easiest to when it comes to focusing both eyepieces evenly, and their adjustment wheel doesn't turn as smoothly as we would like.
Pros:
Black or camo colour options 
Advanced folding design 
10×25 configuration 
Super lightweight 
Sturdy and robust body 
Cons:
They may be slightly blurry around the edges 
Not the easiest to focus evenly 
The focus wheel doesn't turn very smoothly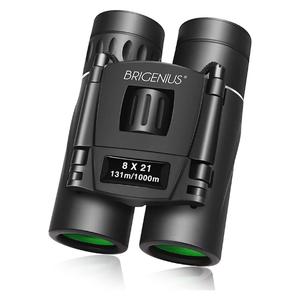 The BRUGENIIUS 821 are our top pick for the best compact binoculars in the UK that kids can also use. They are lightweight, highly durable, and have a folding design that makes them small enough to be pocket-sized, maybe only for adults, though.
These affordable compact binoculars feature a roof prism design and fully multi-coated green lenses. They have an 8×21 optics configuration which gives you a wide 369 ft field of view with a 1,000-metre viewing distance that is good for all kinds of indoor and outdoor activities.
You can feel confident carrying these small binoculars around or giving them to a kid because they have a durable rubber armoured body that helps to absorb shock and improve grip. They also come with a carry bag, cleaning cloth, and a strap to help keep them protected at all times.
The BRUGENIIUS 821 compact binocular is easy to use, even for kids. It has a large focus knob in the centre plus a parallax correction knob on the right side to help make both sides perfectly clear. The focus knob turns easily and has grooves for precise adjustments.
While these make a great choice for kids, they could be too small for some larger adult faces. When compared to other top options, this pair of compact binoculars may also have slightly lower image quality that is less sharp and shows less brilliant colours. 
Pros:
8×21 configuration 
BK7 roof prisms with fully multi-coated optics
Wide field of view
Great for kids
Easy to use the focus knob 
Cons:
They could be too small for some adults 
The sharpness could be improved
Images could be less colourful 
Sleek ergonomics can go a long way when it comes to user comfort and reducing fatigue in a compact binocular. Less strain on your arms and hands sounds great, right? Well, that's why we chose the Nikon Sportstar EX compact binoculars for our best-of list.
The Nikon Sportstar EX compact binocular is great for all kinds of viewing, thanks to its 10×25 optics configuration. They have a roof prism design and multi-coated lenses for better image quality at ten times the magnification. Nikon's use of top quality objective lenses ensures clear, sharp images with accurate colour representations.
We love that these compact binoculars are both fog-free and waterproof, thanks to a nitrogen filling. If you do a lot of outdoor activities, as most people do with binoculars, a fog-free design can make a drastic improvement in your viewing pleasure. This feature will make them ready to use at a moment's notice, with no need to clean or defog the lenses first.
To further enhance this compact binocular's ergonomic design and user-friendliness, Nikon made sure they were lightweight and foldable with easy focus adjustments. They also come with a strap for wearing around your neck and a carry case for added protection.
This compact binocular may not focus well in close observation circumstances that are under 3.5 metres, but they work great for longer distances. Other potential cons for this option include the eyepiece cups possibly rubbing on longer lashes and maybe being less durable than the eyecups on other top options.
Pros:
10×25 configuration  
Quality roof prisms 
Excellent image quality 
Waterproof and fog-free 
Sleek ergonomics 
Cons:
Not ideal for close observation 
The eyepiece cups could be less durable
The eyepieces could rub on longer eyelashes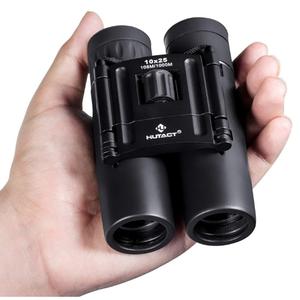 With the best compact binoculars, sometimes a basic design is all you need. That's why we chose the HUTACT HT-69 compact binocular for our best-of list. They have a simple folding design constructed out of high-quality materials, making them a solid choice for many activities.
The 10×25 optics configuration on these binoculars gives you a decently sized field of view with powerful magnification. The objective lenses are fully multi-coated with green broadband film, and highly reflective BK4 roof prisms establish clear pictures.  
A rubber shell exterior helps to improve your grip and keep your hands comfortable when using the binoculars for extended periods of time. They also come with the basic accessories that are typical with this kind of tool, including a cleaning cloth fr the lenses, a neck sling, and a storage bag.
Waterproofing isn't a concern for these binoculars, so feel free to take them outside in rainy conditions. A skid-proof hand wheel and a balance diopter allow you to make adjustments as needed for better focus. You can even fine-tune the view for different eyes.
The lenses on HUTACT HT-69 binoculars could blur slightly near the edges, and they may not be the best choice for close-range viewing activities as the minimum focus is quite far, possibly as far as 10 to 15 metres. Lastly, the eyecups may not be the most comfortable for everyone, but we still think they make an excellent choice with a basic, easy to use design style.
Pros:
High-quality materials 
10×25 optics configuration 
Rubber shell for a better grip 
Fully multi-coated lenses 
Balance diopter for variable focus 
Cons:
The lenses could blur slightly near the edges,  
Not ideal for closer range viewing 
The eyecups may not be the most comfortable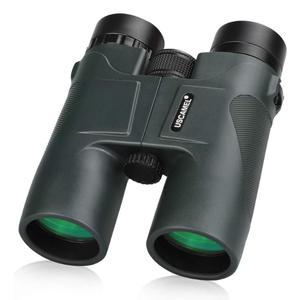 Often, the best lightweight binoculars also make the best travel binoculars, as is the case with USCAMEL UW035 Compact Binoculars. They gave top-quality optics and all the bells and whistles you might need in a pair of travel binoculars.
BAK4 prisms and fully multi-coated green film lenses give you bright, sharp images with advanced clarity and fantastic light transmission with these binoculars. The 10×42 optics configuration gives you a large 303 ft field of view, ideal for many different viewing activities. A diopter ring and a centre focus wheel give you the ability to adjust the focus in a variety of ways based on the user's eyesight.
A nitrogen-filled O-ring also makes them fog proof and gives them an IPX7 waterproof rating so they can be used in all kinds of different weather conditions. USCAMEL UW035 also has a handy tripod attachment interface which can be great for long-term viewing of landscapes and other objects.
The exterior of these compact binoculars has an environmentally friendly rubber coating that promises to maintain its structure without deforming and also boasts coming without a smelly odour. The coating could protect them against accidental drops, but it mainly gives you a better grip to avoid this from happening in the first place.
The focus mechanism on these binoculars could take some getting used to, and they are a bit heavier than other top compact options on our list. Lastly, their 42mm objective lenses are not technically considered compact binoculars, but we still thought they deserved a spot on our top ten as they are close enough.
Pros:
Great travel binoculars 
Large 303 ft field of view 
Anti-fog and waterproof 
10×42 optics configuration  
Great for travel 
Cons:
A bit heavier than other compact options 
Focus can take some time getting used to 
Not technically considered compact binoculars due to larger lenses 
Choosing Compact Binoculars: A Buyer's Guide
In addition to our top 10 compact binoculars reviews, we thought it would be helpful to give you some basic information about binoculars to help you make a more informed decision. The following sections explore the answers to common questions and highlight the most important traits found in the best compact binoculars.
What Are Compact Binoculars?
Technically speaking, compact binoculars have an objective lens that measures less than 30mm in diameter. Any binoculars with larger objective lenses are considered to be mid-size or full size. While our list is for compact binoculars specifically, we chose to add a couple of slightly larger mid-sized options as well.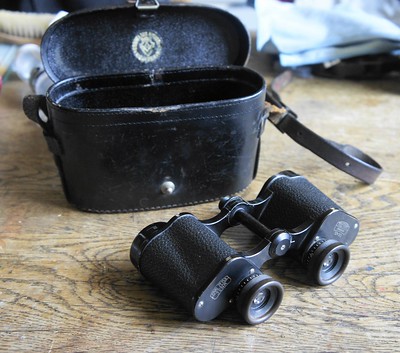 What to Look For in Compact Binoculars
If you are wondering, what should I look for in compact binoculars? You have come to the right place. After all, you don't want to just pick inexpensive binoculars, or you will most likely be doing yourself a disservice.
Activity
A larger aperture gives you a wider field of view and a lower power magnification. This is ideal for bird watchers, events, and hiking, but maybe not as ideal for hunting or people who wear glasses.
If you wear glasses, you may also need more eye relief in order to get the best possible optics without experiencing fatigue. Eye relief is the distance between your eye and the eyepiece that gives you a clear view.
Depending on the activity you will be using your binoculars for, you may also want to look for binoculars that are waterproof and fog proof to keep them protected in the outdoor elements.
Configuration
One of the main things to look for in a pair of compact binoculars is their optics configuration. This alerts you to both the magnification and the size of the objective lens, also known as the aperture. The first digit stands for the level of magnification, and the second number is the diameter of the objective lens. For example, a configuration of 8×21 represents an 8x level of magnification and a 21mm objective lens size.
Higher magnification will give you a more narrow field of view, and larger objective lenses allow more light in to provide you with brighter and clearer images. We recommend you decide which will benefit you most and narrow down your choices from there.
Roof prism and Porro prism can also affect image quality, but often, you will not really notice a difference between the two in the best compact binoculars.
Lenses and Optical Quality
Optical quality is also very important when choosing a pair of compact binoculars. Look for fully multi-coated lenses for the sharpest and best image quality. Coating a lens helps to produce a more accurate colour representation whilst also reducing haziness, creating a sharper, more defined image overall.
Weight
You may also want to prioritise a lightweight construction when looking for the best binoculars. An ultralight or lightweight pair of binoculars can help you reduce arm and hand fatigue and also makes them more portable. Fortunately, most compact binoculars are fairly lightweight due to their smaller size, so you shouldn't have to worry about this too much, but sometimes a little can go a long way.
Are Pocket Binoculars Any Good?
Even the best compact binoculars often have lower quality optics when compared to larger models, but they work very well for certain purposes. Compact models are often lightweight and are better for travel, hiking, and sporting events as well. With our help, finding compact binoculars that are not only good but great is more than possible.
The Right Compact Binoculars for You
By now, you should have a pretty good understanding of how to pick the best compact binoculars in the UK. There are a few things to consider that will help give you the best results for your intended activities, and simply choosing inexpensive binoculars often leaves you with lower image quality.
Our favourite all-around pick for the best compact binoculars are the Hontry 8111. They feature a 10×25 optics configuration, have fully multi-coated lenses and BAK4 Porro prisms for enhanced clarity and true colour. They also perform well in low light conditions and come with a three-year manufacturer's warranty to back their quality. 
If we are being picky, we think the strap attachment design could be improved. In addition, these binoculars have a relatively smaller eyepiece size and spacing, which may be uncomfortable for some adults.
Regardless, we think it makes a great choice, but there are plenty of other options on our list if you are unsure. Also, perhaps check our compilation of the best binoculars for kids if you're looking for something a little cheaper and less advanced.
How did you find our options? Let us know what you think in the comments below.
Additional Resources