Last Updated on
Our editors independently research the best products online to produce this list. We may receive commission on purchases made from the links below but this will never affect our product choices.
---
Top 10 Best Binocular Tripods
Using a pair of binoculars or scope for prolonged periods can take its toll. If you are standing or sitting in one spot, it can be challenging to support your binoculars indefinitely. This is where the best binocular tripod helps.
You can fix your binoculars to a tripod and let it take the strain, so you don't have to. A tripod provides a stable base to work from and means you can conserve your energy and concentrate on your hobby instead. Many tripod heads also have pan and tilt features, which allow you to smoothly move your binoculars and easily track subjects.
In this guide, we have hand-picked ten tripods for binoculars, including lightweight models for travel use, heavy-duty models for larger binoculars and scopes, and even tripods that convert to monopods.
How We Compared Binocular Tripods
To find the right binocular tripods we considered multiple factors, including:
Maximum and minimum leg extension
Load capacity and suitability for larger binoculars/scopes
The type of head and its range of movements
The weight of the tripod and its portability
Our experienced team created the following list after spending countless hours researching products and fact-checking customer reviews. We carefully chose a range of products suitable for every nature lover out there, analysing and assessing the comparison points above.
To know more about our review process, have a look here.
Binocular Tripod Reviews
The K&F Concept 70″ Tripod is a versatile model that performs well in virtually any situation. It is portable but offers excellent stability, so you can use it stationary or take it on walking trips.
With a durable aluminium frame and legs, this tripod can easily hold larger spotting scopes and binoculars. It also gives you excellent tracking abilities if you are spotting wildlife. This is due to the fluid pan head that can be rotated 360-degrees and tilted.
It also has a great range of features that make it easy to use, including non-slip feet, simple plastic locking clips, and a handgrip for carrying it.
Although this is a great model overall, it could have some minor flaws. Firstly, it doesn't include a separate binocular mount. As a result, you would have to get a tripod adapter or use the standard tripod thread. Also, you could find that the instructions are missing.
Pros:
The legs can extend into four separate sections
You can convert it into a monopod for easier portability
The legs have simple plastic locking clips
The tripod head has 360-degree panning capabilities
A panhandle allows you to move the binocular position easily
Cons:
It may not include a binocular mount
You may find that there are no instructions for the tripod assembly
If you want the right tripod to set up for spotting, hunting, and tracking in no time, the Primos Trigger Stick Gen 2 is a great choice. This tripod is perfect if you want to move frequently and have a quick setup time.
It does not have a dedicated fluid pan head but instead has an attachable V yoke. This is a simple mechanism that can lodge binoculars or spotting scopes in-between. This adds to the excellent setup time of this tripod. If you find the V yoke not suitable, it has a standard tripod thread. You can therefore attach a standard binocular tripod mount instead.
The other main feature of this product is the height adjustment trigger. Simply pull the trigger, and you can immediately adjust the height and rotation of the tripod.
This is one of the best choices for a high-end tripod, but it may not be perfect. For example, even when retracted, you could find that this tripod set is still quite long. Also, due to the length and lack of a handle, it could be tricky to attach to a backpack for carrying.
Pros:
Has versatile height adjustment from 24″ to 62″
The V yoke allows for the quick attachment of binoculars
Simple trigger mechanism to adjust the height
Made from durable materials for outdoor use
The V yoke can be rotated 360-degrees for versatile viewing
Cons:
You could find that, when retracted, the tripod legs are still quite long
It could be somewhat difficult to attach it to a backpack for carrying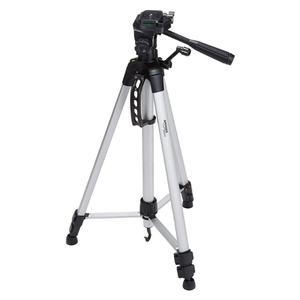 The Amazon Basics 152-cm Lightweight Tripod is a brilliant choice if you want a budget tripod for occasional use at home or on walks. You could use it for bird watching or carry it with you on outdoor adventures where you want to spot wildlife from multiple positions.
It retracts and folds to a compact size and thus can easily be carried. Also, to suit different people's heights, it extends to a maximum height of 152cm.
If this is your first tripod, you should also find it easy to use. This is due to the simple leg clips and the quick release plate to mount your binoculars.
The Amazon Basics 152-cm Lightweight Tripod is a suitable compact option. It is great for amateurs, however, it has some potential drawbacks. Firstly, depending on your binocular brand, you may need separate tripod mounts to fix it. Also, the padded legs and weight capacity mean it may not be ideal for larger scopes and binoculars.
Pros:
It includes a carry case for convenient transportation
Each of the tripod legs has rubber feet for improved stability
Simple and quick secure attachment clips for the legs
It has a fluid pan head for 360-degree viewing
Has a decent maximum height of 152cm
Cons:
You may need a binocular mount to fix to the standard tripod mount
It may not be suitable for heavy astronomy binoculars due to the leg material
If this is your first tripod and you don't have any accessories or tripod heads, the Hama 4161 is a brilliant option to consider. This is because it includes a tripod socket mount, so you can immediately start using it.
The mount screws onto the centre of your binoculars if they have a suitable mounting thread. You can then connect this mount easily to the tripod head.
You will find this tripod easy to use. The legs have a double-adjustment system, and each section can be locked via a plastic clip. The head also moves quickly and can be controlled via a simple panhandle.
While this is an excellent binocular tripod for beginners, it may not be perfect. The release plate fully detaches and thus could get lost easily. Also, you could find that for heavier binoculars, you have to use the weight hook for some extra stability.
Pros:
Includes a separate binocular mount that attaches to the tripod head
It has an impressive maximum height of 153cm when fully extended
Relatively compact when retracted at 60cm
It comes with a hook that you can hang weights from to improve its stability
The tripod legs have rubber feet
Cons:
It could be easy to lose the quick release plate
You may find that it is necessary to hang weights to use it with heavier binoculars
If you don't want to haul a huge tripod or have limited storage space in your house and car, there are some excellent smaller tripods, too. 
The LINKCOOL 42″ Tripod is a good choice in this respect as it weighs 420g / 6.6lbs. It could be suitable for travel use. Also, it could be great for short bird watching/hunting day trips.
When retracted, these tripods for binoculars are just 14-inch long. The legs fold flush to the centre column, and thus they have a small footprint when not in use.
It also extends to 42″ via three leg sections. Therefore, you can still adjust it to a position and height that is comfortable for you. We also like that the head position can be locked using a simple twisting lock on the panhandle.
This is an excellent compact tripod, but as a result, it may not hold binoculars that are bulkier and heavier. Also, depending on the binoculars you own, you may need to use an additional tripod adapter to fix it properly.
Pros:
An incredibly lightweight tripod and easy to carry
It has a versatile ball head for flexible binocular movements
The tripod setup has legs that extend from 14 to 42 inches
Additional hinges support the legs for greater stability
Each of the three legs has a special non-slip mat on the bottom
Cons:
It may not have the best weight capacity for heavier binoculars
Some binoculars may need to attach with a separate mount
Oftentimes you may want a flexible tripod that does not confine you to one spot. The Victiv 72-inch Tripod is an excellent option for those who want to relocate often as it can quickly be converted to a monopod.
As a result, you could attach your binoculars to the monopod and carry it like a walking stick but still have a stable base to spot from.
The tripod itself only weighs 3.3lbs / 1.5kg, so it is easy to carry even with bigger binoculars attached.
We also like that this tripod has thicker aluminium legs that provide extra weight and support.
This is a durable tripod overall and great for many activities, but you could find that the vertical tilt function of the pan head can slip occasionally. Also, you could notice that the pan movement is a little stiff.
Pros:
It can be used as either a tripod for binoculars or a monopod
Made from thicker, durable aluminium
It has a maximum tripod height of 72 inches and retracts to 21.6 inches
The pan head has a swivel handle so you can track subjects easily
It has a great weight capacity of 12lbs / 5.5kg
Cons:
You could find that the vertical tilt function could sometimes slip
You may find that the pan feature of the tripod head can be a little stiff
The K&F Concept Travel Tripod is a good choice for wildlife spotting road trips where you have limited storage space and are walking long distances.
It is durable, but the lightweight aluminium legs mean that it has a lighter overall weight. You can therefore take it with you during trips with minimum effort. This is also made easier by the padded legs that give a comfortable position for carrying it.
You can also set this tripod up quickly with your binoculars to the quick-release mount and the simple locking mechanism for the legs.
However, it has some flaws. Firstly the instructions could be difficult to understand. Secondly, it may not be the best option on our list for heavier or giant astronomy binoculars.
Pros:
It has four different leg sections and five height settings
Quick locking mechanism for the different leg sections
It also has a handle, so you can easily carry it
The head has 360-degree rotation and can be tilted too
The pan head also has a handle to move your binoculars smoothly
Cons:
You may find that the instructions are difficult to understand
This tripod setup may not be appropriate for larger binoculars or scopes
If you are looking for a well-rounded tripod that you can use with your binoculars in multiple situations, then you should consider the Gosky 61-inch Tripod.
With an ample load capacity of 11lbs, this tripod is suitable for spotting scopes and various binoculars, including larger models. It is ideal for hunters, outdoors people, and bird watchers with heavier binoculars.
This tripod can be adjusted up to 61 inches, which allows you to find a comfortable position for your binoculars and spotting sessions. It also gives you great stability due to the non-slip feet and an optional weight hook.
The Gosky 61-inch is probably the best tripod if you need a sturdy and solid option, but be aware that some customers have reported faulty mounting clips. Also, occasionally, you could find that the release pin can stick.
Pros:
The legs are made from durable but lightweight anodized aluminium
It can extend from 18 inches to a decent height of 61 inches
Includes a quality carry case so you can easily store and transport the tripod
It also has a versatile pan head with multiple movement options
Each leg has anti-slip rubber feet for excellent ground stability
Cons:
The mounting clips may be faulty
You could find that the release pin for the mount sometimes sticks
If you want a sturdy tripod that can cope with large scopes and binoculars, the Orion Paragon Plus is a brilliant astronomy binocular tripod. It can withstand binoculars with a weight of up to 10lbs, so any model you have should fit comfortably.
To support larger models, it also has thicker aluminium legs that can be extended in three sections and are supported by simple clips. It also comes with holes that allow you to extend the legs in specific increments.
The Orion Paragon tripod has an excellent design, but some customers have reported the binocular bracket missing. Also, the pan head could sometimes be difficult and stiff to move.
Pros:
The tripod legs are tri-braced in the centre to provide extra support
The legs and frame are made from durable aluminium
It has a pan head that has simple locking wheels to make movement adjustments
It extends to a great maximum height of 68 inches
Binoculars can be mounted using the simple quick-release plate
Cons:
Some customers have reported a missing binocular bracket
You could find that the pan head can be difficult to move smoothly
The Regetek Travel Tripod is a versatile option that can be used in many situations. It makes for a great travel tripod if you regularly take tripods for wildlife spotting and bird watching in different regions.
The extension range is 22 to 63 inches, which means you can easily get a comfortable spotting position. Also, the tripod head is easy to use and has a panhandle and bubble level. The securing mechanisms for the head movements are also easy to tighten and loosen.
This Regetek aluminium tripod is great, but you could find it is a little difficult to fit inside the carry case. Also, the panhandle could occasionally be stiff.
Pros:
It has non-slip rubber feet that can have their angle adjusted
It has a handgrip, so you can easily move the tripod or carry it
Has a height variance of 23 inches when folded to 63 inches fully extended
It also has a decent maximum load capacity of 6.6lbs
There is a central balance hook so you can hang weights from it
Cons:
The carry case may be a bit too tight for the tripod.
Some may find that the panhandle is a little stiff
Choosing the Best Binocular Tripod: A Buying Guide
You should now have an excellent idea of the different binocular tripods available on the market, but you may still not know which one is suitable for you.
We first advise looking at your binoculars and considering the following:
Their weight
The tripod adaptor or lack of
The common height you intend to use them at
Where you intend to use them
These considerations will help determine if a tripod for binoculars would work well for you. On top of these, it may be useful for you to keep in mind the features listed below.
Head Mount
The best binocular tripods will have a ball head. The head is what you attach your binoculars to, and a ball head allows for fluid movements in any direction. You can rotate it 360-degrees for panoramic vision. Also, you can tilt it upwards and downwards to easily look at objects in the sky or on the ground with your binoculars.
The attachment plate is also an essential part of the head, as it will allow you to attach binoculars to the tripod.
Some tripods only have a standard tripod mount screw thread. With these models, you could only attach your binoculars if they have a tripod screw or a tripod adapter.
Alternatively, some tripods include tripod adapters. These fix into the standard tripod screw, and the other end fits onto or around your binoculars.
Look at the head and consider how you will actually attach your binoculars to it.
Stability
The stability of the tripod is paramount. If the camera tripod isn't stable, it could topple over. You could then risk breaking your expensive binoculars or scopes.
Therefore, what stability features does the tripod offer? Does it have rubber feet or spikes so that you can secure it into the ground? Are the legs durable enough to withstand wind? Does it have a balance hook to which you can attach sandbags or tripod weights?
How the legs open also helps the stability. For example, if the legs can open incredibly wide, this will help distribute the weight and provide a more stable base for your binoculars.
Weight and Portability
While the tripod load capacity is vital, so is the actual weight and size of the tripod. But you also have to think about how and where you intend to use the tripod.
For example, if you will typically use it in a stationary position for prolonged periods – perhaps only a short distance from your car – you may not need a portable tripod.
In contrast, if you enjoy walking long distances and setting your tripod up in different places, any extra weight may slow you down and make carrying the tripod for long periods difficult.
Therefore, look at the tripod's overall weight and length when fully retracted. This will give you a clear idea of how portable it is.
Leg Extension / Height Adjustment
You also ideally want the tripod adaptable to different situations. The leg extension, leg movement, and maximum height of the tripod are key features.
Most tripods have legs that can extend in multiple sections. This means you can freely adjust the overall height to suit different positions and ground conditions. Also, it makes it incredibly useful for tall people who want to stand while using their binoculars.
Therefore, check the minimum and maximum height of the binocular tripod. You can then see if it is suitable for your height and the level you will commonly use it at.
Weight Capacity
How much weight can the binocular tripod support? This is one of the most important questions to ask yourself before buying a binocular tripod.
If your binoculars weigh 500g, and your tripod can only support a weight of 250g, expect it to fall over or have poor stability.
This is why it is crucial to know the weight of your binoculars beforehand. You can then buy a tripod for binoculars with a weight capacity that exceeds this.
The Stand Above the Rest
We hope you have found this guide on the best binocular tripod useful. If you have heavier binoculars or a scope, we understand that it can be challenging to carry. Also, standing for hours spotting while holding the binoculars can also take its toll. This is why a binocular stand or tripod comes in handy.
Any of the ten tripods listed are great options. However, our top pick is the K&F Concept 70″ Tripod. This durable aluminium tripod has all the features you need for many activities like stargazing, wildlife spotting, or hunting. It has an excellent extension range, a versatile pan head and features that improve its stability.
Additional Resources