Last Updated on
Our editors independently research the best products online to produce this list. We may receive commission on purchases made from the links below but this will never affect our product choices.
---
Top 10 Best Binoculars for Bird Watching
Identifying the best binoculars for bird watching UK companies have to offer is not easy: this is due to the number of different products out there to choose from.
However, we aim to make choosing your new bird watching binoculars a whole lot easier than you may have anticipated. We won't simply take you through the best binoculars on the market. We will also provide you with some advice on what to look out for when buying them in the first place. This way, we hope you will feel significantly more confident about your choice.
Binoculars for bird watchers are a vital piece of equipment. They will make life so much easier, and they are more comfortable to carry around than a telescope. However, we do accept that there's a problem. It is quite complicated when you do not really know what you are looking for, especially if you are a bird watching newbie. But that is where we will help.
So, without much further ado, let's delve into our reviews.
How We Compared Binoculars for Bird Watching
To find the right binoculars for bird watching we considered multiple factors, including:
Performance
Comfort
Size and weight
Optical quality
Magnification
Ease of use
Our experienced team created the following list after spending countless hours researching products and fact-checking customer reviews. We carefully chose a range of products suitable for every nature lover out there, analysing and assessing the comparison points above.
To know more about our review process, have a look here.
Binocular for Bird Watching Reviews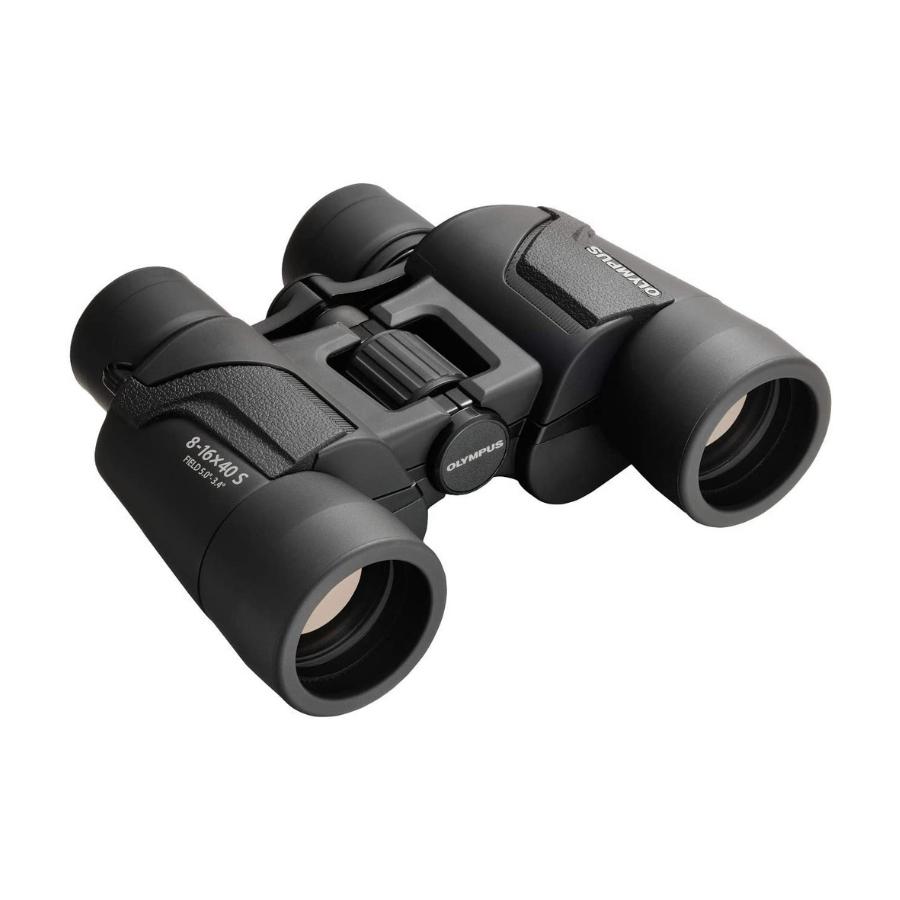 First up, we have this pair of amazing birdwatching binoculars courtesy of Olympus. Now, Olympus has built a strong reputation for itself in binoculars and cameras, so it's perhaps no surprise that it features at the top of our list.
In this instance, it comes with an 8 – 16x zoom ability, which is good enough to focus on the bird in question. It also allows you to change magnification quickly and with ease. From a magnification perspective, they are efficient and require little in the way of adjusting the image even as the magnification increases.
The optics in these Porro prism binoculars are high performance, and that does mean they offer you a bright and clear image coupled with minimal distortion. It means these are the best bird watching binoculars simply because the image you achieve is pretty much the same as if you were standing beside the bird and looking at them with the naked eye.
They are compact binoculars, lightweight, ergonomically designed to see that these are some of the best binoculars for bird watchers across the country. Add in superior build quality with a 10mm eye relief. The fact they still offer a bright image even in low light is just another bonus.
Overall, these full-sized binoculars are an excellent choice. If you had the opportunity to try them out, you would quickly realise why we chose them as our editor's choice.
Pros:
They offer better low light performance than most birding binoculars
They have Porro prism, high-quality optics
They are waterproof binoculars
They provide superior image quality at any magnification
They also come with a soft carry case
Cons:
The neck strap may feel uncomfortable for some individuals
The lens caps could be slightly improved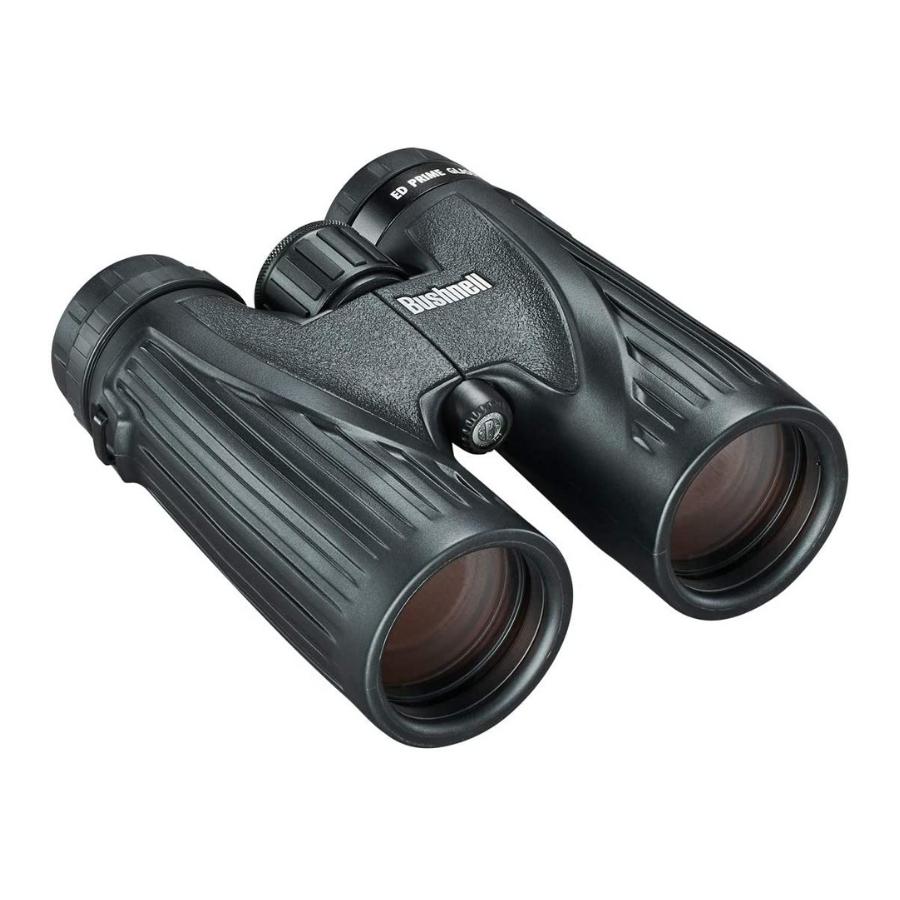 If you are looking for the best binoculars for bird watching in the UK that are also the perfect pair for other observational activities, then this option by Bushnell could be just perfect. These binoculars are rugged in their build quality, and they feel as if they could last forever.
What you have here are fully waterproof binoculars for bird watching, and even the lenses contain their RainGuard Technology. This not only stops rain from affecting them, but the lenses are also fog proof and won't be impacted by your fingerprints either.
Staying with the lenses for a second, they come with their ED Prime Glass, and this is something special. The glass has a multi-coated layer, and it means you have high-quality optics with perfect resolution, and the image quality has to be seen to be believed.
You can also factor in an ergonomic design, a 10×42 magnification, and a roof prism, and then you can see how these birding binoculars are unique. The image you get remains sharp and with perfect contrast.
Overall, these roof prism binoculars offer you so much. They use the best products in their manufacturing, which becomes apparent as soon as you use them for the first time.
Pros:
These binoculars offer excellent quality optics
The lenses are fog proof
They include roof prisms meaning the scene is far more natural
They work exceptionally well, even in poorer light
They have an extra-long, 15.2mm eye relief for glasses wearers
Cons:
The harness appears to be of lesser quality than the binoculars
The rubber protection caps may come loose over time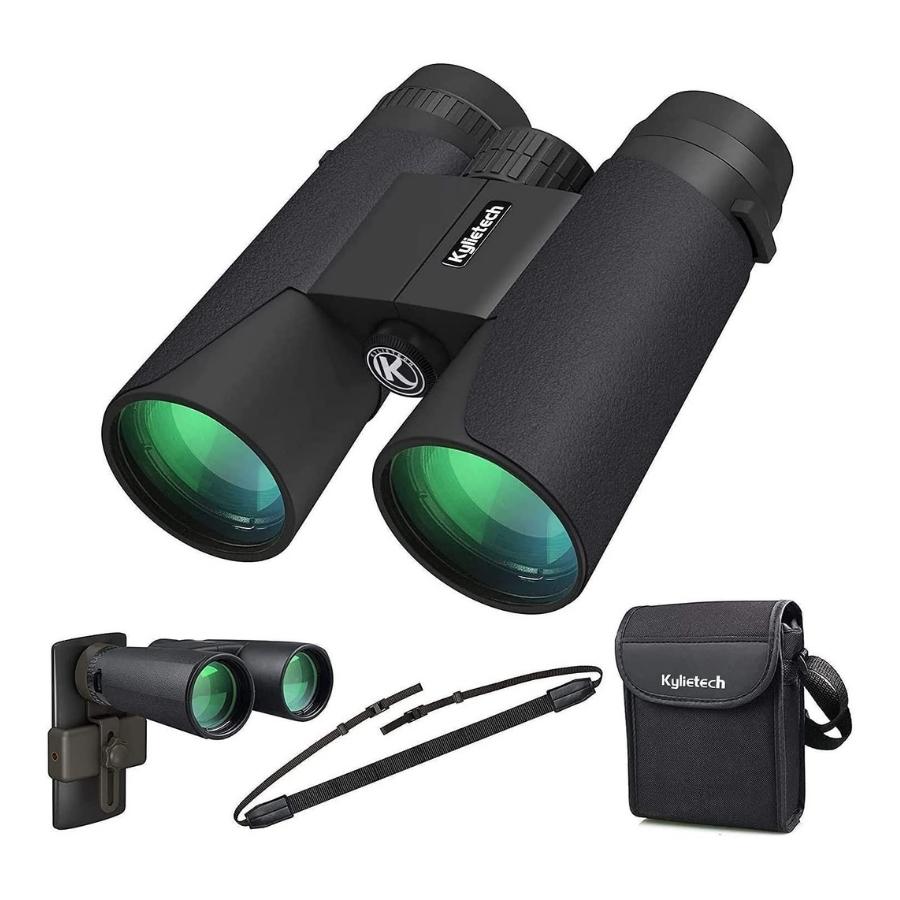 If you are searching for a pair of binoculars that won't break the bank, then this pair of high power binoculars for bird watching by Kylietech. Not only are they high-quality binoculars, but they also contain roof prisms, which is an added bonus.
The magnification with this pair of binoculars is 12×42, and that's impressive. The clarity and brightness of the image are outstanding for the price, and bird watchers will certainly love the crisp image you get from these birding binoculars.
But what is also good about these relatively lightweight binoculars is the visual range. Remember, these roof prism binoculars will provide you with a completely natural image, but it does so over 1000 yards, which is huge.
You will also not be disappointed when it comes to the build quality of these bird watching binoculars. They are fully waterproof, fog-proof, and easy to grip. It's also easy to attach them to a tripod, giving you greater image stabilisation.
Overall, this could be the best bird watching binoculars under £100 right now. They pack so much into them that it's very impressive. The fact they offer 12x magnification is amazing. Also, how they still provide a perfectly adequate image at that level is fantastic.
Pros:
They provide powerful magnification
The optical quality is surprisingly good
The lenses don't fog up
They are relatively lightweight
They can be attached to a tripod with ease
Cons:
They are quite chunky
The case feels slightly cheap in its quality
If you are looking for the best bird watching binoculars that can easily attach to a tripod, then this pair of binoculars by Usogood could easily fit the bill. These 12 x 50 high power binoculars will provide you with a perfect view for up to 1000 yards, and the quality of the image is not going to diminish even at its full range.
But this pair of binoculars won't simply add to a tripod. It also comes with a smartphone attachment, so you can use your phone as the viewer. This feature works exceptionally well, and you will be amazed at the image quality you see on your screen.
For the lenses, they come with FMC lens-fully multi-coated optics that are not only perfect for bird watching but also just checking out nature in general. They have BaK-4 prisms with vastly superior light transmission than you may expect with a relatively inexpensive pair of bird watching binoculars.
Overall, while the optics are pretty special with this pair of binoculars, it's how it can be easily attached to both a tripod as well as your smartphone that makes it stand out from the crowd. Also, that's not to say the rest of the binoculars are poor. They do include fantastic lenses, and at 12x magnification, they pack a punch from that perspective as well.
Pros:
Attaching to a tripod or smartphone is easy to do
The optics are pretty impressive
They are easy to bring into focus
They are fully waterproof
They offer you a good grip
Cons:
The build quality is perhaps not as good as more high-end models
The ocular lenses can mist up in poorer weather conditions
If you are looking for the perfect solution when starting bird watching, then this pair of binoculars will suffice, and you also get a guide to birds thrown in as well. Also, the book is fantastic. If you are new to all of this, it will become one of your favourite books in your home rather quickly.
The image quality is pretty impressive compared to most bird watching binoculars when it comes to optics. Also, these binoculars are 8×42, and that's going to suffice for most people starting out as bird watchers.
The lenses themselves are fully-coated, which improves the brightness of the image and the contrast. Both of these aspects are key for a pair of bird watching binoculars, so this pair will not let you down. The fact that they are aimed at new bird watchers, and offer so much, is pretty spectacular. They could have toned it down, but these binoculars will outlast the need for the book.
For the body, they are robust and waterproof, so you can use them in pretty much all conditions. The lens caps are easy to adjust, so if you wear glasses, then these binoculars will prove to be quite comfortable. Keep in mind not every pair of binoculars can be used by people wearing glasses.
Overall, this makes it into our list of the best bird watching binoculars due to the guide. It's an impressive book for general birdwatching, and even the binoculars themselves are a great set as an introduction.
Pros:
The guide is a useful addition
The lens caps can be adjusted for glasses wearers
The lenses are both rain and fog proof
You get everything you need to start bird watching
Adjusting these binoculars is easy
Cons:
The case may be slightly clumsy
They may feel slightly chunky for some people
We all have our smartphones with us, so it makes sense to use them when nature watching. However, you don't have to miss out on using binoculars, even with your phone. Instead, these binoculars come complete with a phone mount, so you can use your phone as a viewer.
These 10×42 binoculars come complete with compact roof prisms, so everything is natural when watching birds. Also, they offer you a wide-angle view while also working exceptionally well, even at close range. Plus, their twist-up eyecups with long eye relief make them suitable for anyone who wears glasses.
When it comes to their frame, they are highly durable and rugged. This is excellent, and knowing they are rugged is something to think about when choosing binoculars. They feel solid in your hands, and even if you do not want to use the phone mount, they will still work well as binoculars.
Overall, the best thing about these binoculars has to be the phone mount. It's easy to fit and works exceptionally well. There are other mounts on the market, but this one perfectly fits this pair of binoculars.
Pros:
The phone mount is excellent
The wide viewing angle works well
The binoculars feel sturdy in your hand
You can use them in pretty much any weather condition
They have roof prisms for a more accurate image
Cons:
The eyecups can be difficult to adjust at times
Some may feel the prism moves around too much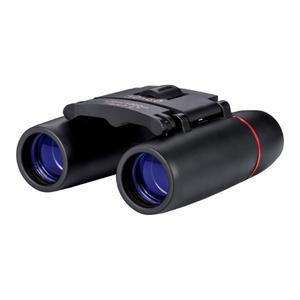 If you are looking for the best compact binoculars, and especially binoculars that fit in your pocket, then this model by DFlamepower is perfect. We think they are the best small bird watching binoculars on the market.
This pair is so small they will fit in the palm of your hand with ease. However, don't think it means they offer less in the way of magnification and their lenses. Instead, you get 8x magnification, and they are good for up to 1000m.
The other thing that stands out for us with these small binoculars is the speed at which they can be adjusted. It won't take you long to focus on something that catches your eye, and there's less fumbling around than most people expect.
These mini binoculars come with an 11mm eye relief and are made from a rubber material, so they can cope with the elements quite well. It's also easy to adjust the eye width, so comfort levels are impressive.
Overall, we love these binoculars as they are so surprisingly good with how they perform. They may be small, but they certainly pack a punch. As compact binoculars go, they will last for years without letting you down.
Pros:
They are extremely compact in size
They boast powerful magnification
They can contend with all weather conditions
They fit in your pocket
It's easy to adjust the eye width
Cons:
Don't expect too much in poorer light
The neck strap can be flimsy
If you want to know the best compact binoculars for birding, then this model by Slokey is the perfect answer. Thanks to their size, they are a good compromise between being small and yet still packed with many features you will only see on larger binoculars.
You can expect sharp images with these 8×32 binoculars. They also come with a Porro prism, which means you'll have a clearer image, even in relatively low light. Also, the optical quality of the lenses is astounding.
These binoculars offer high magnification even in their reduced size. They are also completely waterproof and fog proof. It does mean you can take them anywhere, and they will still perform exceptionally well. The fact they do this even when you have to spend so little money is amazing.
Overall, these Porro prism binoculars include a decent pair of eye caps that are easy to adjust. They are powerful, offer sharp images, and perform well in all conditions. If you try these out, then we can assure you that they will outperform your expectations.
Pros:
They are indeed compact in size
They offer fantastic magnification
They are completely waterproof
They are extremely lightweight
They offer an extra-wide view
Cons:
You may need to keep on tightening the eyepieces
The case could be improved
When it comes to owning a pair of high-powered binoculars, these binoculars from Ronhan will fit the bill. These 20×50 binoculars offer you an exceptional ability to zoom in on whatever has caught your eye.
These binoculars offer you clear vision, and it does come with excellent lenses. Adjusting this is easy to do, and you will continue to achieve some perfect images even at up to 1000m.
The binoculars are waterproof, and the lens coating does stop them from steaming up when dealing with difficult weather. Overall, the magnification makes this set stand out from the crowd: they allow you to really zoom in thanks to their 20x magnification. It does mean they go above and beyond most binoculars out there on the market.
So, if you want to own a pair of binoculars that will offer you crisp details even at a distance, then this could be the perfect pair for you.
Pros:
The magnification is impressive
The image is sharp and crisp
Adjusting the binoculars is easy
They are completely waterproof
They are straightforward to use
Cons:
They may feel slightly too light for some people
The neck strap can be irritating
These have to be the best lightweight binoculars the UK market has to offer right now. They are not only light, though, but also extremely powerful. These 10×42 binoculars offer amazing value for money, and with a 1000 yards field of view, there's certainly a lot to look at.
Also, they are waterproof and anti-fungal and come with anti-fogging properties as well. They also represent better value than many other models out there on the market that are more expensive.
For the lenses, you are looking at high-quality FMC lenses with a 15mm eye relief, and they are exceptional. Even feather details will be visible, and that is something you don't always get with other bird watching binoculars—also, a wide-angle, 18mm eyepiece guarantee extreme comfort.
Overall, these binoculars offer amazing value, and they perform exceptionally well. Ultimately, they provide you with the ability to really zoom in on those birds even at a distance.
Pros:
They weigh almost nothing
The lenses are exceptional
They are very easy to adjust
The detail on the image is amazing
They have several important properties leading to better images
Cons:
The case is quite poor
It might take some practice to adjust their focus
How to Choose the Right Bird Watching Binoculars
So, after delving into our reviews, let's address this key question or why it is so important to choose the right binoculars.
The best binoculars for bird watching will allow you to zoom in on the bird in question, and it will do so without damaging the image quality. After all, what would be the point of birdwatching binoculars if they do not allow you to capture a sharp image in seconds?
But we know that choosing the right binoculars is not easy. That is why we are going to offer you some tips on how to make life that bit easier.
The Weight
If you plan to use your pair of binoculars for an extended period, then check their weight first. It can become exceptionally tiring holding binoculars, so you want something light.
Thankfully, most modern pairs keep weight to a minimum, which helps. However, check the small print to see how much they weigh before buying.
Also, check if they come with a neck strap and carry case. These extra features will make life easier for you.
The Magnification
Magnification varies quite considerably. It may be 6x, 8x, 10x, or more. It all depends on the distances you wish to cover, but make sure you understand how the quality of the image may change according to the magnification.
When looking at the details of binoculars, you will often see numbers such as 8×42. The first digit refers to the magnification number, so check that out to see if it will suffice for your needs.
But people do get caught up in the magnification side of things a bit too much. However, we will address the magnification issue later, so do pay attention to that section.
All we will say right now is that magnifying the image is essential, and do look for binoculars that make this process as easy as possible.
The Lenses
The second number represents the size of the objective lens, so if the binoculars are 8×42, then it has a 42mm lens. This can influence your view with the binoculars, but a wide view does not always mean a better image.
But the objective lens diameter is only part of it all. You should also want to make sure that lenses are coated to prevent damage from rain, are fog proof, and also where your fingerprints cannot affect them.
Bird Watching Binoculars Buying Guide: Key Questions
Can They Attach to a Tripod?
Another important point to keep in mind before choosing the best binoculars for your needs is whether or not they can attach to a tripod. This function makes your life a whole lot easier, and most binoculars can be attached with ease. Also, some now come with the opportunity to attach to your smartphone, and that is certainly something worth considering.
In that instance, it means your phone acts as a screen. It then allows you to better view what you are looking at on a larger scale.
How Often Will You Use Them?
Something else to think about is how often you use binoculars. It's not worth spending a fortune if you will use them rarely. There are many excellent items out there for not very much money, and they still perform exceptionally well.
Are They Waterproof?
As you are in the UK, there's every chance it will rain at some point. Knowing your binoculars are waterproof makes so much sense.
Most makes are going to be fine in most weather conditions, but do check if the lenses are protected. That means the rain will not damage them or even reach the lenses. Also, knowing they will not fog up is key.
Can You Use Them Whilst Wearing Glasses?
Knowing if the binoculars still work will be vital if you need to wear glasses. Not every pair of binoculars do work in this way, so you need to know this type of information in advance.
It is often connected to the eye caps and how they fit over your eye. Some simply do not work when a pair of glasses is in the way, which could make the binoculars useless to you. Thankfully, each brand does tend to mention if they are suitable to be used when wearing glasses. So make sure to find it out before purchasing a pair.
How are They Adjusted?
Our eyes can be different distances apart, so you need to adjust the eye caps to make the binoculars as comfortable as possible. Sadly, some brands make this harder to do than others, and that causes problems.
You want to be able to move the eye caps to allow them to fit comfortably against your eye and the bridge of your nose. It should not feel as if it is pressing too hard. That is a problem.
Picking the Right Type of Binoculars for Your Needs
We are now going to talk more about size. People make the mistake of thinking compact binoculars are inferior, but that's not always the case. We have included several pairs of binoculars that are compact and still perform exceptionally well.
However, you should spend some time thinking about how you choose the right binoculars for your own individual needs.
First, if you are more of a spur of the moment type of bird watcher, then a miniature pair could be best. They are easy to carry around and fit in your pocket. Also, they weigh little, and they don't feel chunky in your hand.
If you plan to go out and watch nature, but want to keep things light, then compact or lightweight binoculars work best. They are often a sort of 'middle of the road' pair of binoculars to check out, and their working ability is also somewhere in the middle of a sliding scale.
How About Cost?
But what about the potential costs? If you thought you had to go ahead and spend a fortune to get some amazing binoculars, then think again.
Instead, the cost of lenses and the technology contained within binoculars, which includes the prisms, has come down over the years. It means you can easily purchase powerful binoculars you can even use to catch parts of the moon without breaking the bank.
What we suggest is spending time getting to know what type of bird watcher you are before you, then think about how much money you will spend on a pair of binoculars. It could end up saving you money.
Understanding Magnification
Finally, some words on magnification are such a key part of all of this.
In general, lower magnification will lead to certain things. It will mean that the image is brighter and that the closest focal point is closer to you.
A lower magnification will also mean you will have a better depth of view and also a wider field of view. This changes your perception and what you will be able to examine.
Of course, it's the opposite when it comes to higher magnification. The images become darker, and you may be required to spend more time refocusing things as you move to a higher magnification. It also narrows your depth and field of view, making a difference when trying to watch nature.
When You Need Higher Magnification
We recommend using binoculars with higher magnification, which means 10x or more when you are in hides or an estuary. At that point, the higher magnification is the perfect bridge between binoculars and a telescope. After all, you may not want to carry a telescope with you.
How About Zoom Binoculars?
You may also be familiar with the idea of zoom binoculars, but we do not recommend them. They are often unable to deliver that crisp image you are looking for, and you will spend so much time trying to focus on things that it will ruin your enjoyment.
Overall, choosing the right binoculars when bird watching is all about taking your time checking out reviews and thinking carefully about what you have and want.
Overall Conclusion
We have not only checked the best binoculars for bird watching UK companies have to offer, but we have also provided you with some guidance on how to choose your binoculars.
However, through it all, we feel the Olympus bird watching binoculars listed as our editor's choice are undoubtedly the best out there right now. Not only do they offer amazing image quality, but they are the best birding binoculars, thanks to the ease with which you can change the magnification.
But one of the main concerns when it comes to the best binoculars for birding is simply finding something that is easy to carry and offers a sharp image. You want it to be easy to use and allow you to focus on spotting those birds and getting that up-close view.
All of the binoculars for bird watching reviews listed above achieve exactly that. We feel you will have no problem in finding the best birders binoculars for your own needs and all at an excellent price too. We recommend going through our different reviews and thinking about your needs. After doing so, we firmly believe you will find the perfect binoculars allowing you to enjoy your hobby of bird watching, no matter the conditions.
What do you think about our options? Let us know and leave a comment below!
Additional Resources