We may receive a commission on purchases made from the links below, but this will never affect our product choices.
---
Embarking on a hiking adventure allows us to explore nature and enjoy breathtaking landscapes. To have a successful and comfortable trip, it's essential to have a reliable backpack that can hold all our necessities. Hiking backpacks are specifically designed for outdoor activities, providing durability, comfort, and adequate storage for essential gear.
Choosing the right hiking backpack can make a significant difference in our overall experience. The United Kingdom offers a diverse range of outdoor environments, making it essential to select a backpack that caters to the UK climate and terrain. With plenty of options available, it's crucial to focus on the critical factors that make a hiking backpack suitable for our needs in the UK.
When deciding on a hiking backpack, it's vital to consider factors such as size, weight, capacity, and additional features such as water resistance and adjustability. Understanding the unique needs of the UK hiking landscape – including inclement weather and a wide array of landscapes from rocky hills to lush forests – will guide us towards the ideal backpack choice.
By combining thorough research and practical testing, I have identified the best hiking backpacks available in the UK market. Join me on this journey, and together we'll discover the perfect backpacks to enhance our hiking experiences in the beautiful British countryside.
| Backpack | Capacity | Fit & Comfort (Adjustable Straps) | Durability & Material | Weight | Organization & Accessibility |
| --- | --- | --- | --- | --- | --- |
| Trespass Albus | 30L | Yes, Adjustable | 600D Polyester Ripstop | 390 grams | Three zip sections, side mesh pocket, internal key ring |
| Andes Ramada 120L | 120L | Yes, Adjustable shoulder and waist straps | Water Resistant Polyester with Interior Plastic Coating | 1.5 kg | Multiple front compartments with zips, 3 accessory clips, other compartments |
| SKYSPER 20L | 20L | Yes, Breathable grooved carrying system | 600D Polyester, 210D Nylon Plaid Fabric, Water-Resistant, Tear Resistant, Wear-Resistant | 1.1 lbs | Not specified |
Best Hiking Backpacks in the UK
I have carefully selected a list of the best hiking backpacks available in the UK to enhance your outdoor adventures.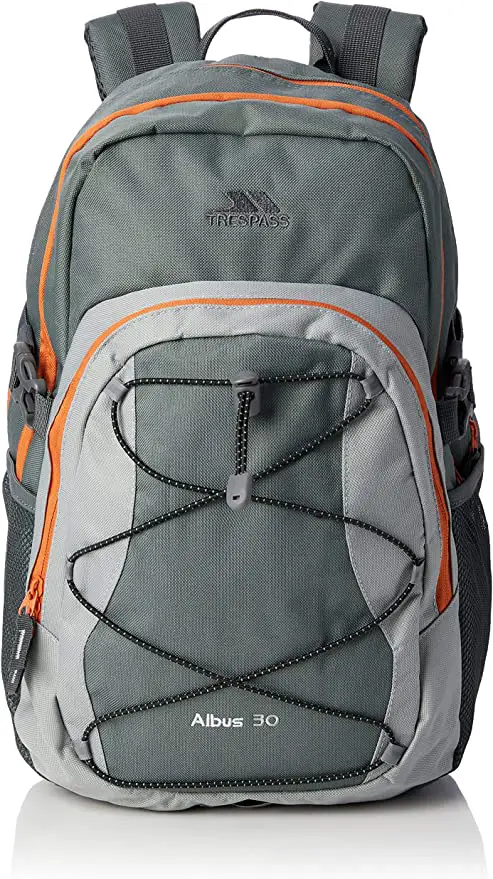 I highly recommend the Trespass Albus Backpack Flint for its durability, spaciousness, and excellent features tailored for various outdoor activities.
Pros
Durable polyester ripstop material
Multi-function and adjustable design
Ample storage with multiple compartments
Cons
Not fully waterproof
Colour options may be limited
Price fluctuations may affect purchasing decision
Upon using the Trespass Albus Backpack Flint, I immediately appreciated its durable polyester ripstop construction which resisted wear and tear. The backpack also proved to be highly versatile, with adjustable straps and multiple compartments, making it the perfect companion for hikes, backpacking trips, and daily commutes to work.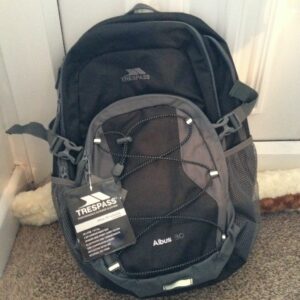 The bag features three zip sections on the front, a side mesh pocket for a water bottle, and an internal key ring to securely hold essentials. However, it's worth noting that although the material is tough, it doesn't provide complete waterproof protection, which could be a drawback during heavy rain.
Although colour options may be limited, the minimalist design and attractive Flint shade give the backpack a sleek appearance. One major concern I encountered was the unpredictable price fluctuations, so I would advise monitoring the price before making a purchase. Overall, the Trespass Albus Backpack Flint offers excellent value for money and is a solid choice for anyone seeking a durable and functional hiking backpack in the UK.
User reviews of the Trespass Albus backpack highlight its durability, with some having used it daily for up to five years. The backpack is versatile, serving as hand luggage for flights, a weekend bag, or even for carrying groceries. Although the manufacturer does not mention a chest strap, one user points out its absence, which can cause the shoulder straps to slide down when the backpack is heavily loaded. Nonetheless, the Trespass Albus is praised for being suitable for various purposes, including meeting Ryanair's size requirements for carry-on luggage.
The Andes Ramada 120L backpack is an excellent choice for hikers and campers seeking a spacious, comfortable, and weather-resistant bag for their adventures.
Pros
Large capacity to fit all your equipment
Lightweight at only 1.5kg
Water/weather resistant fabric
Cons
Stiff zippers due to material
Waist strap could be more durable
Slightly smaller than advertised
After putting the Andes Ramada 120L backpack to the test on my recent camping trip, I can confidently say that its large capacity proved incredibly useful for fitting all my gear. The multiple compartments and accessory clips helped me organise and secure my items, making it a breeze to access what I needed, when I needed it.
Despite the ample storage, I was pleasantly surprised by the lightweight design of this backpack, weighing just 1.5kg. It meant that I could focus on my hiking experience without worrying about unnecessary bag weight. The ergonomic design and fully adjustable straps made it comfortable to wear, even on longer treks.
The water-resistant polyester material with an interior plastic coating truly served its purpose during my trip, as it kept my equipment safe and dry during unexpected rain showers. However, I did find the zippers to be a bit stiff, likely due to the backpack's material. I believe this backpack is a reliable companion for hiking, camping, and even for everyday use such as school, university, or festivals.
The Andes Ramada 120L and Trespass Albus backpacks cater to different needs with their distinct features. The Ramada 120L is perfect for extended adventures, boasting a whopping 120-liter capacity, while the Albus is ideal for day hikes or casual outings with its 30-liter capacity. Both packs are made of durable materials, ensuring they'll withstand your journeys.
If you're looking for a compact and durable backpack for short hikes or day trips, the Mountain Warehouse Mini Trek 6L Rucksack is a great choice.
Pros
Lightweight and easy to carry
Multiple pockets for convenient storage
Reflective piping for improved visibility
Cons
Not suitable for longer trips or substantial gear
Straps might be uncomfortable on bare shoulders
May look small on larger individuals
I recently took the Mini Trek 6L Rucksack on a day trip and found it to be the perfect size for my essentials. It was easy to carry around and did not weigh me down on my walk. The zipped pockets provided ample storage for my water bottle, snacks, and other small items.
While hiking, I appreciated the reflective piping on the rucksack, which made me more visible as the evening set in. However, I did notice some discomfort on my shoulders when I wore the bag over my bare skin. If you have sensitive skin, consider wearing sleeves or adding some padding around the straps.
Although it was ideal for my day trip, I wouldn't recommend the Mini Trek 6L Rucksack for more extended hikes or when you need to carry more gear. The capacity can be limiting, and the compact design may appear small on larger individuals. Overall, for shorter outings, this backpack is a convenient and practical choice.
I highly recommend the SKYSPER 20L Small Hiking Backpack for its durability, comfort, and safety features.
Pros
Water-resistant and robust material
Ergonomic and lightweight design
Unique appearance with safety enhancements
Cons
Limited capacity at 20L
No colour options besides dark grey
Potential for zippers to catch on fabric
After testing the SKYSPER 20L Small Hiking Backpack during a recent trek, I was thoroughly impressed with its water-resistant and durable material. The high-density 600D polyester and 210D nylon plaid fabric kept my belongings dry even in rainy conditions. Additionally, the backpack's tear and wear-resistant construction provided a sense of reliability when adventuring through rough terrain.
The ergonomic and lightweight design of the backpack certainly contributed to my comfort during the hike. Weighing only 1.1 lbs., it didn't weigh me down or cause any discomfort. The breathable grooved carrying system and mesh on the back fabric significantly reduced perspiration and ensured I stayed comfortable throughout the journey.
Not only did the backpack look stylish with its unique appearance and contrasting yellow webbing, but it also provided added safety features. The anti-theft zipper and outdoor emergency rescue guide gave me peace of mind during my hiking trip. Furthermore, the adjustable and removable strap system allowed for convenient gear attachment and personalised fit, making the SKYSPER 20L backpack an excellent choice for outdoor enthusiasts.
Compared to our top choice, the 20-liter SKYSPER 20L is smaller and focuses on comfort with its breathable carrying system, while the 30-liter Trespass Albus offers more storage and compartments. In terms of weight, the SKYSPER 20L is slightly heavier at 1.1 lbs (approx. 498 grams) compared to the Albus at 390 grams. Choose the SKYSPER 20L for comfort on shorter trips, or the Trespass Albus for extra space and organization.
I highly recommend this SZLX backpack for its comfort, storage, and durability, making it ideal for hiking and travel.
Pros
Water-resistant and durable material
Comfortable and adjustable straps
Various pockets for organisation
Cons
Bulky when fully packed
Folds in awkward positions
Only fits up to 14-inch laptops
Recently, I used the SZLX Large Travel Hiking Backpack on a weekend trip, and I was extremely impressed with its performance. The backpack's water-resistant and tear-resistant nylon fabric held up well against unfavourable weather, keeping my belongings safe and dry.
The backpack's design focuses on comfort and support, with a well-ventilated airflow back and adjustable straps that contour to my body shape. Furthermore, the backpack's multiple compartments make it easy to organise both large and small items, with separate spaces for laptops, shoes, valuables, and more.
Despite its many advantages, the backpack did show some drawbacks: when fully packed, it became somewhat bulky and occasionally folded in an inconvenient manner. Additionally, those with larger laptops may find the 14-inch restriction limiting. However, overall, the SZLX Large Travel Hiking Backpack offers an excellent combination of features for any outdoor adventure or travel excursion.
I highly recommend this versatile bag for anyone seeking a compact, stylish and functional solution for their outdoor activities.
Pros
Roomy and well-organised pockets
Lightweight and comfortable design
Water-repellent and scratch-resistant materials
Cons
USB connector requires external power bank
Only three colour options available
Not suitable for heavy loads
I recently took my new Generic Sling Bag on a day trip and was impressed by its comfort and practicality. The roomy pockets and cleverly designed compartments made it easy to access all my essentials, from my phone and keys to a water bottle and snacks. The lightweight, crossbody design meant I could easily switch it from one shoulder to the other, making for a comfortable wear throughout the day.
Despite some light rain, the water-repellent material kept all my belongings dry, while the scratch-resistant fabric ensured the bag still looked brand new after my active day out. The integrated USB charging port was a convenient feature, although it requires an external power bank to charge my phone, which I had to purchase separately.
One minor downside is that the bag is only available in three colours, limiting personalisation options. Also, it may not be suitable for those looking to carry heavier loads, as the straps and structure are designed for lighter, more casual use. That being said, for day trips, hikes, and other leisure activities, this Generic Sling Bag is a fantastic, stylish choice that delivers excellent functionality and comfort.
The HOMIEE 50L Hiking Backpack is an excellent choice for avid hikers due to its large capacity, comfortable carrying system, and durability.
Pros
Generous 50L capacity for all essential gear
Comfortable and adjustable carrying system
Waterproof and resilient material
Cons
Water bladder not included despite description
Rain cover sometimes missing
Some concerns about product quality
For my recent hike, I found the HOMIEE Hiking Backpack to be quite convenient as it easily stored all my necessary items for a weeklong trip. The multi-pocket design was a lifesaver, allowing me to organise my belongings efficiently and prevent rummaging through the bag.
When it comes to comfort, the HOMIEE Backpack excelled in that department. The ergonomic "S" shaped shoulder straps were a great fit, and the breathable pad helped reduce pressure on my shoulders. I also appreciated the chest and waist straps, which distributed the backpack's weight evenly and provided additional stability during the hike.
Although the rain cover included kept my gear protected during an unexpected downpour, a few customers have reported receiving their backpacks without one. Additionally, while the bag is advertised as coming with a "hydration system," be aware that a water bladder is not included. Overall, the HOMIEE Hiking Backpack is a fantastic option for anyone seeking a spacious, comfortable, and durable hiking bag.
The Kombat UK Expedition Rucksack is perfect for those seeking a high-capacity, durable, and comfortable backpack for various outdoor activities.
Pros
Large capacity and lightweight
Comfortable and durable
Multifunctional with MOLLE system
Cons
Zipper quality could be better
Limited colour options
Potential inconsistency in product representation
I recently took my Kombat UK Expedition Rucksack on a weekend hiking trip, and I was genuinely impressed with its performance. With a 50L capacity, it was more than enough to carry all my essentials, and the lightweight design (1.5kg) made it comfortable to wear for extended periods.
The padded adjustable shoulder straps and ventilated back panel provided excellent support and breathability. I also appreciated the multiple compartments and utility pockets, making it easy to organise my gear. The heavy-duty 600D Cordura polyester material with water-resistant lining held up well in light rain during my hike.
One standout feature is the MOLLE system, which allows for easy attachment of extra gear and tools. It was also great to see that the bag came with a free flag patch and the ability to customise it with other favourite patches. However, I did notice some issues with the zipper quality, and the colour options were limited. Some users have reported receiving a different product from the one advertised, so it's essential to double-check upon arrival. Overall, I would recommend the Kombat UK Expedition Rucksack for its versatility, comfort, and durability.
I highly recommend the MAXTOP 40L backpack for outdoor enthusiasts seeking a lightweight, durable, and functional hiking companion.
Pros
Large capacity with multiple pockets
Water-resistant and high-quality materials
Comfortable with adjustable straps
Cons
Shoulder straps lack padding
Thinner material than expected
Not the firmest structure
After trying the MAXTOP 40L backpack on several hikes, I was pleasantly surprised by its spaciousness and organisation options. With 40 litres of storage, I had no problem fitting all my gear and the multiple pockets made it easy to access items quickly. The main compartment has two sections, allowing for separation of clean and dirty or wet and dry clothes, which is quite practical.
The backpack is made from a lightweight, tear and water-resistant nylon fabric, which held up well against the elements on my hikes. Despite its lightweight nature, the material is still durable, though it is worth noting that the fabric is thinner than expected. However, this was not a significant problem as the backpack performed well on my trips.
Comfort is essential for hiking, and the MAXTOP 40L shines in this area with its adjustable, breathable mesh shoulder straps that helped relieve stress from my shoulders. However, it would have been even more comfortable with some padding on the straps. The reflective strip on the backpack was a welcome addition, making it suitable for both day and night adventures.
Highly recommended for those seeking a compact yet practical rucksack for outdoor adventures, day trips or daily commute, thanks to its clever design and breathability.
Pros
Excellent space optimisation: fits all essentials
Back ventilation ensures comfort
Attachment points for walking poles
Cons
Limited capacity for extended trips
No water bottle pockets on the outside
Not entirely waterproof on its own
Recently, I used the Berghaus Unisex Twenty4Seven Plus Backpack during a day hike, and its smart space utilisation, incorporating an inner laptop sleeve and pockets for all my gear, really made it the perfect companion on the trail.
The vented-foam Flowback system is a godsend when wearing the backpack for long periods, as it allows my skin to breathe, ensuring that overheating isn't an issue. Moreover, the adjustable chest strap is a great addition, allowing for a secure, personalised fit.
Although it has some minor drawbacks such as the limited storage capacity for longer trips and lack of external water bottle pockets, the Berghaus Unisex Twenty4Seven Plus Backpack serves as an excellent solution for those in need of a high-quality, durable and functional hiking backpack.
Buying Guide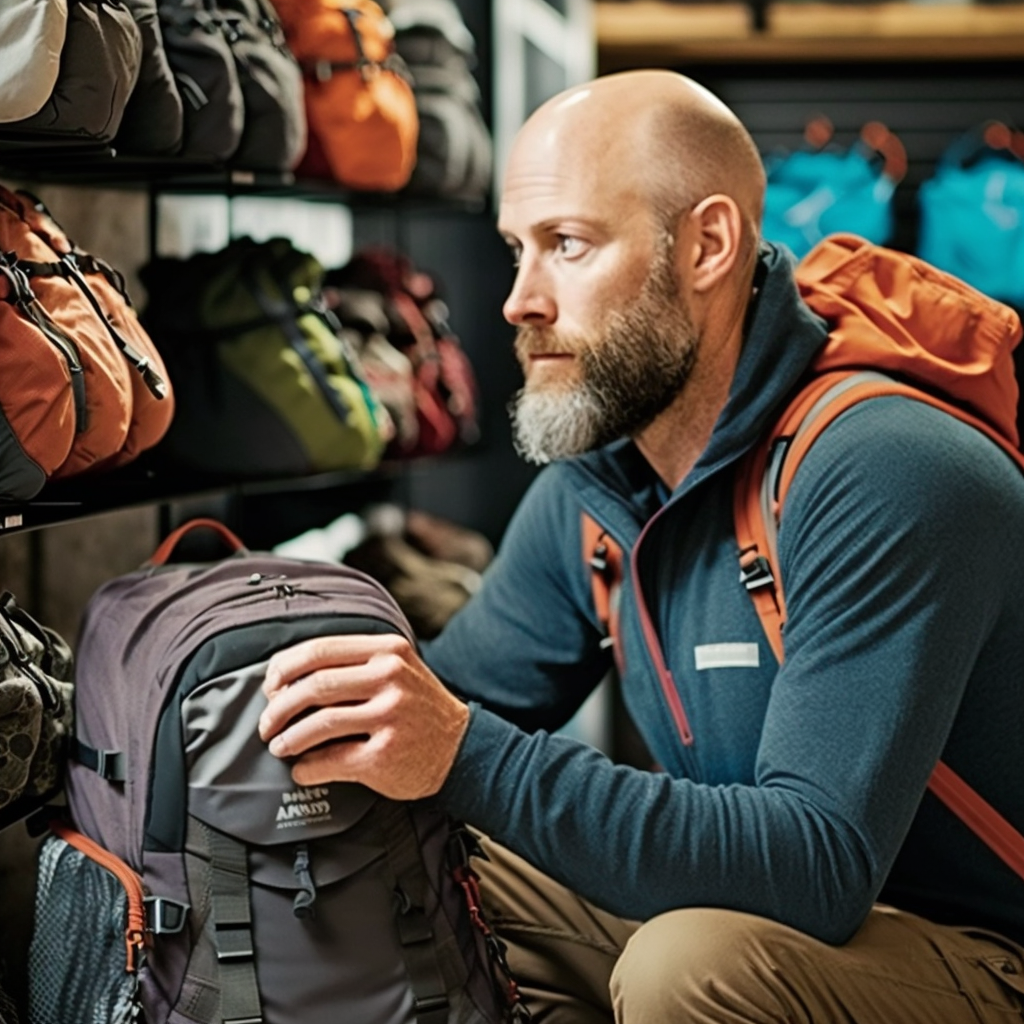 When it comes to choosing the best hiking backpack for my needs, it's important for me to look at several key factors. In this section, I'll discuss these factors and provide some guidance on what to consider.
Size and Capacity
Firstly, the size and capacity of the backpack are crucial. I need to consider how much gear I typically carry on my hikes and choose a backpack with the appropriate capacity. Backpack capacity is usually measured in litres, and common sizes range from 20 litres for day hikes, up to 70 litres for multi-day or overnight treks.
Comfort and Fit
Comfort is a top priority as I'll be wearing the backpack for extended periods. Ensuring that the backpack has adequate padding, ergonomic design, and adjustability is essential for proper fit and weight distribution. A comfortable backpack should have padded shoulder straps, hip belts, and ventilation features like a mesh back panel to help with breathability.
Materials and Durability
The materials used in the construction of the backpack impact its durability and weight. It's important for me to choose a backpack made from robust materials that can withstand the wear and tear of hiking. Common materials include nylon, polyester, and ripstop fabric. I like to look for additional features such as reinforced stitching and quality zippers that ensure the backpack will last.
Water Resistance
Many hikes in the UK can involve unpredictable weather and potential encounters with rain. Having a water-resistant or waterproof hiking backpack is essential to keep my belongings dry. I usually look for backpacks with water-resistant materials, covers, or a rain cover included.
Additional Features
Lastly, I consider any additional features that may be of particular use to me, such as trekking pole attachments, hydration compatibility, or pockets designed for specific gear like a wildlife camera or maps. The choice of features largely depends on the specific requirements of my hikes and personal preferences.
Sam loves to learn about animals and their habitats. He has been a nature lover from a very young age, and has been writing papers and articles about wildlife for as long as he can remember.