Last Updated on
Our editors independently research the best products online to produce this list. We may receive commission on purchases made from the links below but this will never affect our product choices.
---
Top 10 Best Night Vision Monoculars
Whether you're into wildlife spotting, camping or just want to keep a better eye on what's going on around your garden late at night, you'll want to invest in a good night vision monocular.
Easy to use and not too expensive, the main issue is how do you choose the very best night vision monocular in the UK from such a wide selection? Check out our top-rated night vision monocular reviews and buyer's guide to find out which one is the most appropriate to your needs and budget.  
How We Compared Night Vision Monoculars
To find the right night vision monoculars we considered multiple factors, including:
Magnification levels
IR illuminator
Battery life
Image & video functions
Rugged exterior
Our experienced team created the following list after spending countless hours researching products and fact-checking customer reviews. We carefully chose a range of products suitable for every nature lover out there, analysing and assessing the comparison points above.
To know more about our review process, have a look here.
Night Vision Monocular Reviews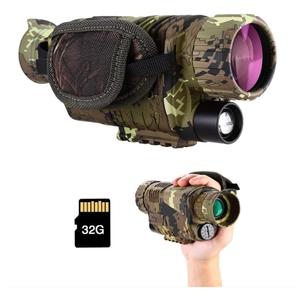 The Boblov is our overall favourite and editor's choice night vision monocular thanks to its excellent performance, high-quality build and great value for money. 
Ideal for wildlife viewing with its discrete camouflage print exterior, this day and night vision monocular has a 5x optical zoom complete with a 32mm objective lens for clearer images. This model's digital zoom is excellent at distant magnifying objects, making them appear up to 8 times larger.
The auxiliary IR illuminator has a good 137m viewing range in complete darkness, and you can easily adjust both the brightness and focus. Complete with camera, video and playback functions via the build-in TFT 1.5" screen, it's an ideal choice for recording wildlife at home or away. There's even a built-in microphone so you can film with sound. 
Complete with a rechargeable battery, this night vision monocular has a good 2-2.5 hours runtime without IR illumination or approximately 1-1.5 hours with IR switched on. A 16Gb microSD card is also included with your purchase, so you'll have everything you need for nighttime exploration. 
The Boblov P15 weighs just 300g and has a robust anti-slip exterior for use in the field. Thanks to its comfortable hand strap, it's easy to hold, while the included bag ensures your monoculars stay protected on your journeys and is easy to carry.
Bear in mind that this model does not have lens cap tethers. Also, you may find the buttons a little fiddly to get used to, although this night vision monocular is very easy to use.
Pros:
5 x 32mm with 8x digital zoom
IR illuminator
16GB memory card
Includes rechargeable battery
Camera, video recording & playback
Cons:
The lens cap could be better attached
Buttons may be a little fiddly
Whether you're an avid wildlife spotter or are looking for a highly reliable night vision monocular for surveying your garden at night, the Bushnell Equinox Z is possibly the best monocular on the UK market if you're after a luxury piece of equipment. 
This digital night vision monocular can be used both at day and during the night, with its 6x optical magnification and large 50mm objective lens for bright, clear images. The lens is multi-coated to ensure outstanding clarity, while you also get an extra 1x-3x digital zoom for close up videos and photos. 
The built-in IR illuminator works exceptionally well, giving you a maximum viewing distance in complete darkness of up to 300m. You can also adjust the brightness to suit your lighting conditions, while the Picatinny style rail allows you to mount additional accessories and illuminators if required.
This monocular has a built-in tripod mount to ensure perfect video recording and image capture capabilities. It also comes with a rugged, water-resistant exterior, making it suitable for your trips out into the wild. For excellent clarity, ease of use and vivid images, this has to be one of the very top digital night vision monoculars. 
On the downside, the microphone on this model could be better positioned away from your face, where it tends to pick up on your breathing. Also, as no SD card is included, if you don't already own a compatible spare one, you'll need to purchase one. 
Pros:
6 x 50mm with 1-3x zoom
Adjustable IR brightness
300m maximum viewing distance
Multi-coated glass objective lenses
Rugged, water-resistant housing 
Cons:
The microphone location could be improved
You may need to purchase a micro SD card
Are you looking for a budget-priced monocular that you can use during the day, as well as in low light situations, such as dusk and dawn? The Pentax 63620 makes a popular, affordable choice that's also compact and ultra-lightweight. 
This monocular has 6x optical magnification with a 21mm lens for bright images. Thanks to its fully multi-coated optics, you get excellent detail, while the prism's phase coating suppresses glare and improves contrast. 
Weighing just 150g and measuring 101mm long, the 63620 is small and light enough to fit in your pocket. It is very easy to focus, thanks to the one-handed push button on the top of the unit. Waterproof to one metre, this sturdy little monocular makes a great companion for wildlife spotting, scenery viewing and sporting events in any weather. 
What's more, this monocular is also extendable. You can purchase a microscope with an LED bright light to view small close-up objects up to 18x bigger. An additional smartphone adapter allows you to connect your mobile phone to take videos and images.  These extra accessories make this model a great choice for curious kids or teenagers.
Unfortunately, as this monocular does not have an illuminator, it may be less suitable for deep nighttime use. Also, as it does not have lens caps or a carry bag, you may wish to pick up some extra accessories to better protect it. 
Pros:
6 x 21mm magnification
Easy one-hand focus adjustment
Fully multi-coated lens
Compact palm-sized model
Waterproof to 1m
Cons:
Protection could be improved
It may be less suitable for proper nighttime use
The Bestguarder WG-50 is our best multifunction night vision monocular pick. Use it during the day or night, to view the scenery, as security or for wildlife spotting, it also films and takes photos, what more could you ask for?
This digital night vision monocular has a 6x optical magnification with a large multi-layer 50mm objective lens for brighter, clear image quality. On top of that, you also get a 1-5x zoom for even closer images. 
Thanks to its IR illuminator, you get an excellent 350m viewing distance, further than most other night vision scopes. This monocular runs off 4 AA batteries, so they're easy to replace, with a great four hours maximum runtime without illumination or up to three hours with the IR illuminator switched on.
Enjoy 5mp photos and record video in HD of wildlife you've spotted or great sights you've zoomed in on when travelling, thanks to its 1.5" TFT built-in display. Water-resistant, rated IPX4, this monocular also boasts a strong and sturdy exterior, ready to accompany you on your next adventure. 
On the downside, adjusting this monocular's focus may take a little while as it needs quite a few turns. Also, if you don't already own suitable batteries and a TF card, you may need to spend some extra cash. 
Pros:
6 x 50mm with 1-5x zoom
1.5" TFT display
350m maximum viewing distance
IR illuminator
Camera & camcorder functions
Cons:
Adjusting focus may take a while
You may need to spend extra on batteries and TF card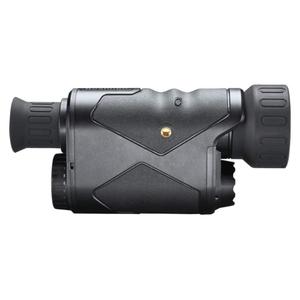 Are you looking for a hi-tech night vision monocular to be able to quickly and easily transfer high-quality video and images? Then you need to take a closer look at the Bushnell Equinox Z2 650; our best WiFi enabled pick for fuss-free image and video transfers.
This top-of-the-range night vision monocular has a powerful 6x optical magnification combined with a large 50mm objective lens for bright and clear images. You can use this monocular to view long-range targets both during the day and night, thanks to its built-in IR light illuminator with a maximum night viewing distance of 305m.
The infrared-sensitive complementary-metal-oxide-semiconductor sensor gives you unparalleled edge-to-edge resolution, whether you're in low-lit conditions or total darkness. What's more, the fully multi-coated optics reduce glare and improve light transmission for better than ever pictures.
Thanks to its true HD 1080p video recording, you can enjoy detailed video playback of your adventures or still photos. Stream your live video footage and photos via WiFi with the Bushnell Equinox App. You can also benefit from the remote operation – ideal when you've tripod-mounted your monocular on your birdwatching, wildlife spotting or camping trip.
Unfortunately, the battery life on this monocular may be very short when used at full brightness. Also, like some of the other night vision models with padded hand straps, the wrist strap could be more comfortable to use.
Pros:
6 x 50mm 
IR light illuminator
1080P HD video
Maximum night viewing distance: 305m
WiFi-enabled
Cons:
Battery life may be very short
The strap could be improved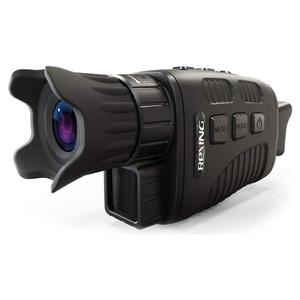 The Rexing B1 Basic is our best portable pick. Thanks to this night vision monocular's compact size, built-in playback mode and excellent battery life, you can use it just about anywhere. 
The B1 Basic has a powerful 10x optical zoom plus a 4x zoom, giving you excellent magnification levels. The 25mm objective lens is large enough to allow good levels of light transmission without making this unit too large or bulky. 
Use it for nature spotting by both day and night; with its powerful built-in IR illuminator featuring seven lighting modes, you can adjust levels to suit your preferences and lighting conditions. This night vision monocular gives you clear images up to 300m away, even in complete darkness. 
Not only does this model take clear 1MP photos and HD 960P videos, thanks to its 1.5" internal LCD screen, but you can also playback your images and videos on your monocular wherever you are. IP65 water-resistant, this night vision monocular has an exceptionally long battery life of up to 17 hours without IR illumination or 6 hours recording with illumination, making it an excellent choice for your next wildlife observation trip into the wilderness. 
On the downside, you may wish to purchase some additional protection for this unit as there are no end caps or bags included. Also, the housing could be more robust for trips out into the wilderness. 
Pros:
10 x 25mm with 4x digital focus
Maximum viewing distance: 300m
Built-in IR illuminator
960P video/1MP photos
IP65 water-resistant
Cons:
May want to purchase additional protection
Housing could be more robust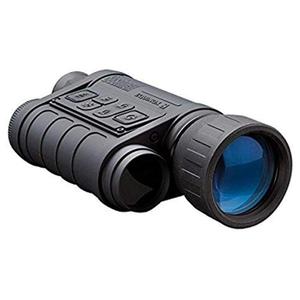 Another excellent Bushnell night vision monocular, the 260150, is our best sturdy option – ideal for camping trips, wildlife watching and days out hiking.
With its superb 6x optical magnification and large 50mm objective lens for bright, clear images, this monocular is an excellent choice for spotting far away targets both by day and night. Thanks to its infrared illuminator, you get a very good 300m viewing range even in complete and utter darkness. 
The image and video capture functions allow you to record your sightings, plus the superior lens quality makes for better than ever photos. Adjust the IR brightness to suit your lighting conditions and personal preferences. You can also mount this night vision monocular on a tripod for the best video results.
Thanks to this monocular's extra-rugged, water-resistant housing, you can take it out with you in all weathers and benefit from exceptional views in all lighting conditions. This model is also equipped with an extra-strong carry case. If you need a sturdy night vision monocular that provides high-quality images by day and by night, you should definitely consider the Bushnell 26015. 
Bear in mind that this model may go through quite a lot of batteries, although you could use an external power unit via its USB port. Loading the batteries may also be a little tricky, so you may prefer to opt for a power bank.
Pros:
6 x 50mm magnification
Adjustable infrared illuminator
Image & video capture
Rugged, water-resistant housing
Viewing distance at night: 300m
Cons:
Batteries could be easier to load
Power consumption may be high
Not only is the Esslnb ES1101 a great night vision monocular, but it's also our top pick for the best grip, thanks to its rubber armour complete with non-slip stripes. Rain and fog proof, this tough little monocular make a great all-rounder.
The ES1101 has a good 5x optical magnification, plus a 1-8x digital focus for all of your close up shots. Its 40mm objective lens is fully multi-coated for increased light transmission and clarity, with reduced glare for better images.
This night vision monocular also benefits from an infrared illuminator complete with a CMOS sensor for clear views even in low lit conditions at a maximum viewing distance of 200m. Use it for colour images and videos during the day or black and white ones at night.
One of the main advantages of the Esslnb ES1101 is its playback function that allows you to check your images and video feed while you're out in the field via the in-built 1.5" TFT LCD. Complete with a 16GB TF memory card, lens cloth and a rechargeable battery, this monocular comes with everything you need to get started. 
Unfortunately, the instructions provided with this night vision monocular could do with some improvement as they are very difficult to understand. Also, you may find it a little tricky to use the buttons in the dark wearing gloves as they do not stick out very much.   
Pros:
5 x 40mm with 8x digital zoom
Fully multi-coated objective lens
Photo & video functions
IR illuminator
Includes 16GB TF memory card & rechargeable battery
Cons:
Instructions may be difficult to understand
Buttons could be improved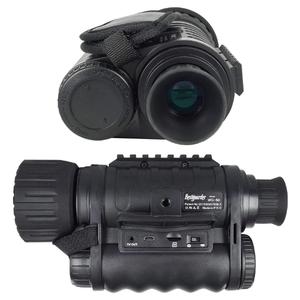 The Bestguarder HD is our best easy to use choice. If you're looking for your first digital night vision monocular, it makes a great choice for long-distance viewing. Plus, it's also a more affordable model to help get you started, especially when compared to the price of night vision binoculars. 
This night vision monocular has a 6x optical magnification plus a 5x digital zoom, enabling you to see distant targets up close. Thanks to its larger-than-average 50mm objective lens, you get good levels of light transmission for brighter, clearer images. 
With four levels of infrared lighting and three brightness levels, use this infrared monocular to capture images of targets up to 350m away in complete darkness. You can also take advantage of the built-in accessory mounting rail to add additional IR lighting for extra night vision power if needed. 
Use this model to record HD images and video with sound when inserting a micro SD card. Powered by four AA batteries or an external 6V power bank, this easy to use, versatile night vision monocular is also tripod mountable and comes complete with rugged, water-resistant housing for use in all weathers. 
Bear in mind that this NV monocular does not come with a playback option, so you'll have to wait until you upload your images and videos to see if they are any good. Also, the included bag could be improved with a carry strap for easier transportation. 
Pros:
6 x 50mm with 5x digital zoom
Built-in microphone for video sound
350m range
Power via 4 AA batteries or 6V power bank
Waterproof rating IPX4 
Cons:
It could be improved with a playback option
The bag could be easier to carry
The Mileseey NV20 is a great entry-level digital night vision monocular that is also really versatile; use it by day or night for photos and videos as well as for keeping an eye on your surroundings. 
This NV monocular has a good 5x optical magnification level with an 8x zoom for detailed close-ups of distant wildlife and objects. The 35mm objective lens is a good size, not too big to make the device bulky, but wider than 25mm models to allow better light transmission for clearer images. 
Thanks to its adjustable infrared illumination, this monocular allows you to clearly see items up to 200m in complete darkness. It also comes complete with an 8GB TF memory card to take and store photos and videos, while the 1.5" LCD provides you with detailed images.  
Another nice feature of this night vision monocle is that it comes with a rechargeable 2000mAh battery, so you won't have to worry about keeping a large stock of disposable batteries at hand. The battery life is very reasonable at up to seven hours without illumination, or 2.5 hours with it switched on.
Complete with a fast recharge time of just 3.5 hours, this handy monocular is a great buy. It also weighs just 300g, making it easy to pack and carry – an excellent alternative to night vision binoculars.
On the downside, the menu operation may be a little overly-complicated for some users. Also, no lens caps are provided, so you may need to keep putting it in and out of its soft carrying case while you're on the move. 
Pros:
5 x 35mm with 8x digital zoom
IR illuminator
1.5" LCD
2000mAh rechargeable battery
Camera & video with playback
Cons:
Menu operation could be simplified
Protection could be improved
What Are Night Vision Monoculars Used For?
Night vision monoculars, like night vision binoculars and other night vision devices, are used so you can see distant objects, animals and people in the dark. In particular, monoculars are also popular choices for taking videos or photographs in the dark.
As night vision monoculars are generally lightweight and fairly compact, they are a popular choice for wildlife watching, camping, hunting and security applications. Most night vision devices can also be used in daylight, as well as at dusk, dawn and in perfect darkness. 
How Do Night Vision Monoculars Work?
Have you ever wondered how your night vision monocular gives you crisp, clear images from metres away in the darkness of night? Traditionally, night vision devices used a night vision technology known as optoelectronic image enhancement. 
Your night vision monocular may also benefit from optoelectronic image enhancement for use in low light situations. This technology senses small amounts of infrared light in your surroundings, such as light from street lights or the moon. Electrical light amplification inside your monocle increases this available light so you can see in the dark.  
Newer night vision devices and monoculars, in particular, utilise digital night vision technologies for smaller, more lightweight night vision monoculars. Digital technology image enhancement converts the light entering your monocular's objective lens into a digital signal.
This conversion is done by a complementary metal-oxide-semiconductor sensor or CMOS sensor for short. These sensors are also commonly used in video cameras. Once the image has been converted, it is then electronically enhanced, magnified and sent to your monocular's in-built LCD for viewing.
The signals can also be stored on your memory card to transfer your images and videos to your other digital devices for storage or to share them with your friends and family on social media.
Choosing the Best Night Vision Monocular 
Wondering how to select the best night vision monocular? Here's our guide to the most important night vision monocular features so you can make sure that you choose the very best night vision monoculars to suit your needs.
Magnification
Your night vision monocular will have its optical magnification strength listed as the first number preceding its lens size. This is usually anywhere between 5x up to 12x. If, for example, you choose a monocular with a 5x optical magnification strength, this means that when you look at a distant object with your monocular, it will appear five times bigger than it would if you were just using your naked eye. 
Lens
Your monocular's lens size is listed after its magnification strength. Lenses are measured in mm. The larger the lens size, the more light will be able to pass for brighter pictures with better contrast. However, larger lenses will mean a bulkier monocular. You should also pay attention to any special lens treatments. Some of the best models have fully multi-coated optics to reduce glare and improve image quality.
Zoom
Most night vision appliances also have a zoom so that you can digitally zoom in or out of an area, animal or object on your monocular's in-built screen. Most digital monoculars will have a zoom between 1x and 8x. Simply press your model's buttons to zoom right in to the details on your monocular's in-built LCD.
Viewing Distance
This may also be referred to as your monocular's range. Your average night vision monocular will have a maximum viewing distance of 200-350m when used in pitch darkness. You can use them to view more distant objects in daylight.
Batteries
Not all night vision models have batteries included, so make sure that you double-check. For convenience, many night vision goggles and monoculars take standard size AA batteries. Some will come with rechargeable ones, or you can purchase batteries to recharge if yours doesn't come with any batteries.
It's essential to take a close look at the estimated battery life. Bear in mind that manufacturers will often give you very optimistic battery life figures. Night vision devices will obviously use up more power more quickly when their IR light is switched on. Some may even get through a set of batteries in less than an hour. 
If you are planning on using your monoculars in low light performance conditions for long periods, you'll want to keep a spare set of batteries charged up, ready to change over. Alternatively, you could settle on a model that could be used with an external power source, such as a power bank with a USB cable. 
Image/Video Resolution
If you are specifically looking to film or take photos with your night vision monocular, you should look for a model with a high resolution. Resolution is a way of measuring image quality. It is measured in pixels per inch (PPI). Higher resolutions give you more detail and crisper images and video. Look out for full HD video and photos for the best image quality.
Dimensions
Before you make your purchase, make sure that you consider just how big your monoculars will be. While some versions can easily slip into a pocket, other models can be a little bulky, although much less so than night vision binoculars. Ultra-compact monoculars can be as short as 10cm long, with more substantial models measuring around 22cm long. Larger, wider models are often better to hold when teamed with a padded hand strap to improve portability.
Weight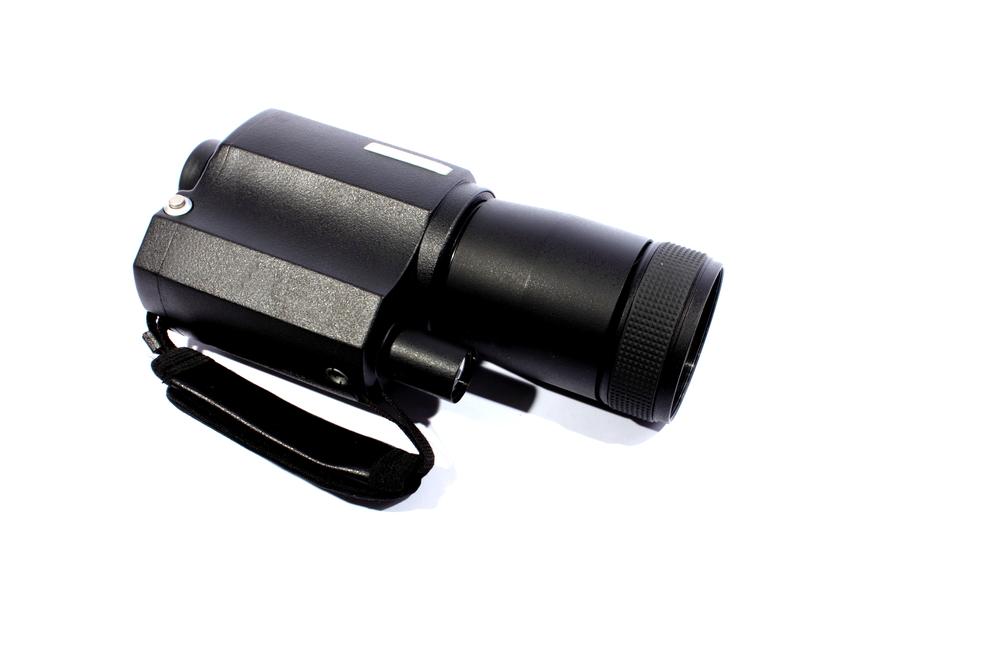 Are you going to be carrying your night vision monoculars over long distances? Most night vision models weigh between 300-800g, depending on their lens size, materials and size. While 500g does not sound like a lot, if you will be using your night vision monoculars over long periods, you may prefer to purchase a lightweight model.
Weather Resistance
Unless you are going to be using your night vision monocular from inside your home, you'll want to make sure that it has adequate levels of weather resistance. Waterproof or highly water-resistant models are a must for camping trips and wildlife spotting adventures far from civilisation. Night vision devices with good waterproofing are also more likely to be resistant to dust and other debris.
Conclusion
A good night vision monocular will make nighttime wildlife spotting and outdoor exploration much more enjoyable. With so many excellent models on the market to choose from, it can be tricky to make up your mind. If you're still stuck deciding, we recommend taking another look at our overall favourite and editor's choice, the Boblov P15 – in our opinion, the best night vision monocular in the UK overall.
As the best night vision device for the money, the P15 has all of the features you need to see, photograph and film even in the dead of night. It has a 5x optical magnification strength plus an 8x zoom, so you can take close-up shots of distant objects.
Its 32mm lens allows plenty of light for clear images, while its illuminator provides a good 137m viewing distance at night. The film, take photos and even playback your coverage while you're out. This night vision device even comes complete with a battery and a 16GB memory card, so you'll have everything you need to get started.
What do you think of our reviews? Let us know which night vision monocular you went for!
Additional Resources