Last Updated on
Our editors independently research the best products online to produce this list. We may receive commission on purchases made from the links below but this will never affect our product choices.
---
Top 10 Best Squirrel Proof Bird Feeders
While they can be cute and are certainly entertaining to watch, squirrels have voracious appetites. If your garden birds are missing out on much-needed food while the squirrels tuck into yet another bag of seed, it's time to invest in a squirrel proof feeder.
It might sound simple, but these little creatures are akin to miniature acrobats and very difficult to outsmart. To keep them at bay, you're going to need to find the best squirrel proof bird feeder in the UK; here's our advice on finding it. 
How We Compared Squirrel Proof Bird Feeders
To find the right squirrel proof bird feeders we considered multiple factors, including:
Material and finish
Style
Capacity
Ease of cleaning
Our experienced team created the following list after spending countless hours researching products and fact-checking customer reviews. We carefully chose a range of products suitable for every nature lover out there, analysing and assessing the comparison points above.
To know more about our review process, have a look here.
Squirrel Proof Bird Feeder Reviews
Our overall favourite squirrel proof bird feeder and editor's choice is the Gardman Heavy Duty A01822, thanks to its wide, robust cage and general ease of use. 
With its polished cast aluminium cage, this sturdy fat ball feeder will keep squirrels and large birds at bay, allowing small songbirds to enter and dine. Unlike some smaller versions, at approximately 24 centimetres wide, this cage gives small birds the space they need while keeping starlings at bay. Measuring 31 centimetres high, it can accommodate up to four standard suet balls, so you shouldn't have to refill it too frequently.
Easily dismantled for refilling and cleaning, this squirrel buster bird feeder also features a FeedSafe biocidal coating. This ensures that bacteria are killed upon contact with the cage, helping to keep your garden birds safe and healthy. Long-lasting, this durable metal bird feeder is sure to help you to boost your local songbird population, preventing greedier large birds and squirrels from decimating your bird food in minutes.  
As this squirrel-proof feeder does not have a very secure lid, you may want to cable tie it closed to stop squirrels access. Also, you may notice some corrosion around the hanging holes with exposure to the weather, although this will not impact the feeder's utility.  
Pros:
Polished aluminium feeder
It holds up to 4 suet balls
Heavy-duty cast anti-squirrel cage
FeedSafe biocidal coating
Cons:
May not weather too well
The lid could be more robust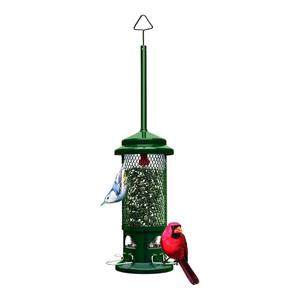 One of the best squirrel proof feeders on the market, the BD1057 by Squirrel Buster is an excellent choice to keep squirrels and large birds from devouring all of your birdseed. 
This spring-loaded squirrel proof bird feeder automatically closes access to the seeds when the weight of an adult squirrel is detected. What's more, you can also adjust the sensitivity of the closing mechanism so that it closes to also exclude larger birds. Thanks to its robust construction, utilising chew-proof materials and metal perches, this is one of the best squirrel proof feeders around. 
No tools are required to reassemble this feeder after cleaning and refilling, which makes it very easy to use. Durable and well-made, this model also benefits from a lifetime guarantee, making it definitely worth the money if you are looking for a tried and tested way to keep squirrels away from your birdseed.
Bear in mind that these anti squirrel bird feeders may need frequent refilling as they only have a 590g capacity. Also, you may wish to consider installing a drip tray to keep your seeds from falling to the ground if your garden birds are fussy eaters. 
Pros:
Weight adjustable spring-loaded feeder
Made from chew-proof materials
Easy to clean and refill
Lifetime warranty
Cons:
May need frequent refilling
May get a lot of seeds dropping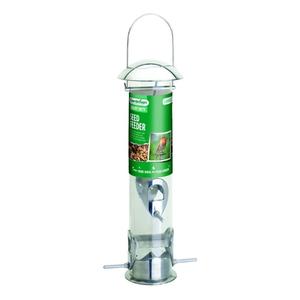 If you are on the hunt for an affordable bird feeder that favours songbirds feeding over greedy squirrels, you may want to try out the Gardman A01044 Seed Feeder. 
This attractive and durable squirrel proof bird feeding station features a transparent perspex seed tube complete with chew-proof polished die-cast aluminium fittings. This feature will stop squirrels from destroying your feeder by chewing the perches, lid or ports and emptying the entire contents.
You can completely dismantle this feeder to ensure thorough cleaning; plus, as the contents are clearly visible, you can easily tell when it's time to refill and detect any seed that needs discarding. Four feeding ports enable more small birds to feed simultaneously, and you can use this feeder with both peanuts and seed mixes to suit your local songbird population and to attract different species.  
Unfortunately, reassembling this feeder after cleaning could be easier without nuts and bolts. Also, while the feeding ports are metal and chew-proof, if you have determined squirrels, you may find they are able to easily access the seeds without a protective outer cage or internal locking mechanism. 
Pros:
Polished die-cast aluminium feeder
Four feeding ports
Disassembles for cleaning
Fill with seeds or peanuts
Cons:
Maybe fiddly to reassemble
It may require a cage to make it squirrel-proof
Are you looking for a sturdy squirrel-proof peanut feeder for birds? This model by Peckish is not only great for keeping adult squirrels from stealing your bird's nuts, but it is also an attractive model with its antique finish and decorative leaf design. 
Thanks to its wide metal cage design, this metal squirrel proof bird feeder allows small birds to feed while preventing larger birds and squirrels from accessing the food. Hard-wearing, this durable metal bird feeder holds approximately 510g of peanuts inside the stainless steel inner container. Thanks to its small mesh design, smaller birds are much less likely to choke on large peanut chunks, unlike models with wide mesh dispensers. 
This feeder features a screw-top lid to make it impossible for squirrels to gain access from above. The sturdy, hard-wearing metal makes it resistant to squirrel attacks, ensuring that your small garden birds will be able to thrive and benefit from the food that you put out for them. 
Refilling this feeder could be easier despite its screw-top lid as you may need to remove the entire cage. Also, you may wish to add some drainage holes to the tray base to prevent rainwater from accumulating.
Pros:
Hard-wearing metal construction
Screw-top lid
Cage design prevents squirrels and large bird access
Stainless steel small mesh for peanuts
Squirrel proof bird feeder pole
Cons:
It could be improved by adding drainage holes
Refilling could be easier
Weather and waterproof, complete with individually spring-loaded feeding perches, this Roamwild PestOff bird feeder is one of the best bird feeders with squirrel protection. 
Its new metal chew-proof design keeps rats and squirrels out while the feeding ports close automatically when large birds and other heavy pests attempt to feed. Thanks to its large 1.5L capacity, you can spend more time watching your local songbirds and less time having to refill with seeds. 
Another great advantage of this squirrel-proof feeder is that it is very simple to refill and clean, with no tools required. Simply open the lid and fill, or when cleaning, the feeder clicks apart and then back into position. Thanks to its thick UV-stable polycarbonate seed container, your bird seed is not only protected from pests but also from the weather keeping your seeds fresh and dry. 
Depending on what you are feeding and how fussy your birds are, you may wish to fit a seed tray for this feeder to avoid many seeds falling. Also, bear in mind that as there are only two feeding ports, you may wish to pick up a couple of squirrel resistant bird feeders to attract birds while avoiding long waits and squabbling. 
Pros:
Two spring-loaded feeding ports
Large 1.5L capacity
Weather and waterproof
Easy to fill system
Cons:
May need a seed tray
Could benefit from more ports
This three-piece bird feeder set by Easipet includes three different coloured squirrel resistant feeders. Each feeder is designed to hold a different type of bird food, seed, fat balls or nuts to increase the variety of bird species in your garden. 
thanks to their strong metal construction, these bird feeders have been designed to last, standing up to both the elements and garden pests. The anti-squirrel cage design keeps squirrels and large birds away from your bird food while feeding small birds. 
Easy to fill and clean, this set of bird feeders is also very reasonably priced. Whether you want to add some squirrel-proof feeders to your current arrangements or are just starting out to feed the birds in your garden, this bird feeder set makes a great buy and even comes fully assembled.
Unfortunately, you may find that the included lid clips may not stop squirrels from breaking in, so you may wish to cable-tie them in place. Also, the squirrel cages could do with being a little wider to facilitate your garden birds' access, although smaller birds shouldn't have an issue. 
Pros:
Three feeder set
Easy to clean and fill
Strong metal construction
Anti-squirrel cage design
Cons:
The lid clips could be improved
Anti-squirrel cages could be wider
The Greenfingers Squirrel Proof Seed Feeder features a sturdy outer metal cage designed to keep squirrels and larger birds away from your bird feed while allowing entry to smaller birds to feed inside.
Secure and easy to fill, simply remove the top and add seeds to the weatherproof internal seed dispenser. This heavy-duty feeder, unlike open seed feeders, ensures that the seeds stay fresh and dry even in bad winter weather, thanks to its interior plastic feed tube.
Complete with four seed ports and perches to ensure that your birds won't have to wait too long for their turn, this small metal bird feeder is a good option if you are starting to feed the birds but don't want to develop a squirrel problem. It comes complete ready to hand with a large handle.  
On the downside, if you already have persistent squirrels that are experienced in opening bird feeders, you may need to take extra measures to better secure the lid on this model. Also, as the plastic ports and perches are not chew-proof, some squirrels may be able to reach through the cage and make holes to empty out your seeds. 
Pros:
Anti-squirrel steel wire cage
Easy-fill top
Weatherproof seed dispenser
Four feeding ports
Cons:
The lid may need securing
Plastic perches and ports could be more durable
The hanging copper coloured BF001 Bird Feeding Station by Sahara Sailor is an attractive 2-in-1 bird feeder that provides an unobscured view of your feeding feathered friends. 
Thanks to its circular design and perching ring, this bird feeder allows multiple birds to feed simultaneously. One side is covered with a metal mesh to accommodate peanuts, cracked corn or hulled sunflower seeds, while the other side features a transparent plastic seed reservoir that flows into a feeding tray. The whole feeder has a large seed capacity of 1.13kg, making it a good choice for gardens with large bird populations.
This design makes it easy to fill and clean and ensures that your bird food is protected from the elements by the plastic reservoir sleeve. Seeds in the tray below are protected by the large upper baffle, which helps keep squirrels at bay by preventing access to the seeds below. Drainage holes in the seed tray help to prevent rainwater retention.
Bear in mind that this model is less suitable for gardens with a confirmed squirrel problem as the metal is fairly soft, which could be an issue if you have very determined squirrels. Also, this model may be susceptible to corrosion on the metal parts. 
Pros:
2-in-1 nut and seed feeder
Easy to refill
Seed tray base with drain holes
Large seed capacity
Cons:
Metal may be too soft
It may be susceptible to corrosion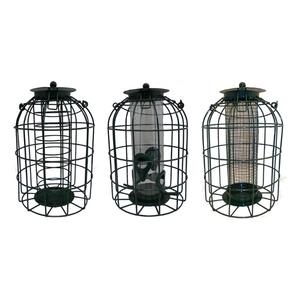 This set of three squirrel-proof bird feeders by Kingfisher will allow you to feed seeds, nuts and fat balls to smaller garden birds without having to worry about greedy squirrels, crows, pigeons or other big birds gorging themselves.
Thanks to their durable metal construction, complete with a weather-resistant powder-coated finish, these bird feeders have been designed to last. Each feeder comes complete with a metal hanging loop, an external squirrel-proof cage and an internal feeder. The model has four seed ports and perches, while the peanut model has a secure mesh interior.
Easy to open and refill, these protected bird feeders feature hinged lids to shield your bird food from the elements. If you are looking for a sturdy set of metal squirrel-proof bird feeders and wish to provide various foods to attract many different types of birds, this is a good option for the money.  
Remember that you may want to tie wrap the lids securely closed if you have a confirmed squirrel problem. Also, you may find that the gap between the inner feeders and the outer cages could do with being a little larger to more easily accommodate medium-sized birds such as robins and sparrows.  
Pros:
Three-feeder set with a nut, seed and suet feeder
Squirrel-proof outer cages
Weather-resistant powder-coated finish
Easy to open and fill
Cons:
The outer cage could be wider
May need to tie wrap the lids
This plastic bird feeder by Urban Decay is a nice bright red colour and comes ready to hang, complete with a sturdy metal hook.
This rust-resistant model is ideal for feeding small garden birds. Thanks to its six feeding ports and perches, it has a strong plastic construction. The transparent seed reservoir lets you see from afar when your birds are ready for a refill and protects your seeds from the elements for fresh dry food in all weathers.
Given its plastic construction, it is easy to wipe this feeder clean. Also, thanks to its numerous seed ports, you may discover that smaller, shyer birds generally favour this feeder. So, if you are struggling to get any takers, you may have more luck with this bird feeder that promotes safety in numbers. 
Unfortunately, this seed feeder for birds may not put up much resistance to squirrels – determined individuals may be able to dislodge the reservoir. Also, filling up this feeder may be a little fiddly with the short removable bar, which may become dislodged when filling. 
Pros:
Strong plastic construction
Transparent seed reservoir
Six feeding ports
Sturdy metal hanging hook
Cons:
It could be easier to fill
It may not deter squirrels much
What are the Best Types of Squirrel Proof Bird Feeders?
There are several different types of squirrel proof bird feeders on the market. Before you choose a new one for your garden, make sure that you look at all of the different types available. 
Cage Feeders
Perhaps the most simple but also highly effective, large squirrel proof bird feeders with cages provide a durable and consistent solution. An external cage surrounds an internal feeder at a sufficient distance to prevent squirrels from reaching inside and helping themselves to your bird food. 
Caged bird feeders can also help prevent larger birds such as crows and pigeons from decimating your songbird's seed supply by preventing access. Only small and medium-sized birds that can fit inside the external cage can access the internal feeder. 
One of the main advantages of caged bird feeders is their simplicity and durability. Unlike spring-loaded versions, which can become less effective as they age or motorised spinning squirrel-proof bird feeders that need recharging, cage models do not require any specialised setup or maintenance, aside from regular cleaning. 
Weight-Sensitive or Spring-Loaded Bird Feeders
Weight-sensitive anti squirrel bird feeders typically feature spring-loaded weight-sensitive perches, some of which can be adjusted. When small, light birds land on the perches, they have full access to the feeding ports. When heavier birds or squirrels attempt to feed, their weight causes the perches to lower, which automatically closes off access to the feeding ports. Once the heavy weight is removed, the ports reopen to allow your garden songbirds to access their food. 
One thing to be aware of with spring-loaded squirrel proof feeders is that the springs can become less effective with use, so you may want to look out for an adjustable model. Adjustable models also enable you to alter the weight limit so that you can also prevent large birds from emptying your feeder.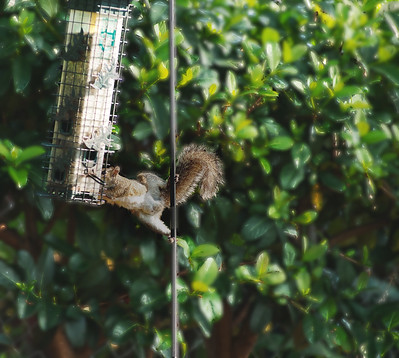 Motorised Bird Feeders
Motorised squirrel-proof bird feeders use a weight-activated motor that activates when a large bird or squirrel lands on your feeder. The motor gently spins the feeder around so that larger birds fly away or the squirrel falls off. Once the heavy weight is removed, the feeder stops spinning automatically.
This type of squirrel-proof bird requires batteries to work, so you will have to replace them as necessary and occasionally check that your feeder is still operational. Some models come with a rechargeable battery that can last up to four months for easier maintenance. 
Feeders With Baffles
Other types of bird feeders may come with squirrel-proof baffles to prevent squirrels from getting to your bird food. A baffle for a bird feeder is essentially an obstacle that either prevents squirrels from climbing up the pole to access your feeder or stops them from climbing down or jumping onto your feeder. 
Squirrel baffles can be highly effective when correctly located and are also very easy to install and maintain. If your bird feeder is constantly under assault from red squirrels and you're worried about it remaining intact, you could always purchase a squirrel baffle separately or even try making your own.  
What's the Best Location for a Bird Feeder?
Even with a squirrel proof bird feeder, you should make sure that you are hanging your feeder in the best location to attract extra birds and discourage squirrels from attempting to break open and damaging your feeder. 
You should place your anti squirrel bird feeder in a quiet part of your garden where there is not much traffic that could disturb or scare off shyer birds. You'll also want to place your bird feeders where you can enjoy the sight of your birds feeding while keeping them away from garden features that are likely to make it easier for squirrels to try to get to your seed.
If possible, you should place your squirrel proof feeders at a distance of over 10 feet from any trees, wires, roofs and gutters to prevent squirrels from leaping onto your feeders. 
Mounting your feeders on a metal pole away from branches will help to prevent squirrels from reaching your bird food. 
Locate your feeders in a sheltered shady spot to help to protect birds.
While squirrels can use nearby large trees and branches to launch attacks on your feeder, shyer birds will appreciate you locating your feeder not too far away from nearby light bushes and high plants. This will give them a safe place to survey the scene and somewhere to wait near the feeder when it is in use by other birds. 
Ensure that cats, pesky squirrels, larger birds and other animals cannot climb or land on nearby branches and foliage. Tall plants with delicate branches and stems work best.  
Choosing the Best Squirrel Proof Bird Feeder
Wondering which is the best squirrel proof bird feeder in the UK for your garden? Here's how to choose. 
Type of Food
Make sure that your feeder matches your bird food type. Different types of birds prefer different types of food, so if you are looking to attract a specific type of bird, make sure you do your research first and buy the appropriate feeder. Alternatively, you could purchase a set of squirrel proof bird feeders with a seed feeder, peanut feeder and a fat ball feeder to attract a wider variety of different birds. 
Capacity
If you have a lot of garden visitors or regularly spend a few days away from home, you'll want to pick up a high capacity squirrel proof bird feeder for less frequent refills. Some smaller models will need to be filled up daily, while larger ones or gardens with fewer visitors can be topped up every week when you clean your feeder. 
Easy to Fill/Clean
If you'll be regularly filling up your feeder, it's important that it is easy to refill. Also, as hygiene is very important to keeping garden birds healthy and preventing the spread of diseases, you'll want a model that is easy to clean. Bird feeders that can be entirely dismantled for cleaning will help ensure your bird population's health and happiness. 
Construction
To prevent squirrels from destroying your bird feeder, you'll want to look out for a robust model that is rust-resistant and made from chew-proof materials to prevent squirrel damage. Metal is a good choice and is also exceptionally strong and hard-wearing, so it won't crack with the winter frost or if squirrels manage to detach it and it takes a tumble. 
Weatherproof
You should also consider how weatherproof your feeder will be. Seeds and other types of bird food will need to be kept clean and dry, hence why most feeders feature a built-in rain guard and a plastic reservoir for seeds. If your bird feeder has a seed tray or solid base, you should look out for models with small drain holes that will prevent rainwater from gathering. 
Conclusion
You can go to great lengths to try to keep pesky squirrels away from your bird's food. Our advice, invest in the Gardman Heavy Duty Squirrel Proof Bird Feeder, our editor's choice. Its sturdy metal construction and simple yet effective squirrel-proof cage allow small birds to access the fat balls in your feeder while keeping squirrels and large birds at bay.
This durable, polished aluminium bird feeder also features a FeedSafe biocidal coating to help to keep your garden birds safe and disease-free, making it the best squirrel proof bird feeder in the UK for anyone looking to help their local songbird population to thrive. 
Additional Resources