Last Updated on
Kids are always looking for a new toy, game, book or adventure to try out. They love exploring the world and finding new things to do. Arts and crafts are something that most children enjoy, no matter their age. And what better to combine it with some educational optics?
For example, if they don't have access to any binoculars, kids can make their own at home. This can easily be done with items you may already have around the house. Surprisingly, you could make a pair of regular binoculars with cereal boxes or used toilet paper rolls.
If DIY binoculars work for your children, great! It's a great way to introduce science and engineering to your kids, and it's easier than you think.
How To Make Binoculars Out Of Toilet Paper Rolls
If your child is interested in watching wildlife or loves looking at the moon and starry night sky, then you might have thought about buying a set of binoculars for them.
However, it's more fun to make your own. Also, not everyone wants to spend a lot of money on a pair of high-end binoculars when it involves playing with and teaching kids.
One alternative is to make your own binoculars from inexpensive items that you probably have lying around the house. One of the most popular and effective ideas we love to share is the toilet paper roll binoculars. Let's get started:
You Will Need
two toilet paper rolls
some tape (masking tape, duct tape, sellotape)
scissors
paint/crayons/markers/stickers/construction paper (optional for decorating)
string/ribbon/yarn
hole puncher (optional)
glue gun/stapler (optional)
Step 1- Bond the Toilet Paper Rolls and Make a Strap
Get two of your old toilet paper rolls. Using a hot glue gun or a stapler, bond the two rolls together. You could use Pritt stick or any other type of glue or adhesive that you have access to. Alternatively, you can use a long strip and carefully run along the top and bottom down the length of the rolls, as pictured below.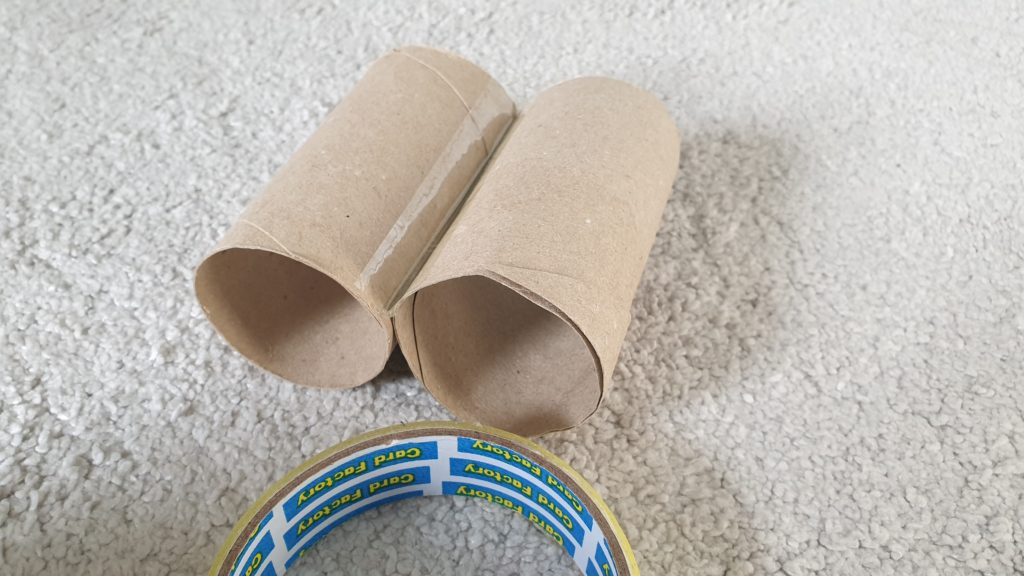 Take a piece of masking tape/sellotape and attach a piece to one side on the inside of the tube, about half inch or so inside. Repeat the same for the other side. This will let you make a strap using string or ribbon that you can use to hold on to your binoculars or hang around your neck.
Alternatively, use a hole puncher to create two holes (one on either side) to poke the string or yarn through and tie it into a knot.
And that's it! Your toilet paper roll binoculars are done! However, if you want to go a little further and make them more advanced, carry on reading below.
Step 2 – Make an Objective Lens
Your binoculars will be ready for use now; however, if you want to make the binoculars more than just a play thing and perhaps add some functionality, you could add an objective lens.
For example, if you have a spare magnifying glass or two around the house, you could glue these onto the tip of the rolls for viewing objects up close. The binoculars may not look great at this stage, depending on the size of the lenses you have access to.
Alternatively, you can take a transparent plastic wrapper from something your child has eaten (a cracker or cookie package works great) and cut it open with scissors. Place the package into the toilet paper roll tip and then use tape to secure this in place. This may obscure the vision but will look much more realistic to young children than hollow tubes.
Step 3 – Finishing Off
It might be an idea now to decorate with some paint or some of your child's favourite stickers. Black crayons and markers are an excellent choice to decorate with. In our case, we had some left over matt black spray paint, which worked beautifully. However, to keep the string from becoming painted we removed the tape, sprayed, and then readded it back on.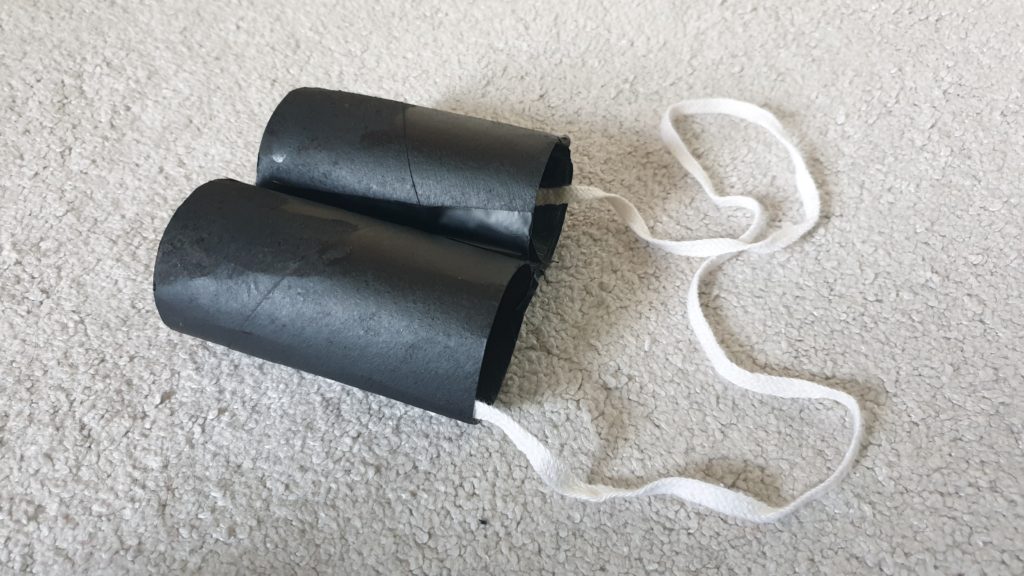 You can also wrap the rolls with coloured construction paper; however, if using this method, wrap and secure the paper over the rolls using glue or tape at the very first stage of step 1. Wrapping binoculars with anything in the latter stages can become tricky.
Perhaps encourage your child to create a logo or to sign and brand their creation to make it unique to themselves. Who knows, they may want to create more items in the future and add to their brand!
Introduce Your Kids to Nature
Now that you can view some great images with your kid's binoculars, set up a camera at the park so that you can document all the great times you have together outdoors!
Although the toilet paper roll binoculars might not be able to magnify distant objects easily as you would with real optical devices, it's a great way to encourage them to partake in activities such as bird watching and insect spotting (especially if you've created a functional set).
Making binoculars is a lot of fun! I have a great time playing with my kids making things like this. We have had so much fun exploring our backyard and neighbourhood just by using these binoculars!
The Final Word
Using some household goods to craft up a pair of binoculars for kids is an excellent way to introduce them to new hobbies and explore their inventive side. As you can see from these instructions, it's a very quick, easy and fun way of bonding with your child.
If these toilet paper roll binoculars worked well for you, great! We hope you enjoy. But if not, you can always take a look at some of our best binoculars for kids, which wont break the bank and are also great fun for children of all ages.
Additional Resources