Last Updated on
Our editors independently research the best products online to produce this list. We may receive commission on purchases made from the links below but this will never affect our product choices.
---
Top 10 Best Bird Baths
Fresh, clean drinking water is essential for birds, just like for all of us. Today, more and more people are feeding birds in their garden, but we often forget to also provide them with drinking water. Luckily, there are plenty of excellent products on the market for our thirsty feathered friends. In this article, we've uncovered the best bird bath in the UK. Read on to find a model that suits your outdoor space and personal preferences.
How We Compared Bird Baths
To find the right bird baths, we considered multiple factors, including:
Design
Construction material
Assembly
Finish
Weather-resistance
Our experienced team created the following list after spending countless hours researching products and fact-checking customer reviews. We carefully chose a range of products suitable for every nature lover out there, analysing and assessing the comparison points above.
To know more about our review process, have a look here.
Bird Bath Reviews
The GardenKraft 10009 Bird Bath is our overall favourite and editor's choice. This product is good-looking, practical and easy to maintain. This is the perfect model to go for if you need an elegant bird bath with a difference for your front garden.
This option won't just help out your local songbirds. It also doubles as a decorative wild flower planter and a solar power garden lamp. Its soft evening glow is sure to enhance your home's ambience. What's more, the unit's handsome decorative bird will brighten up your entire garden. The lamp charges with the daylight and automatically lights up when darkness falls.
You can use this bird bath all year round due to its weatherproof construction: this makes it much better than glass or ceramic bird baths. Moreover, it is also straightforward to clean and maintain so your feathered friends stay in good health.
The GardenKraft 10009 has a compact, striking design to enhance your outdoor space. It is also durable and stylish. Easy to assemble, this bird bath will become a favourite of your local songbirds.
Unfortunately, the assembly screws may need replacing. Also, this product could be a little sturdier, which means it is less suitable for use in exposed areas where it could blow over unless you weigh it down.
Pros:
Freestanding bird bath
LED solar light
Weatherproof metal construction
Lower planter
Cons:
Screws could be better
It could be more sturdy
Our luxury choice is the Pure Garden 50-LG1073 Bird Bath. It features a classic antique finish. Its scrolled details make it a beautiful focal point for any garden, yard or patio.
This vintage-inspired bird bath is also a fully-fledged garden ornament. It stands 73.03cm tall with a generous width of 50.8cm. These proportions allow lots of birds to use your bird bath and favour bird watching.
This model's resin construction ensures that it is fully weather-resistant for year-round use and extra durability. It is also easy to clean out and comes complete with three metal ground hooks to fix it onto your lawn.
Assembling this large bird bath is very easy and takes next to no time. Given its size, it makes a good choice if you have a large songbird population. Plus, it's an excellent classically styled, traditional-looking bird bath. Given its overall dimensions, it is also a popular model to team with a small solar fountain.
On the downside, this model may be a little lightweight like many resin bird baths. However, you could add sand to the centre post to help weigh it down. This is the best way to secure it, as the included ground spikes may be a little on the short side.
Pros:
Antique finish with vintage scrollwork
Weather-resistant resin construction
73.03cm tall with a 50.8cm diameter
Includes three metal ground hooks
Cons:
It could be a little lightweight
It may need longer ground spikes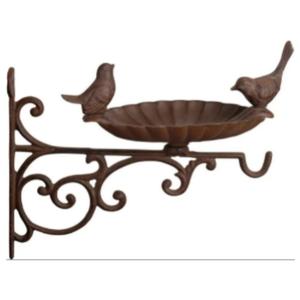 The Fallen Fruits FB163 Bird Bath is our top value pick. It is one of the best discrete yet pretty small bird baths we have seen.
Wall-mounted, it takes up none of your garden living space, making it a good choice for small gardens. Thanks to its design, your garden birds can bathe safely, even if you or your neighbours have cats.
Thanks to its cast-iron constructions, you can use this highly durable bird bath all year round. Its mini ornamental birds add a homely, decorative element. Plus, its scrolled wall bracket and deep brown finish will complement any home. Employ it just as a bird bath, or use the integrated hook to add a hanging basket of flowers or a bird feeder to attract birds.
This product won't disappear in high winds. It will stay secure thanks to its durable construction and wall-mounted design. Good looking, with its ornamental birds and practical, this bird bath is a great choice that will add class and style to your home.
Unfortunately, you may find that the bowl does not always fit flush. However, a quick file will easily sort this issue out. While assembly is very quick and easy, the included screws may need replacing for a better fit.
Pros:
Durable cast-iron construction
Wall-mounted bird bath
Two decorative birds
Safe for birds in gardens with pets
Cons:
You may need to replace the screws
The bowl may not fit flush with the bracket
Shiny and golden, the Kingfisher Bird Bath will become a favourite focal point in your garden or patio. It is also a stylish garden addition to attract and care for your local bird population.
This is a generously sized, eye-catching bird bath. So it will make it much easier to spot your garden birds as they line up for a dip. Its antique styling scrollwork base and shell-inspired basin add a touch of class. Two decorative birds increase its visual appeal even further.
It is a pedestal bird bath constructed of lightweight, easy-to-clean plastic resin. This material makes it an excellent model for use all year round. It is also simple to maintain and highly weather-resistant. All in all, this Kingfisher Bird Bath makes a perfect choice. It is ideal if you are looking for a traditionally inspired bird bath with a difference.
The assembly instructions could be better. So take your time when putting together this bird bath. Also, as this is a lightweight model, you may need to fill the central pole with sand. This will ensure that it does not blow away if you are thinking of placing it in an exposed area of your garden.
Pros:
Bronze effect resin
Easy to clean
Weather-resistant construction
81.5cm tall for easy viewing
Cons:
The assembly instructions could be improved
It may need filling with sand for exposed areas
Ideal if your garden has a lot of birds, the Kingfisher Resin is our best large bird bath pick. This model is beautifully styled with a good-sized bowl for your birds to bathe. It is also a popular, easy-to-install choice.
This large bird bath, built from a lightweight resin, is easy to tip up and clean out. Plus, you can use it outdoors all year round, making it a better choice than other models, made of more fragile materials such as ceramic and glass.
This bird bath measures 63cm high, with a diameter of 40cm wide, so it has plenty of room for small wild birds, making for excellent bird viewing from your home. Its elegant detailing is enhanced by its lovely blue-green hue. This bird bath attracts birds whilst also blending into any outdoor space.
Easy to assemble, this garden bird bath comes with ground hooks for easy installation on your lawn. Good looking and unobtrusive, this product is beautifully finished. It will lend an air of class to any home and improve conditions to encourage wildlife.
Keep in mind that even extra large bird baths may wobble when bigger birds use them. Therefore, we recommend weighing this model down a little. Also, you may need to spend some time trying to get it level as it may not be completely flat.
Pros:
Antique bronze effect resin
Easy maintenance
Includes ground hooks
Easy assembly
Cons:
It might be unstable
It may not be level
Take good care of your local bird population with this stylish 4-in-1 garden bird bath. The Kingfisher Bronze Solar Bird Hotel features a feeding station. As our best product with a solar-powered LED light, this is a fantastic way to add a finishing touch to your garden décor.
With a planter above its scrollwork base, this bird bath is perfect for showing off your flowers. At the top of this model, a solar-powered garden lamp will gently illuminate your evenings. This makes this bird bath an excellent focal point. It automatically recharges with sunlight and switches itself on after dusk.
This bird bath hotel also benefits from an integrated bird feeder with a perching rail and a broad raised rim to keep bird seed out of your water. Lightweight and easy to maintain, this is also a very stylish product. Its UV-stabilised, antique copper finish is fully frost resistant for year-round use.
On the downside, you may need to drill some holes into the planter's base to ensure adequate drainage. Also, you may wish to weigh down this unit; otherwise, it could blow over. You can simply fill the hollow column with gravel or sand.
Pros:
4-in-1 bird bath, feeder, light & planter
Shiny copper effect plastic construction
UV-stabilised & frost resistant
Solar-powered
Cons:
It may need weighing down
The planter may need drainage holes drilling
This model by Mumtop is our best hanging bird bath pick. These kinds of bird baths are a great way to keep our feathered friends safe – even more so if you or your neighbours have cats. It has a unique, colourful design and a practical chain-and-hook hanging system.
This hanging bird bath can be suspended on tree branches or hanging basket hooks to attract birds. As one of the more unusual bird baths in the UK, it will add some sunny cheer to your outdoor space. All without detracting from your garden's natural beauty.
With its glass bowl, this nature-inspired bird bath is easy to clean. Its shallow depth makes it a good model for smaller garden birds who often need the most protection. Its durable, rust-proof chains come complete with a large hook, making it easy to install and take down for cleaning.
Like all elevated bird baths, this model is an excellent choice for homes with pets or visiting cats. Birds can safely land, bathe and drink. Thanks to its vibrant design and easy maintenance, it's an optimal choice to hang in your garden.
Unfortunately, this beautiful bird bath may not be suitable for four-season use. It may crack if temperatures drop below freezing. Also, you may need to spend a little time adjusting the chains to make sure it hangs level.
Pros:
Unique sunflower design
Hang from trees or hooks
Easy-to-clean glass construction
Durable, rust-proof steel chain
Cons:
It may not be suitable for use in winter
Quality control could be improved
Are you looking for ways to cut plastic out of your life? This stunning model by Wildlife World EBB is our best shallow bird bath pick. It also comes from a company that is committed to environmental protection.
This garden bird bath is made from a fired ceramic construction. Thanks to its discrete colours and patterned interior, it would look great in any garden or patio. What's more, it is built using traditional methods. The large rim is convenient for ground birds to perch before bathing or while drinking. Its ridge design makes it easy for smaller birds to wet their beaks without getting in too deep!
Visitors will almost certainly comment on this unique piece of garden artwork. This model features an inspirational quote from William Blake printed around the rim. It comes with three sitting feet to better protect this bird bath from the ground. This model is suitable for both small songbirds and larger birds alike.
If you want to do your bit to keep plastic out of landfills, this is the best bird bath to go for.
Unfortunately, this option may not be robust enough for freezing winter temperatures. It is not completely frost-proof. Also, unless you opt for the additional pedestal, it may not be suitable if you have cats in your garden. Like most ground bird baths, it can leave birds vulnerable to attack.
Pros:
Durable fired ceramic bird bath
Wide edge with descending ridge design
Discrete colours
Three sitting feet
Cons:
It may not be suitable if you have pets
It may not be frost-proof
The BM Solar Planter and Garden Bird Bath is an excellent model that can be used both as a bird feeder and bath and as a garden ornament.
This bird bath will definitely brighten up your evenings with its garden lamp. The LED light automatically recharges with the sunlight and comes on after sunset. The integrated planter is also another good way to brighten up your patio or garden. The entire unit has a stylish shiny copper-look finish. The scrollwork on the base and ridged details on the roof section make this a very handsome unit.
This generously sized bird bath allows several birds to bathe together. Plus, the upper part of this unit has a handy feeding station with a ridge and perching rail, making it an excellent all-in-one model. A great focal point for any outside space, enjoy watching the birds by day and the gentle glow of its lamp by night.
As this bird bath is very lightweight, it may need weighing down to ensure it doesn't blow away in the wind. Also, the assembly instructions could be better. Make sure you take your time going through them before you get started.
Pros:
Bird bath and feeding station
Solar power lamp
Lower planter
Shiny copper-look finish
Cons:
Assembly instructions could be better
It may need weighing down
Looking for a classic bird bath? The Oypla Pedestal Garden Bird Bath has a nice traditional design. It will lend an air of class to your patio, providing a safe haven for birds to take a refreshing drink and bath.
This pedestal bird bath has a stylish verdigris finish and will look great outside any home. Its smooth finish makes it very easy to clean. Plus, as it is lightweight, you'll have no problems tipping it out after cleaning. This resin bird bath is durable and weatherproof for year-round usage.
Easy to assemble, simply attach the three main components together. The water bowl has a decent amount of rim for your garden birds to perch while awaiting their turn. This bird bath comes with three ground hooks to help it to stay in place when installed on your lawn. All in all, it is a great-looking, practical and affordable choice.
On the downside, this bird bath may be a little too deep for small birds. However, you can easily add some stones to the basin so they can bathe. As the base is very light and hollow, you may find that this bird bath is better when only half-filled. You'll also want to weigh it down at the base to prevent it from being too top-heavy and unsteady.
Pros:
Weatherproof resin construction
Stylish verdigris finish
Smooth, easy clean bath
Includes three ground pegs
Cons:
It may be too deep for small birds
The base may be too light
How to Choose the Best Type of Bird Bath
Settle for the type of bird bath that best suits your available outdoor space. Obviously, your personal preferences will play a significant deciding role. Don't forget to also consider the presence of any cats when choosing your new bird bath.
Pedestal Bird Bath
Pedestal bird baths are traditional-style bird baths with a central pedestal or pole. They are generally around 70-100cm in height, giving birds extra security from predators. A pedestal bird bath typically has a large basin. This feature makes them more suitable for use by a wide variety of birds. You can add some stones to the centre of a deep bird bath basin to make it more appealing for smaller birds too.
Ground Bird Bath
Birds usually bathe in puddles at ground level. So, provided they feel safe enough, they generally take very well to ground-level bird baths. However, if you have a cat or if neighbourhood cats regularly visit your garden, ground bird baths could put your birds at risk. If you are worried about predators but find a ground bird bath that you like, you could purchase a stand or move it up. Onto a garden table, for example.
Hanging Bird Bath
Hanging bird baths typically come with chains and a hook, ready for hanging off a bracket or tree branches. They usually are fairly small, making them a good choice for songbirds. Unlike many bird baths, they are also a good option if you have neighbourhood cats. The best bird baths for hanging tend to be made of heavier materials. This prevents them from being too easily tipped up in windy weather. Look out for a cast iron or glass hanging bird bath.
Wall-Mounted Bird Bath
Wall-mounted bird baths come with a bracket that allows you to attach them to the walls of your house, shed or garden fence. They can also be a good choice for smaller outdoor spaces. For example, they won't take up limited floor space on your balcony. Like hanging bird baths, they are a good choice if you have cats. Just make sure you can easily take down your bird bath dish for easy cleaning. If you love watching the birds, you can install your wall-mounted bird bath near your windows. This is great for close-up viewing.
Where to Place Your Bird Bath
Obviously, this will depend on what type of bird bath you have purchased. A wall-mounted bird bath will have fewer placement options than a freestanding one. That said, you should consider two main factors when installing your new bird bath. Its proximity to shelter and shade.
Try to locate your bird bath around two metres from the nearest bush or tree whenever possible. This position will make your bird bath more accessible for shyer birds. Plus, all visiting birds will be able to quickly seek cover should they need to. You don't want to place a ground bird bath right in the centre of your lawn.
Note that we do not recommend putting your bird bath under a tree. Unless, of course, you want to suspend your hanging bird from a tree branch. Otherwise, it will soon be full of leaves, and you'll have a lot more work on your hands keeping it clean.
Secondly, shade is important for several reasons. Firstly, it will slow down the evaporation of your bird bath water. Also, installing your bird bath out of direct sunlight will keep its water cleaner for longer. If you leave your bird bath out in full sunlight, you will need to clean it much more often to prevent algae growth.
On a hot summer's day, birds will be much more comfortable bathing in the shade. A metal bird bath can quickly become burning hot to the touch. Plus, a sheltered corner is better for freestanding bird baths and bird feeders. Otherwise, even the best bird baths can be blown over in exposed areas of your garden.
How to Stop Water Freezing in a Bird Bath?
During sub-zero temperatures, the water in your bird bath can freeze at the surface, preventing your resident birds from using it. So, how do you stop the water inside from freezing?
In case you are wondering, using anti-freeze or any kind of chemicals is an absolute no-go. Anti-freeze is often toxic to wildlife. The last thing you want to do is poison your feathered friends!
Here are some easy ways to prevent the water in your bird bath from freezing:
Hot Water
One of the simplest ways to prevent the water from freezing on cold days is to keep it topped up with hot water. When the mercury reaches sub-zero temperatures, make sure you regularly add some hot water to the bird bath to keep the water temperature above freezing.
Floating Objects
Placing a small buoyant object, such as a rubber ball, is another easy way to stop the water from freezing. The item will create small movements on the water's surface, preserving its liquid state even when the temperature increases.
Position
Another great tip is to place your bird bath in an area where it will get direct sunlight for most of the day. Winter sunshine may not feel particularly warm, but the solar rays can be strong enough to keep the water temperature just above freezing.
Conclusion
It is important to provide clean drinking water for the birds in both summer and winter. During these periods, natural supplies can be limited. Our top pick for the best bird bath in the UK is the GardenKraft 1009.
This freestanding, multipurpose model has waterproof metal construction for extra durability. Plus, its stylish design comes complete with a planter. Birds will enjoy taking a dip or drinking from its gently sloping basin.
What's more, its solar-powered garden lamp means it will continue to be a source of enjoyment in your garden. So you can still enjoy your bird bath when the sun drops and the birds go to sleep.
Additional Resources
Sam loves to learn about animals and their habitats. He has been a nature lover from a very young age, and has been writing papers and articles about wildlife for as long as he can remember.