Last Updated on
Our editors independently research the best products online to produce this list. We may receive commission on purchases made from the links below but this will never affect our product choices.
---
Top 10 Best Wild Bird Food
We have hundreds of bird species in the UK – many of which frequent our gardens. For many, feeding garden birds is not only a hobby but also a great way to make a positive impact on local wildlife and nature. If this is something you are interested in, we have created a guide on the best wild bird food UK customers can buy online.
How We Compared Wild Bird Food
To find the right wild bird food we considered multiple factors, including:
Seasonal vs all-year-round use
Ingredient content
Mess-free
Suitability (for larger or smaller birds)
Pack, bag or bucket size
Our experienced team created the following list after spending countless hours researching products and fact-checking customer reviews. We carefully chose a range of products suitable for every nature lover out there, analysing and assessing the comparison points above.
To know more about our review process, have a look here.
Wild Bird Food Reviews
Our pick for the best wild bird food in the UK is the Extra Select Seed Mix. Extra Select is a popular brand for bird food, and this mix has a good variety of seeds to attract and appease multiple bird types.
The mix has a high content of black sunflower and is also free from fillers and additives. This makes it a healthy option and beneficial for wild birds. Other important ingredients include wheat, red Dari, flaked maize, white millet, kibbled split peas, and vegetable oil.
These seed mixes can also be used any time of the year and can be used on any type of feeder setup.
Although this is excellent bird food, you may find that some of the seeds are only suitable for large birds.
Pros:
Free of fillers and additives for a more healthy feed
Will attract a larger variety of birds
It contains a large proportion of black sunflower seeds
Great for use on either bird feeders or tables
Available in various sizes from 1kg to 20kg
Cons:
It may be better suited for larger birds
Certain birds may not eat part of the mix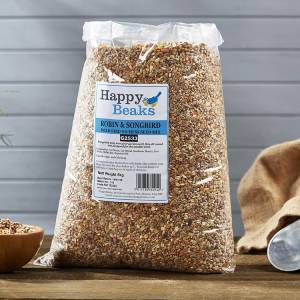 If you want bird seed made of the highest quality ingredients and a no-mess formula, this Happy Beaks High Energy is a great choice.
This seed is 100% edible and results in no waste or mess. It is also versatile and can be used in a feeder or on a table. We also like that it contains a mix of sunflower hearts and high-energy pellets.
Ingredients include cut maize, wheat, white millet, rapeseed oil, suet pellets, and sunflower hearts. This is a great seed mix, but you could find that the small birds have to pick through it to remove the larger items they cannot eat.
Pros:
Available in three different sizes from 5kg to 12.75kg
100% edible with no discarded seed husks
Versatile use for feeder, table, or on the ground
Should attract wild birds and songbirds
The mix is rich in nutrients and high energy snacks
Cons:
Some of the larger seeds may not be suitable for small birds
Some types of birds may not enjoy it
The Seedzbox Seed Mix is a great value option. This mix is an excellent cocktail for wild birds and contains ingredients they will love, such as red Dari seeds, millet, wheat, and chopped peanuts.
This feed is also 100% natural and has no fillers or powder. We also like that every purchase results in a 5% contribution to the One Tree Planted Foundation, which means you can make a positive impact on nature too.
This mix is a great source of nutrients for birds, but some may not like that it is only available in a relatively small 2kg bag.
Pros:
It contains red Dari seeds to attract Jays and Doves
It also contains black sunflower Seeds for Tits and Finches
Includes grit which helps with the bird's digestion
It doesn't contain any nasty powder or fillers
5% of proceeds are donated to the One Tree Planted Foundation
Cons:
May only be available in a 2kg bag size
Some birds may prefer the smaller seeds in the mix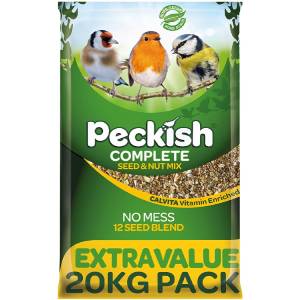 The Peckish 60051246 is a versatile mix of seeds and nuts, great for a varied diet for your birds. The husks from the whole nuts and seeds have also been removed. This should result in less mess.
You can use this wild bird feed in most feeders and table feeders all year round. It can typically attract Dunnocks, Robins, Blackbirds, Sparrows, Tits, and Thrushes.
This is a great and bird nuts UK option, but depending on the feeder design you own, it may prove too fine, and some mix could be wasted.
Pros:
Available in many sizes from 2kg to 20kg
No mess formula that removes the husks and choking hazard
It contains Calvita, which is a natural nutrient supplement
Suitable for use all year round regardless of conditions
Should attract a wide range of birds, including Robins, Blackbirds, Sparrows, and Tits
Cons:
You could find this mix too fine for some bird feeders
Some birds may not enjoy this mix
The Peckish 60051206 Complete Suet Cake is a great alternative to bird seed. It gives your wild birds something different to eat while still giving them a healthy diet and source of nutrients.
The cakes are packed with 12 healthy ingredients and contain Calvita, an excellent natural vitamin and nutrient mix. We also like that you can place the cakes in the holder, or simply place them on a table.
This Peckish wild bird food is a good option; however, you could find that the included suet holder is not as ornate as advertised.
Pros:
Available in different pack sizes from 3 to 10
Each suet cake is packed with 12 different ingredients
It contains Calvita vitamin mix that boosts bird's health
It can be used in a suet feeder, on the ground, or from a table
All husks have been removed for less mess
Cons:
The included suet holder may not appear as advertised
It may crumble easily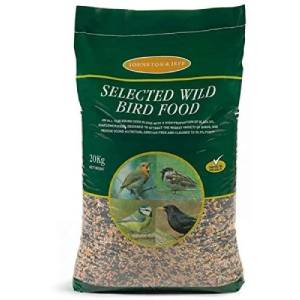 If you have a large array of bird feeders and a large garden, the Johnston & Jeff Wild Bird 08JJ10 is a superb option. At 20kg, this mix is designed to last. It also has the benefit of all-year use.
This healthy bird mix includes black sunflower, red Dari, natural groats, millet cut maize, and various small seeds. It also has a high oil content.
This is an excellent all-year-round seed, but you could find the 20kg advertised weight inaccurate. Also, it may only be available in the relatively large 20kg bag.
Pros:
Suitable for use all year round regardless of the weather or positioning
Should attract numerous bird species, including Tits, Finches, Sparrows, and Starlings
Includes nutritional foods like red Dari, groats, millet, and maize
It has a good ratio of Black Sunflower Seeds
Large 20kg pack for better buying efficiency
Cons:
Only available in 20kg bags which may not be suitable for everyone
Some customers might have found the 20kg weight to be inaccurate
Seeds and grain are a great choice for small birds, making the Copdock Mill a good choice for those who typically get smaller species in their garden.
This mix is 100% natural and bursting with nutrition. You can expect wild birds like blackbirds, robins, thrushes, siskins, and sparrows to love this food. We also like that it can be used either on tables or hanging bird feeders.
This mix may have a few issues, however. For example, it does have some larger seeds, which may only be suitable for wood pigeons and blackbirds. Also, the bag may not have a handle.
Pros:
Great for use in hanging bird feeders
It's packed with 100% natural ingredients with plenty of nutritional value
It can attract a range of birds such as Robins, Finches, and Thrushes
Ingredients include Black Rape, Soya Bean Oil, Maize, and Red Dari
Available in different bag sizes from 5L to 20kg
Cons:
Some of the larger seeds may only be eaten by larger birds like Pigeons and Blackbirds
You may find the bag difficult to lift due to the lack of a handle
The Extra Select Berry offers something different for your wild birds. The birds in your garden will love the berry taste and the high energy content.
This food is suitable all year round and can also be used in hanging feeders and bird tables. Other ingredients include peanut flour, suet, and wheat: these are a great addition to give wild birds some variety and a tasty treat.
These suet pellets are fantastic, but they may only be available in a 3kg tub or bag. Also, some customers may have noticed mould on some of the pellets.
Pros:
High energy berries for a healthier diet
Suitable for all-year-round use
Smaller species should love it due to the berry flavour
It can be used on feeders or bird tables (not on the ground)
Available in either a tub or a bag
Cons:
May only be available in either a 3kg bag or 3kg tub
Some customers may have reported some mould on the suet part of the pellets
If you want to attract multiple wild birds and cater to their needs, the Peckish 60051209 Natural is a good option.
These wild bird foods have great variety and can attract Blackbirds, Robins, Sparrows, Starlings, Chaffinches, and more.
The wild bird food mix contains only natural ingredients, including sunflower hearts, which are a great protein source. It is also one of the few seed mixes containing Calvita, a natural vitamin and nutrient blend.
This seed mix is great, but the lack of a handle may make the bag difficult to carry. Also, the small birds may leave some of the seeds.
Pros:
Available in a range of sized bags from 1.7kg to 12.75kg
The bird seed is enriched with sunflower hearts and other seeds
Made from 100% natural ingredients for a healthier bird food
It can be used from a bird feeder, ground tray, or table feeder
Can attract Blackbirds, Robins, Sparrows, Tits, and more
Cons:
You may find the bag tricky to carry due to the lack of a handle
Some of the smaller birds may leave some of the seeds
Dried mealworms have many benefits if you want to give your garden birds a treat. As a result, the Supa Nutritious Treat makes an excellent choice.
These mealworms can be used as a treat or mixed with your seed mixes. There is minimum waste, and you can rest assured that a large variety of birds love this food. Also, we like that the plastic bucket is reusable and easy to carry. It is suitable for both adult and baby birds.
These tasty mealworms are a great treat, but you may also find that they attract hedgehogs if dropped on the ground. Also, the advertised bucket size could be inaccurate.
Pros:
Dried mealworms are 100% natural and rich in protein
Can be mixed with other seed mixes or used as treats
Should be minimum wastage as all the worm is eaten
The plastic bucket is reusable to reduce environmental impact
Suitable for adult birds and baby birds
Cons:
Some customers have found the advertised bucket sizes to be inaccurate
Dropped mealworms may also attract hedgehogs
What to Look For in Wild Bird Food
You should now have a clear idea of the different wild bird food mixes available. But how do you choose the best seed mixes for your garden birds? It can be a tricky choice indeed! To help with your purchase, we have compiled a short buying guide below, especially if you enjoy bird watching in your garden.
Seasonal Suitability
Firstly, you must look at the seasonal suitability of bird food. Not all bird food can be used during the winter, for example. Some food will simply freeze and become inedible during the colder winter months. Also, some mixes may result in mouldy food in particular conditions or if left out uneaten for too long.
As a result, check if the wild bird food can be used all year round. Ideally, you want bird foods that can be used regardless of the season – this makes it easier to maintain and re-stock.
Inclusion of Husks
Bird seed in the UK typically has husks surrounding the seed. The husk is essentially a shell that protects the seed so that it can be dispersed and grow safely.
However, husks are indelible and are typically discarded by garden birds. You may notice them picking at the seed and throwing part of it away – that discarded part is the husk. This can create an incredible mess!
As a result, it is ideal to look for wild bird food with the husks removed from the bird seed. This will ultimately mean less waste.
Pack/Bag/Bucket Size
Different wild bird foods come in different packaging and pack sizes. This factor is important and relevant to the size of your garden, how many feeders you have, and how many birds you typically attract.
The types of packaging typically include paper bags, plastic bags, plastic buckets, and plastic packs. These are usually available in various sizes ranging from 1kg to 20kg. Also, there are other types of wild bird food like suet cakes that come in blocks.
Seed, Nut, and Ingredient Content
Lastly, and possibly most importantly, you should consider the actual content of the wild bird food.
British wildlife can be incredibly picky! As a result, different birds like different types of food. Therefore, what seed you pick can impact the birds you attract.
Many different birds love some foods like sunflower hearts and black sunflower hearts. Also, the size of the bird seed is important. Smaller birds can generally only eat and digest small seeds, whereas larger birds are able to eat pellets etc. Try to pick a wild bird food that has a good variety of seeds so you can appease all your feathered friends.
Choosing the Right Wild Bird Food
As you can see, there is a great selection of food for garden birds available on the market! You can easily find British bird food to feed the variety of garden birds that frequent your outdoor area. Indeed, any of the above ten picks would make a fantastic choice.
However, our top pick for the best wild bird food in the UK is our Editor's Choice, the Extra Select Seed Mix. This comprehensive bird food has it all – variety, large capacity, and suitability for use all year round. It should attract a large range of wild birds due to the inclusion of red Dari and black sunflower hearts. Also, it is available in various pack sizes, making it suitable for different gardens, bird feeders and overall conditions.
Additional Resources
Sam loves to learn about animals and their habitats. He has been a nature lover from a very young age, and has been writing papers and articles about wildlife for as long as he can remember.