Last Updated on
Our editors independently research the best products online to produce this list. We may receive commission on purchases made from the links below but this will never affect our product choices.
---
Top 10 Best Squirrel Feeders
Finding and installing the best squirrel feeder in your outdoor garden area can provide you with hours of feeding entertainment. Adding a squirrel feeder to your garden is also an old trick used by bird watchers to keep squirrels away from their bird feeder.
As it turns out, you can also feed squirrels with seeds, much like the seed used to feed birds, and they are happy to scavenge and gather from any source around. You may also want to add a squirrel feeder to your garden as a stylish accent or quirky accessory.
Regardless of why you may want a squirrel feeder, we created a shortlist of the top squirrel feeders available on the UK market today, so you can start feeding squirrels right away.
How We Compared Squirrel Feeders
To find the right squirrel feeders, we considered multiple factors, including:
Size and capacity
Materials
Installation
Ease of use
Our experienced team created the following list after spending countless hours researching products and fact-checking customer reviews. We carefully chose a range of products suitable for every nature lover out there, analysing and assessing the comparison points above.
To know more about our review process, have a look here.
Squirrel Feeder Reviews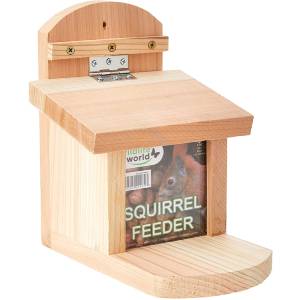 If you are searching for a squirrel feeding box that will hold any kind of food for your furry friends, the Wildlife World Wooden makes a superb choice. It has a classic design and a solid wooden build that you can easily hang from a fence, wall, or tree trunk.
The Wildlife World Wooden squirrel feeder consists of a box featuring a lift-up lid and platform. To help you view the contents and efficiently manage the food levels, it also features a transparent Perspex window that can be removed for easy cleaning and filling.
These squirrel nut feeders are conveniently designed to keep other animals out while allowing squirrels to enjoy extracting the food by playing with the lid. Aside from the front window, the rest of this feeder is made out of solid timber.
While we think this is a great squirrel feeder, you should know that it may not come with the screws needed for mounting. You may also wish it came with a coat of varnish to protect it against varying weather conditions.
Pros:
Easy to clean
Lift-up Perspex window 
Solid timber construction 
Holds any kind of food
Bird-proof squirrel feeder 
Cons:
It could use a coat of varnish
It may not come with screws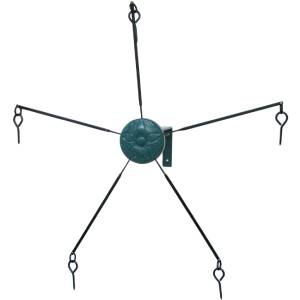 Squirrels are known for being somewhat destructive, but they are no match for the luxury build quality of the Woodlink 5560 Squirrel-Go-Round. This squirrel feeder comes with a moving design that allows your furry backyard visitors to have fun while enjoying their treats.
Designed like a spinning merry-go-round, this squirrel feeder features dangling corn cobs on five threaded metal skewers attached to the end of spokes. The spinning design also helps to distract squirrels and keep their attention away from a nearby bird feeder.
The Woodlink 5560 Squirrel-Go-Round features a decorative centre hub made from durable aluminium. Unlike other squirrel feeders, this one will not become waterlogged or deteriorate in bad weather. All of the mounting hardware required for hanging comes included for your convenience.
Be aware that this squirrel corn feeder requires some assembly, and it won't spin unless you put it together correctly. It also has smaller rivets on the skewers, so some squirrels can easily pull off an entire corn cob.
Pros:
Strong metal construction
Unique spinning design attracts more attention
Five dangling corn cob holders 
Mounting hardware comes included 
Easy to use and refill
Cons:
It could have smaller rivets on the skewers
It might require some assembly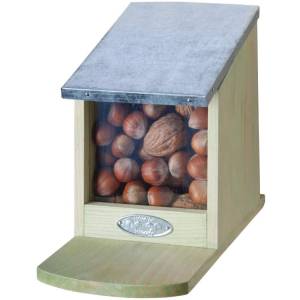 The best value squirrel feeder on our list is the Esschert Wooden. It can hold any kind of food squirrels eat and is easy to fill and hang.  
This wooden feeder is made from solid pine and features a reinforced metal roof. This helps protect the food contained within from being subjected to excessive moisture. There is a nicely sized feeding platform in front so squirrels can comfortably eat and play with the lid.
Traditionally designed, this seed or peanut feeder for squirrels can be easily wall-mounted to any wall, fence, pole, or tree. For added style, the main body is painted a light green colour that blends nicely into an outdoor setting.
The Esschert Wooden squirrel feeder does not have a removable Perspex window, so it could be more difficult to fill. Additionally, the main box may not have been waterproofed, so the nuts inside can rot over time. Hopefully, your squirrel friends will consume them before that happens, though.
Pros:
Versatile food container holds all types of squirrel food
Reinforced metal lid to prevent moisture penetration
The pine box is painted a stylish green
Nicely sized feeding platform
Excellent value option
Cons:
The main body might benefit from being waterproof
The fixed Perspex window could make it more difficult to fill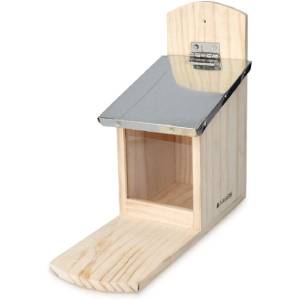 If you want a squirrel feeder that fits nicely in your outdoor area without being too decorative, the Navaris Pine Wood should be a strong contender. It also provides you with versatile feeding options and is easy to mount.
The Navaris Pine Wood squirrel feeder is built with a standard box food container and a large feeding platform. It also has a reinforced metal lid made from iron to protect the box and food within from rain and other animals.
One of the unique traits of this squirrel feeder is the safety gap built into the design between the plexiglass window and the lid. This feature aims to keep squirrels safe and also makes it easier for them to extract food.
Regretfully, the metal lid on this squirrel feeder could be sharp in places, and the box isn't weatherproofed. Lastly, it is not the sturdiest option on our list, but it still makes an excellent wooden squirrel feeder.
Pros:
Solid pine construction
Large feeding platform
Reinforced metal lid
Safety gap between lid and plexiglass window
Versatile feeding options
Cons:
The metal lid could be sharp in places
It might not be the sturdiest option
The box could be weatherproofed
We strongly recommend the CJ Wildlife Green metal squirrel feeder if your local squirrel population is exceptionally rowdy. Metal feeders such as this are more complex for squirrels to rip apart and typically have a longer lifespan than a wooden feeder.
This hopper style squirrel feeder features a transparent round food storage compartment with a hinged lid. It can hold any kind of squirrel food and has a large feeding platform to promote squirrels hanging around while they enjoy their spoils.
The CJ Wildlife Green Metal squirrel feeder easily keeps other animals out with its durable hinged lid. However, once your squirrels figure it out, it should be no issue for them. The design is also user-friendly and allows for an easy installation and a simple refilling process.
Potential cons for this squirrel feeder include it possessing a somewhat smaller food capacity and not coming with the needed mounting hardware. The metal lid could also be relatively loud when it clanks down, which has the potential to scare off wildlife. However, most squirrels get used to the noise fairly quickly, and the prospect of food outweighs their apprehensions.
Pros:
Completely transparent food housing
Lightweight and durable green metal
Large feeding platform
Easy to use and install
Stylish rounded design
Cons:
It may not come with mounting hardware
The noise from the metal lid closing can be loud
Somewhat smaller capacity
If you are looking for an option that is easy and straightforward to fill, the Relaxdays Hanging Wooden squirrel feeder is our top pick. It is super easy and fun to use for both you and the squirrels.
The slightly enclosed design of this squirrel feeder makes it easy to fill and access food. The main food housing contains easy access holes on three sides. The entrances are fun for squirrels to play through and also allow you to add food from a variety of locations. This feature eliminates the need for them to struggle with a lid or a window. Instead, they quickly reach in and gather whatever they want.
This squirrel feeder was built with sturdy wood and a raised edge on its feeding platform to create extra containment and comfort for its visitors. All of the hanging hardware also comes included with purchase.
The Relaxdays Hanging Wooden squirrel feeder is made from untreated wood, and its edges could be rough, so sandpaper might help. The screws supplied are also relatively short, so we recommend switching them out for longer ones to ensure a more stable installation.
Pros:
Easy to fill 
Three large circular openings 
No moving parts for squirrels to break
Solid wood construction
Durable design
Cons:
The wood may benefit from a weatherproof treatment
It could come with shorter screws
It might have rough edges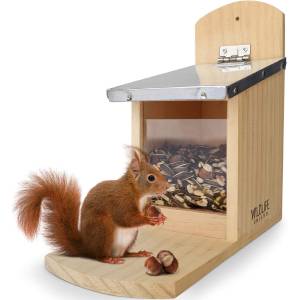 If an extra-long feeding platform sounds desirable, the Wildlife Friend Wooden could be the best option for your garden. We also love that it is built with the safety of squirrels as a priority. 
The Wildlife Friend Wooden is consciously constructed with natural pine wood and a metal lid to keep moisture out. It features a thick piece of removable plexiglass in the front so you can easily view the contents and clean and refill as needed.
The window on this squirrel feeder is also designed with a safety gap to protect curious squirrels' small arms and legs. Similar to other hanging squirrel feeders, this option has a predrilled suspension hole, but this one is purposely located and sized with your convenience in mind.
If you experience prolonged damp weather conditions, you might want to apply a coat of varnish to this squirrel feeder. In addition, the plexiglass window could have sharper edges, but sandpapering them can quickly remedy this issue.
Pros:
Extra-long feeding platform
Weatherproof metal lid 
Safety gap to protect squirrels
Removable plexiglass window
Predrilled suspension hole
Cons:
The plexiglass could have sharp edges
The wood might benefit from a weatherproof treatment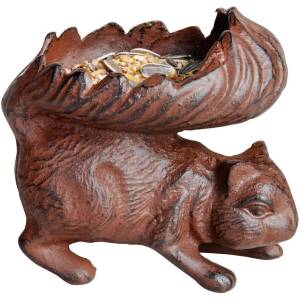 The Fallen Fruits FB265 squirrel shaped feeder is like a miniature statue for your garden. In addition to looking adorable, this feeder is also easy to use. It doesn't require any installation, so you can even use it as a picnic table squirrel feeder or a ground feeder.
Unlike other top options, durability will not be an issue with this squirrel feeder. It is constructed out of solid cast iron and is hand-cast, boasting a high level of workmanship. Its open food container design gives you easy access for refilling and allows it to hold birdseed, corn, nuts, or water.
The Fallen Fruits FB265 squirrel feeder can easily be placed anywhere you like. All you have to do is set it in the desired location, and don't worry; it is heavy enough that it shouldn't blow over in high winds.
This option is on the smaller side, and it may not do an excellent job of keeping squirrels away from your bird feeders. It doesn't have any drainage holes in the base either, but we think this can be forgiven considering its lovable design.
Pros:
Fun squirrel shaped feeder
Easy to access and fill
Versatile design
Strong cast iron construction
It can be used as a picnic table squirrel feeder or a ground feeder
Cons:
It could have a relatively smaller food container
It may also attract birds
It may benefit from the addition of drainage holes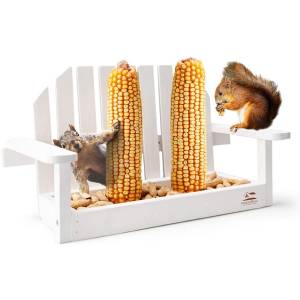 If you are intrigued by funny squirrel feeders, the JonesHouseDeco White Adirondack Bench Chair makes an excellent choice. It has a fun design that makes a stylish garden accent and attracts hungry squirrels.
This squirrel feeder is designed to look like an Adirondack bench chair with two holders for corn cobs protruding out of the top of the seat. In addition to holding corn, the base of the bench chair is constructed out of durable mesh so it can hold seeds or nuts. The mesh also provides ample drainage to prevent feed from becoming waterlogged. 
The open design of this feeder is easy to access for squirrels and makes refilling simple. Thanks to its larger dimensions, it can accommodate multiple squirrels at once, increasing your viewing pleasure. It can also be filled with bird food and used as a bird feeder if you want.
The JonesHouseDeco White Adirondack Bench Chair may not line up with all fence slats perfectly, and the armrests could protrude behind the back of the bench, making it difficult for it to lie flush on a fence.
Pros:
Fun Adirondack bench chair design
Two holders for corn cobs
Mesh bottom for holding nuts or seeds
The large size accommodates multiple squirrels
Easy to access and fill
Cons:
May not lie flush when hung
It might not line up with all fence slats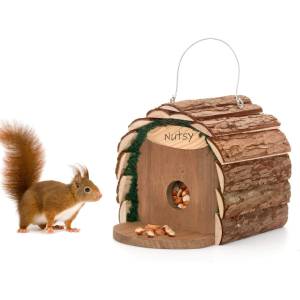 The CKB LTD 2 in 1 Wooden is a fantastic option for squirrels and birds too. Its versatile 2-in-1 design allows you to watch squirrels eating or provide small wild birds with a nesting house, whichever you prefer.
The CKB LTD squirrel feeder makes a stylishly cute addition to your garden with a rustic look and decorative evergreen accents around the perimeter. One end of this house features a hatch door that opens to create a feeding platform. The other end is built with a small circular opening that functions as a bird door. Simply open up the end you wish to use and watch the animals approach with curiosity.
The squirrel feeder side of this house also features a cute placard above the window, so you can write a name on it if you want. A large wire loop has been built into the top of this feeder, so you can easily hang it from a tree branch or anything you want.
While this feeder and nesting house is super cute, it may not be the easiest to fill due to a smaller opening. It could also be less durable than other less decorative options.
Pros:
Feeder and nesting house combined
Super easy hanging installation
Great for birds and squirrels
Rustic wooden design with exposed bark
Decorative embellishments for added style
Cons:
It might not be the easiest to fill
It could prove to be less durable
Buyer's Guide to Squirrel Feeders
Do Squirrel Feeders Work?
Squirrel feeders can easily attract squirrels when filled with food. They can help keep squirrels healthier and provide you with entertainment, but they also discourage squirrels from damaging bird feeders.
Squirrel feeders help keep local squirrels away from bird feeders by giving them a separate feeder for their enjoyment and nourishment. Distracting squirrels and keeping them away from your bird feeders can also protect birds and make them more likely to visit your garden.
Instead of purchasing a squirrel proof bird feeder, why not try adding a squirrel feeder? After all, it could be more fun to watch.
What to Look For in the Best Squirrel Feeders
Choosing the best squirrel feeders for your garden depends on a few key factors. Look for quality and compare the following traits to narrow down your choices and ensure you make the right decision.
Size and Capacity
One of the most important things to consider when choosing a squirrel feeding station is the overall size of the structure. We also recommend considering the food container storage capacity.
First, you want to ensure that the overall feeder's dimensions will fit your ideal location. Will it be too large for your fence or tree trunk, or will it fit just right?
Second, you should take into account the amount of food a squirrel feeder can hold. Some people think the best squirrel feeders will be able to store large amounts of food. Others believe a small amount is just enough as it prevents unwanted spoiling. In order to get the right size product, consider how often you want to refill your squirrel feeder. Also, think about how many squirrels might visit your backyard frequently.
Materials
The most common materials used to construct squirrel feeders include plastic, wood, and some form of metal. Regardless of what they are made from, the best squirrel feeders should be solid and sturdy.
Wooden feeders are the most common type of squirrel feeder. They are typically made from pine or cedar wood and come with or without additional weatherproofing.
Metal feeders are also a standard option and can be constructed out of iron, aluminium, etc. Metal feeders are often the most durable, especially for more destructive squirrels.
Plastic feeders are the least common type of squirrel feeder because they often are less durable. For this reason, we chose to exclude plastic squirrel feeders from our list.
Installation
We believe a hanging feeder or mounted feeder should also be straightforward to install. The best squirrel feeder will have predrilled holes or another type of hanging mechanism. Many squirrel feeders also come with mounting hardware to make this step even easier.
Since all you have to do is place it in the desired location, a ground feeder is the easiest to install. This is super simple, but many squirrels will linger longer if the feeder is elevated. Elevating a feeder also makes viewing more accessible.
Ease of Use
A squirrel feeding station needs to be easy for you and the squirrels to use. Feeding squirrels should be fun, so the last thing you want is for it to feel like another chore. That's why we prefer squirrel feeders that are easy to fill, easy to use, and clean. Look for feeders with removable Perspex windows or open food containers to make them even easier to use.
What Do Squirrels Enjoy Eating?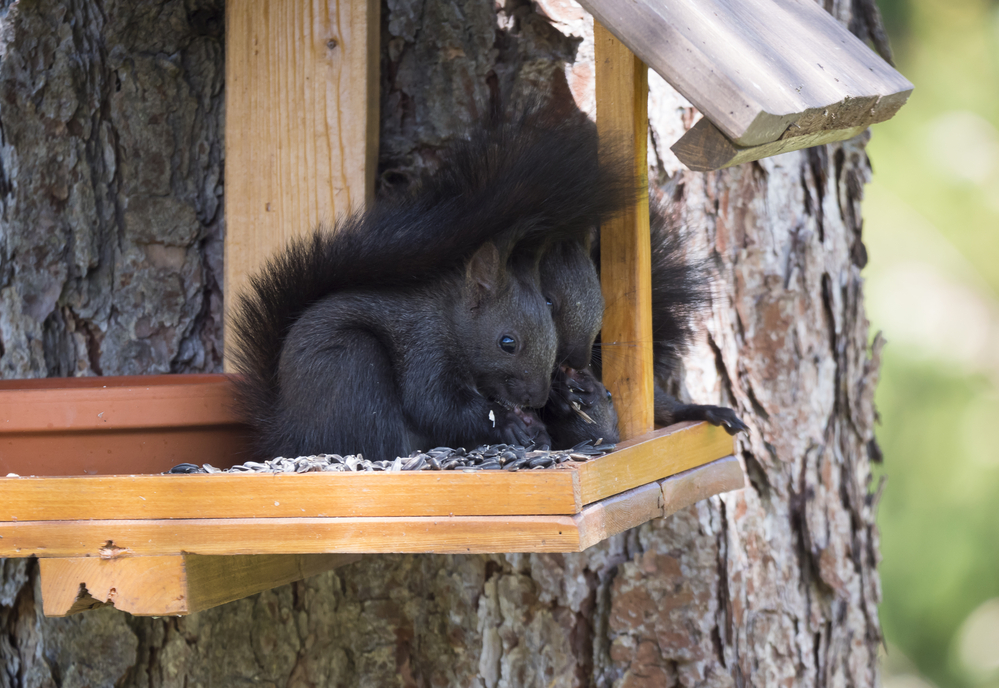 If you want to feed squirrels, you should know that one squirrel eats a little more than 2.25 oz per day, one lb. per week, or 52 lbs. per year.
While this may seem like unnecessary information, you may want to take it into account before you feed squirrels in your neighbourhood. All in all, squirrel food is relatively inexpensive, and it shouldn't set you back too far. Besides, considering how cute and funny squirrels can be, they may be a fun addition to your lawn. Or, it could be just what you need to keep them away from your bird feeders.
You should know that squirrels feed on various foods, including nuts, seeds, and corn.
Nuts
Squirrels love to eat nuts, with or without a shell, but the shells help sharpen their teeth and provide additional exercise for them. You can fill your squirrel feeder with plain unsalted peanuts, walnuts, acorns, pecans, almonds, hazelnuts, beechnuts, pine nuts, butternuts, macadamia nuts, or hickory nuts.
Corn
Squirrels also love corn, but it is not packed with as many health benefits as alternative food sources. Most squirrel enthusiasts recommend adding smaller amounts of corn to your food if you want to give them more nutrition.
Seeds
Lastly, seeds can be a great source of energy for squirrels. While there are specially formulated seed mixes designed just for squirrels, they aren't required. You can fill your squirrel feeder with sunflower seeds – plain and unsalted – and pumpkin seeds too. These options are easy for squirrels to chew through, and pumpkin seeds specifically have an excellent nutritional value for squirrels.
Where Should You Place a Squirrel Feeder?
Where should you install a squirrel feeding station? Just about anywhere will work because of how curious they can be, but ideally, you will want to install your feeder in an area where a squirrel climbs naturally. Placing your hanging or mounted feeder elevated and in an area with a quick escape route will be ideal for your squirrel friends.
Feeding squirrels is best done far from bird feeders and about five or six feet up a tree trunk or high wall.
The Best Squirrel Feeder for You
Our top choice for the best squirrel feeder is the Wildlife World Wooden. It has a solid timber construction and is easy to install, clean, and refill. It is also designed to keep birds and other animals out. This squirrel feeder can hold a decent amount of any kind of food you like, and it has a removable Perspex window for added convenience.
Do you think our top pick is the best choice for your garden or lawn? What do you like best about this product? Let us know what you think in the comments section below. We can't wait to hear from our avid readers!
Additional Resources
Sam loves to learn about animals and their habitats. He has been a nature lover from a very young age, and has been writing papers and articles about wildlife for as long as he can remember.