Last Updated on
Our editors independently research the best products online to produce this list. We may receive commission on purchases made from the links below but this will never affect our product choices.
---
Top 10 Best Monoculars
Compact, easy to use, and inexpensive monoculars are growing in popularity. These lightweight telescopes are great to have to hand, whether you're sightseeing, travelling, hunting, hiking, or nature-spotting. These nifty accessories are great for long-distance photography and for watching sporting events and concerts as well.
If you're struggling to find the ideal model for the type of outdoor activities you frequently engage in, you're in the right place. Here's our comprehensive guide on how to choose the best model, along with our top-rated monocular reviews. Whatever you need a monocular for, you're sure to find the best monocular in the UK right here.
How We Compared Monoculars
To find the right monoculars, we considered multiple factors, including:
Magnification levels
Build quality
Size
Prism type
Extras: smartphone adaptors, carry bags, lens caps & tripod mounts.
Our experienced team created the following list after spending countless hours researching products and fact-checking customer reviews. We carefully chose a range of products suitable for every nature lover out there, analysing and assessing the comparison points above.
To know more about our review process, have a look here.
Monocular Reviews
Our top pick in this best monocular review is the highly popular Gosky Skyhawk QHMN001. The Skyhawk has an excellent high magnification rate of 12, meaning you can see distant objects up to 12 times bigger. In addition, it has a 55mm green film objective lens and premium BaK-4 prism to ensure brightness and clarity. A good 325ft/1000ft field of view also makes it easy to spot distant objects or follow a moving target. 
You can use this monocular both with and without glasses or goggles, thanks to the Skyhawk's twist-up eyecup. Excellent for long-distance viewing in any weather, this monocular is waterproof and fog-proof, filled with 100% nitrogen and completely sealed. The tough rubber-coated exterior also gives an excellent grip to ensure that you won't have any difficulty focusing, even in the wet. 
If you enjoy taking photos, be it of distant landmarks, wildlife or sporting events, the Skyhawk makes a great monocular telescope for improving up-close shots with your smartphone. The included smartphone holder has been designed for compatibility with almost all modern models. 
This monocular also has a mount thread that fits all standard tripod and monopod mounts for even clearer viewing and photos. You also get a comfortable hand strap, a protective end cap, a carry bag and a cleaning cloth to ensure that your monocular stays in perfect condition and is comfortable to use.  
On the downside, bear in mind that it may take a little while to attach your phone securely to the holder. Also, this might not be the lightest model, although, at 449g, it's by no means heavy. 
Pros:
12 x 55mm magnification
Twist-up eyecup
Fog- and waterproof
BaK-4 prism
Anti-slip rubber coating
Cons:
The phone holder could attach more quickly
Could be lighter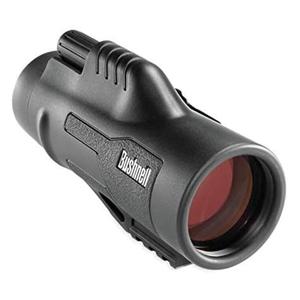 If you're looking for premium quality monoculars, you'll definitely want to take a closer look at the Bushnell 191142 Legend monocular telescope. This powerful monocular does give excellent crisp images with distinctive vivid colours and brightness. 
The Bushnell Legend has a very good 10x magnification, allowing you to see far away objects up to 10 times larger than with your naked eye. Its 340ft/1000ft field of view ensures you can easily locate your viewing target. Additionally, the single finger focus adjustment on this high powered monocular is very handy and easy to use.  
This HD monocular telescope provides fantastic colour resolution and contrast for superb images, even in low-lit conditions, thanks to its ED prime glass. The PC-3 phase-coated prism ensures that you get the clearest images possible, while the ultra-wideband coating utilises 60 layers for light boosting brightness.
The Legend Monocular also features their patented Rainguard HD, a permanent water-repellent coating that makes this fog and waterproof monocular suitable for use in all weather conditions. Dry nitrogen internal purging ensures fog-free vision for brighter and clearer image quality.
Lightweight at 376g, this ultra HD monocular with high-quality optics also benefits from a belt clip for easy on-the-go access. A Picatinny rail also allows you to use it with various attachments and accessories. All in all, it's one serious piece of kit with a solid frame, FMC lens coating and wide-angle zoom.
Bear in mind that the supplied pouch could be better sized, being fairly large. Also, the lens cover is quite hard and could cause some damage to the rubber housing over time, so do take care.
Pros:
10 x 42mm magnification
PC-3 phase-coated prism
ED prime glass
Rainguard HD
Picatinny rail & carry clip
Cons:
The pouch could be better sized
The lens cap could be improved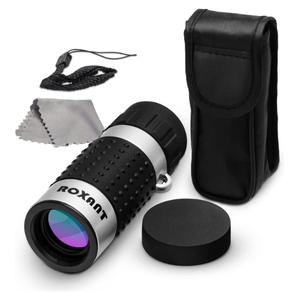 Are you looking for a basic monocular telescope for yourself or your kids? The Roxant Mini Scope is great value for money, ideal if you are looking for a small monocular for use in your garden or around the home. 
With its magnification of up to seven times, this monocular is ideal for getting a close-up look at wildlife and items that are not too far away. Its full-coated glass lens helps to improve image brightness and clarity. Moreover, manual focus allows you to adapt the monocular telescope to suit your mid and close-range vision.
You can easily carry this monocular in your pocket thanks to its compact size and low weight — just 76g. What's more, its comfort-moulded grip makes it easy to grasp even outdoors in damp weather. Its magnification rate of seven makes it easier to keep stable for clearer images, reducing the impact of jitter without the need for a tripod. A carry bag, cleaning cloth and neck strap are included with this model for your convenience.
Unfortunately, this monocular telescope may not give very clear, high-resolution images. Also, if you have large hands, you may find it to be a little too small to grasp and adjust with one hand comfortably.
Pros:
7 x 18mm magnification
Comfortable, moulded grip
Lightweight and compact
Full-coated lens
Includes carry bag and neck strap
Cons:
The image may not be very clear
It may be a little small
Looking for a monocular telescope for use on the water? Whether you enjoy boating or jet skiing, the Bresser 1866861 Nautic monocular is our top pick for water sports. 
Thanks to its waterproof design, the compact Nautic monocular telescope is an ideal choice for navigating and sightseeing on your next boating trip. Its 8 x 25mm specification gives you up to 8 times magnification with a 25mm lens diameter for sharp images even when you're afloat.
With a decent field of vision distance of 122 metres for 1000, finding your target is quick and easy without having to spend a lot of time scanning your surroundings. A premium BaK-4 prism and a multi-coated lens ensure a crisp, bright image, even in low lit conditions.  
Nitrogen-filled, this monocular is also fog-free and fully waterproof. Its water-repellent rubber armour is durable and anti-slip, ideal for in-board use. What's more, its compact size and low weight, of just 164g, means that it won't weigh you down.
Easy to use and complete with a handy neck strap and carry bag, this monocular is a good all-around choice for general use and water sports alike. It's definitely worth considering, given its above-average build quality and utility. 
Remember that you may need both your hands to use this monocular telescope as the focus wheel may be a little stiff. Also, as there are no end caps and the carry bag is not sealed, you may need to improvise to protect the lens from dust and dirt. 
Pros:
8 x 25mm magnification
BaK-4 prism
Waterproof
Adjustable eyecup
Includes neck strap and carry bag
Cons:
It may not be suitable for one-handed operation
The lens protection could be improved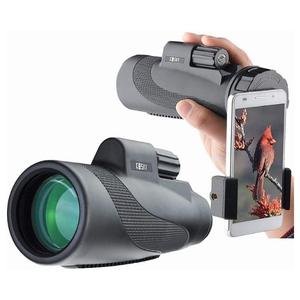 Thanks to its new and improved quick alignment smartphone holder, the Gosky Titan monocular telescope is our best pick for use with your smartphone. This feature makes this monocular a great choice for getting close-up photos when you're out on the go. 
Compatible with virtually all smartphone models, the Titan helps you to get the best photos on your smartphone. Whether you're into bird watching or travelling, use the quick connect smartphone alignment tool to get those close up shots of distant landmarks or timid animals and really make your social media feeds stand out. 
Thanks to its 12 x 50mm high power magnification, you can see items up to 12 times larger than with your naked eye. The BaK-4 premium prism ensures clarity and brightness, while the premium fully multi-coated lenses guarantee superior light transmission for better images, complete with a fog-resistant coating. Its generous wide-angle lens with a 289feet/1000yards field of view means you won't have to spend ages tracking down your target.
The Titan is an ideal HD monocular telescope for day trips and travelling, being water, dust and shockproof. Fully sealed and 100% nitrogen-filled, its tight-fitting rubber coated non-slip rubber armour will keep it safe and secure even on the most perilous days out in severe weather conditions. 
Unfortunately, you may find that the lens covers for this model do not fit very well. Also, you may wish to use this monocular with a tripod when shooting close-up smartphone photos to ensure a steady image. 
Pros:
12 x 50mm magnification
BaK-4 prism
Water, dust & shockproof
Rubber armour coating
Quick alignment smartphone holder
Cons:
The lens cap could be better fitting
You may need a tripod for steady photos
The Zoom monocular by Aurosports is our best basic choice. It is an ideal monocular telescope to have to hand for many activities, like hiking, travelling, bird watching and nature spotting. 
This monocular comes equipped with a BaK-4 optical prism for improved clarity and better contrast. The upgraded 40mm objective lens helps to ensure a good angle of vision, at 128 metres for 1000 metres, so you can see both far and wide. 
Whether you're sightseeing or hiking, this handheld monocular telescope is easy to slip in your pocket or rucksack, thanks to its compact size and low weight, at just 18.5 cm long and weighing 162g. It is suitable for use with or without glasses thanks to its twist-up eyecup, allowing you to adjust your focus and zoom for superior image quality. 
Choose between a 10x magnification or twist in the other direction and magnify distant objects up to 30 times larger than with your naked eye. This monocular is waterproof and fog-proof. It is filled with high purity nitrogen to ensure it remains completely moisture-free for perfect vision. The rubber armour gives you a good grip no matter what the weather is doing and is also comfortable to hold.  
Bearing in mind that this is a basic model, you may find that your magnified views could be a little dark. Also, this monocular telescope may not come with instructions, so you may need to play around with it to find out how to best use it.
Pros:
10-30 x 40mm high power magnification
BaK-4 prism
Adjustable eyecup
Water- and fog-proof
Compact and lightweight
Cons:
Could be brighter
It may not come with instructions
Thanks to its textured rubber armour, the Solo R/T by Vortex Optics is our best monocular pick for its excellent non-slip grip. You can take it with you on your outdoor adventures, from wildlife spotting to bird watching, sightseeing and boating.
With an 8x magnification power and a 36mm diameter objective lens, this powerful monocular makes an excellent choice for general observation. Its fully multi-coated lenses and high powered optics ensure that you get fantastic brightness and vision even in low lit conditions.
Lightweight and compact, the Solo R/T Monocular Telescope is also very easy to use thanks to its flared eyecup that can also be folded down if you wear glasses. The large focus wheel makes it very easy to adjust accurately and finely. The reticle focus allows you to perfect your range estimation and better follow moving targets. 
Nitrogen purged, this waterproof monocular is completely fog-proof for excellent image quality in all weathers. Use the utility clip to attach it to your belt or rucksack for quick access when you're out and about. Its durable, rugged exterior and superior focus fine-tuning make this one of the very best models around. 
On the downside, the included strap could be of better quality. Also, as this model does not come with a lens cap and has a soft carry bag, so you may wish to invest in after-market protective accessories depending on your usage habits and environment.  
Pros:
8 x 36mm magnification power
Fully multi-coated lenses
Large focus wheel & reticle focus
Fog-proof – nitrogen purged
Textured rubber armour
Cons:
The strap quality could be improved
It may need greater protection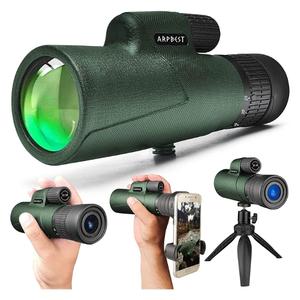 The Arpbest 25X50 monocular telescope is our best high power prism monocular pick, thanks to its superior magnification levels combined with clear, high-quality vision. Rated 5-25 x 50mm, this monocular telescope allows you to zoom in to increase the viewing size of distant items by as much as 25 times!
This telescope's 50mm large comfortable objective lens is also complemented by a unique pattern 22m eye lens. This ensures that you get a wide-angle view even at high magnification levels to more quickly identify your point of interest. 
Premium quality BaK-4 prism optics ensure greater image quality and a fully multi-coated lens for bright images even in low-lit conditions. This high power prism monocular also features a twist-up eye cap so you can easily adjust it to better suit your eye contour or for use with glasses. 
The Arpbest also makes a good choice for use with smartphones. It comes complete with a smartphone alignment holder and a sturdy extendable tripod for extra stability and a high-quality image even at high magnification levels.
Water- and fog-proof, its o-ring sealed lens also keeps your monoculars free from dust. In addition, both its rugged anti-slip exterior and solid frame give it durable external protection — ideal for exploring the great outdoors.
Unfortunately, the included instructions could be more detailed, although the zoom monocular telescope itself is fairly easy to get the hang of using. Bear in mind that, like most models, aligning your smartphone with the monocular can be pretty time-consuming. 
Pros:
5-25 x 50mm magnification power
BaK-4 prism
Twist-up eyecup
Water and fog-proof
Includes tripod and smartphone adapter
Cons:
Aligning with a phone may take a while
Instructions could be more comprehensive
If you're looking for a great monocular to have to hand, the Nature DX by Celestron won't disappoint. This telescope is an excellent choice for any use, from wildlife spotting to concerts and sporting events. It is very comfortable to use too.
Thanks to its multi-coated optical glass lens, you get good contrast, brightness and maximum resolution when viewing distant objects. With a magnification rating of 10 x 25mm, this high power monocular telescope gives you eight times magnification power. It also offers a wide angle of vision for the best all-round views, superb image quality and superior light transmission. 
The soft rubber eye cap twists up and down, making it comfortable and easy to use, with and without glasses. The diopter adjustment dial is secure and a good size. Also, the included neck strap allows you to keep your high definition monocular to hand for quick deployment.
Water- and fog-proof, this rubber-covered anti-slip monocular telescope is ideal for use in all weathers, being able to withstand extreme outdoor elements. Whether you're on the water or out in a rainstorm, it will give you stunning views of your surrounding scenery, wildlife, etc. Measuring just 15.2cm with a 170g weight, it is also highly packable, making it a definite must for any day out or trip away.
Bear in mind that this high power monocular may not be suitable for use, with standard tripods being non-tripod adaptable. Also, you may find the focus wheel a little stiff for single-handed use, although this can help prevent you from turning it too far. 
Pros:
10 x 25mm magnification 
Multi-coated lens
Twist-up eyecup
Water and fog-proof
Includes carry bag & neck strap 
Cons:
It may not be suitable for tripod usage
The focus wheel could be a little stiff
The Endurance ED monocular scope by Hawke is our best compact choice, ideal for transporting in your pocket, measuring just 105mm long! Whether you're sightseeing or on a safari, the Endurance ED is highly portable and discreet.
Despite its compact size, the Endurance ED monocular has a good 10x magnification with a 25mm objective size. Unlike many other similar priced models, this monocular is very easy to focus, even with one hand, making it much more pleasurable to use when you're on the go. 
Phase-corrected, this model also benefits from extra-low dispersion glass and fully multi-coated optics, complete with BaK-4 roof prisms. These features all ensure that you get excellent clarity with high-definition images that are bright and crisp. The 25mm objective lens means that you still have a good wide angle of vision.   
Complete with twist-up eyecups for extra comfort and screening, this high definition monocular is also waterproof and fog-proof for use in all weather conditions. Its durable, rubberised outer ensures that it is easy to grip and won't slip out of your hand in the damp. All in all, this is an excellent compact choice for all-around use. 
Unfortunately, due to the strap mounting point location on this monocular scope, you may struggle to mount it on a standard tripod, although it will work fine with a ball and socket head. Also, the neck strap could be of better quality, so you may wish to replace it. 
Pros:
10 x 25mm magnification
Extra-low dispersion glass
Fully multi-coated optics
Water and fog-proof
Rugged high-grip outer
Cons:
May not be able to mount on a standard tripod
The neck strap could be improved
What Is a Monocular?
A monocular is one half of a pair of binoculars. They are a small type of telescope that is very easy to use on the go, providing a magnified image of distant objects.
Monocular telescopes use basic optics: the light passes through a prism lens and magnifies objects while retaining image clarity. While monoculars come in different sizes and dimensions, they are generally more compact and lightweight than binoculars and standard-sized telescopes. Plus, they are much better suited for casual use as well as outdoor use.  
What Do the Figures on Monoculars Mean?
Confused by the figures you see when looking at different monocular telescopes? Let's take a closer look at what monocular figures actually mean.
Monoculars are rated by their magnification level and the size of their objective lens. For this reason, you will see figures such as 8 x 36mm. In this case, this monocular has an eight times magnification with a 36mm objective lens. But what does this actually mean?
The first figure, the magnification figure, is how many times larger a distant object will appear when viewed with your monocular rather than with your naked eye. So, in our example, an object would appear eight times bigger with a monocular than without it. 
The second figure, the size of the objective lens, is also important. Without getting too deep into the specifics, the larger the objective lens, the larger your monocular is going to be. However, while larger lenses make for a more bulky model, which may be more susceptible to hand tremor, they do allow more light to pass; this, in turn, makes for brighter, high-resolution images. 
Why Buy a Monocular?
There are plenty of good reasons to buy a monocular. Here are some of the most common ones:
One-handed use
Very easy to use
Compact to carry
Good magnification levels
Lightweight
Easily adjustable
Inexpensive
Monocular telescopes are popular for wildlife spotting, in particular; however, they can also be used in plenty of other circumstances, including:
Sightseeing
Long-distance photography with a smartphone
Scenery viewing
Navigation
Sports viewing
Concerts
Art galleries & museums
Bird watching
Visiting historical & architectural sites
In fact, monocular telescopes are very useful even in everyday life. You may well be surprised just how often you reach for yours whenever you need to get a close up look at something in the distance. 
How to Choose the Best Monocular
Are you wondering how to choose the best monocular for your needs? Make sure that you take a good look through our monocular buyer's guide. Here are some of the most important features that you'll need to consider. 
Magnification Level
As we stated earlier, your monocular's magnification level will be given as the first figure, followed by an "x". Most monoculars have a magnification level between 7 and 10. However, you will also find some models with much higher levels. Higher magnification levels will allow you to see further and in greater detail for a clear and bright image.
On the downside, however, the higher the magnification level, the more any slight movements will cause you to lose sight of your target. If you are looking for an easy-to-use monocular for on-the-go usage, it's probably best to stick to around 10-12 times magnification. Otherwise, you may struggle to get a clear image without using a tripod to keep a monocular perfectly steady. At very high magnification power levels, you may find that even the slight movement from your hands causes you to lose sight of a distant target.
Objective Lens Size
The objective lens is the lower lens at the end farthest from your eyes. The objective lens size is important — larger sizes allow more light to pass for brighter visuals, plus a wider view. However, large objective lenses tend to increase your monocular size, making it less portable and bulkier.
Ideally, you should look for a monocular with an objective lens sized between 25 and 55mm. These sizes should all provide you with enough light for clear images. The size is normally given after your monocular's magnification level, so after the "x" in 8 x 36mm, for example. 
Dimensions
Before you choose your monocular, decide where you are going to be most likely to use it. Do you need a compact monocular that you can easily slip into your pocket for city sightseeing? Does it need to fit in your rucksack's outer pocket? Or will it mostly be sitting on your windowsill to spot your garden birds?
Your monocular dimensions can be essential to its portability, so consider what size you are most likely to get the most use out of. Ultra-compact models start at around 10cm long, whereas larger monoculars tend to be approximately 15-20cm long. 
Weight
If you like to travel light, then weight may be an issue for you. While monoculars generally weigh just a couple of hundred grams, you may benefit from a lightweight model if you are carrying yours around your neck or in your pocket. So make sure you check and compare before you purchase. 
Lens and Prism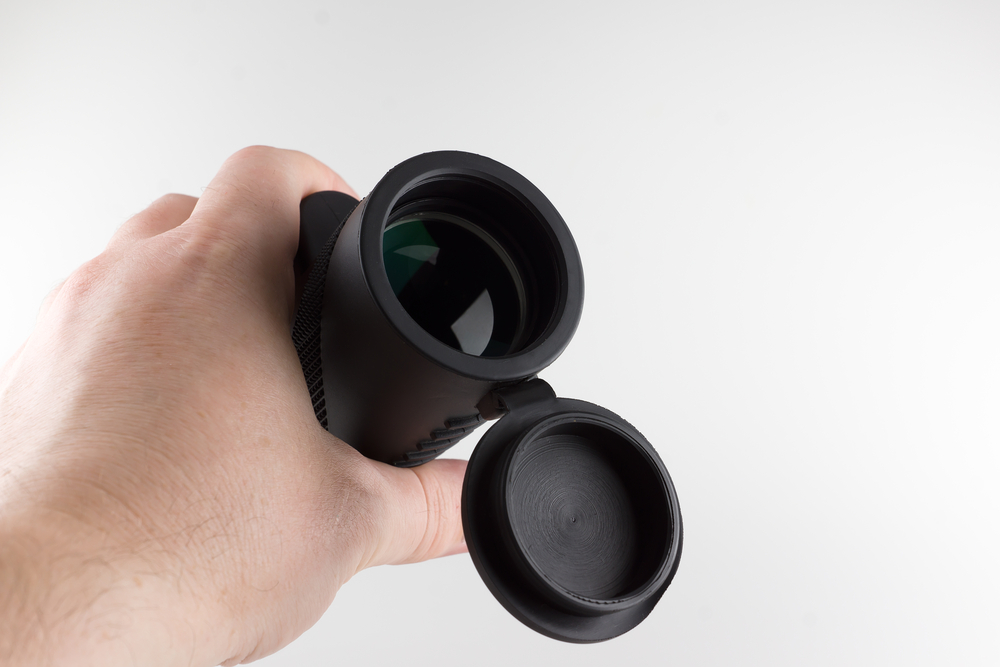 Your monocular's lens captures light from afar and amplifies it. On the other hand, the prism takes the image and inverts it thanks to the lens shape. Most medium to high-end monoculars, and optical instruments in general, use BaK-4 prisms.
BaK-4 prisms have high refractive indexes, meaning high light transmittance, or more light gets reflected, for clear and bright images. You may also see some monoculars with BK-7 prisms; however, these are not quite as good as BaK-4 prisms. BaK-4 prisms are also an excellent choice for use in low lit conditions.
Fully Multi-Coated Optics
Fully multi-coated optics, often abbreviated to FMC, are a good sign of high-end optics and definitely worth going for if you can afford them. A monocular with fully multi-coated optics will provide brighter, sharper images with better contrast levels. Why? Well, coating all of the internal glass surfaces with multiple coatings minimises glare and helps to improve light transmission. 
While fully multi-coated optics are the best option, you will also see fully coated monocular optics, where all internal surfaces have been coated but not multiple times.
Outer
Ensure that your monocular has a rugged, rubberised outer that is easy to grip and completely weatherproof. Most are designed to be fully ergonomic and have anti-slip grips. You should also make sure that your monocular clearly states that it is both waterproof and fog-proof; otherwise, you may be unable to use it during wet weather. 
A durable exterior will make sure that your monocular can live up to all of your outdoor adventures. Some more robust models are also shockproof, ideal for use when exploring the great outdoors.
Clip and Attachment Point
A clip sounds like a small detail, but it can be an important one. If you are thinking of attaching your monocular to your belt while you're out and about, then you'll need to make sure that you choose a model with a handy clip. 
Some monoculars also come with a neck strap. This can be a good option for keeping your monocular close to hand, ideal for when you're in the great outdoors, for wildlife spotting, bird watching, sailing or navigating. 
Tripod Compatible
Not all monoculars are compatible with standard tripod mounts, so this is another detail to check. While you may not think that you'll need a tripod, if you go hiking and want to use your monocular with your smartphone for magnified photos, you may end up wanting to use your monocular with hiking poles that double up as monopods.
Smartphone Adapter
For taking close up photos of distant scenery or wildlife, you'll want to look out for a monocular with a smartphone adapter. Most of them are designed to work with all modern smartphone sizes. They can, however, be a little fiddly to align, and you may wish to use a mono or tripod to ensure that you get a clear, focused photo without any hand tremors, especially at high magnification levels. 
Protection
Your optical system box contents should include at least a protective carry bag. If your monocular's carry bag does not seal up completely, you'll want to make sure that lens covers are included. You may prefer end caps to a bag and keep your monocular telescope in their rucksack or pocket with just the end caps to protect the lenses. Some models also benefit from end caps that remain permanently attached so you cannot lose them on your travels.
Choosing the Best Monocular Telescope
Convenient and easy to use, if you don't own a monocular, you should definitely pick one up. If you're stuck choosing the best monocular in the UK, we thoroughly recommend our overall favourite and editor's choice, the Gosky Skyhawk.
Thanks to its 12 x 55mm magnification, it provides excellent magnification levels with fantastic lighting for clear, high-contrast images even in low-lit conditions. 
The Skyhawk's premium BaK-4 prism ensures you get excellent quality, crisp details, while the twist-up eyecup makes for comfortable viewing with or without glasses and goggles. Complete with a rugged, anti-slip exterior, this monocular is also completely fog- and waterproof for use in all weathers.
What do you think of our editor's choice? Have any other monoculars from the list caught your eye? Let us know below.
Additional Resources
Sam loves to learn about animals and their habitats. He has been a nature lover from a very young age, and has been writing papers and articles about wildlife for as long as he can remember.