Last Updated on
Our editors independently research the best products online to produce this list. We may receive commission on purchases made from the links below but this will never affect our product choices.
---
Top 10 Best Bridge Cameras for Birding
Are you fond of birdwatching, or to most people, birding? Whether you do it for recreational activity or as a man of science, this article will surely pique your interest.
Photographing birds comes with its own set of unique requirements and complications. Choosing the right camera gear is imperative if you want to get the best possible image quality. The best bridge cameras can make a fantastic choice for bird photo enthusiasts who seek versatile, lightweight, and portable gear. After all, unlike other styles of cameras, bridge cameras do not require you to carry around additional lenses or equipment.
Suppose you have decided to use a bridge camera for bird or wildlife photography. In that case, we recommend you look for options with top-quality optics configuration and the ability to perform in various conditions. You should also watch for advanced image stabilisation and enhanced speed, both with the shutter and autofocus system.
Bridge cameras are built with unique specifications and highly-specific technology. This can make comparing bridge cameras confusing and tedious for some. Fortunately, finding a suitable bridge camera is doable, with a bit of knowledge and a nudge in the right direction.
We compiled this top 7 list supplemented by a buyer's guide to help you choose the best bridge camera for birding. Keep reading to learn all about bridge cameras and find the best possible one for your birding adventures.
How We Compared Bridge Cameras for Birding
To find the right bridge cameras for birding, we considered multiple factors, including:
Zoom
Low light performance
Speed
Autofocus system
Image stabilisation
Image quality
Our experienced team created the following list after spending countless hours researching products and fact-checking customer reviews. We carefully chose a range of products suitable for every nature lover out there, analysing and assessing the comparison points above.
To know more about our review process, have a look here.
Bridge Camera for Birding Reviews: Our Top 7 Picks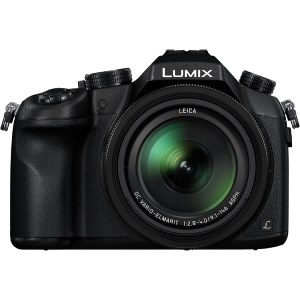 If you want to capture images of birds, the Panasonic LUMIX DMC-FZ1000EB bridge camera makes an outstanding choice. It possesses camera features similar to a DSLR camera, which upgrades the overall user experience and image quality. Additionally, it has the versatility to allow you to explore other photography styles.
This camera's design includes picture and macro continuous shooting modes for added versatility. This feature can be pretty helpful for both indoor and outdoor bird photography.
This bridge camera has a powerful 25mm LEICA DC VARIO-ELMARIT lens with 16x optical zoom. It allows you to achieve high-quality images similar to what DSLR cameras can accomplish. The lens features five aspherical glass components. Paired with Depth from Defocus technology, this camera establishes a perfectly balanced defocus effect with a shallow depth of field.
This bridge camera's specifications feature 20.1 megapixels and a High Sensitivity MOS camera sensor. It excels in low light conditions and performs at rapid speeds, which are both perfect features for bird photography. It is capable of a 30 FPS continuous shooting speed and has a speedy autofocus system.
Superior video capture capability is the name of the game with this bridge camera. Impressively, it is capable of producing 2160p video, which you can later manipulate in any way you see fit. This is the first bridge camera to feature a 4K video, so it has been leading the pack for quite some time. It also has a large rotating screen and is WiFi-enabled.
However, the manual focus could be lacking on the Panasonic LUMIX DMC-FZ1000EB bridge camera. This camera might also benefit from having a touchscreen. Finally, it could be less sturdy due to its plastic body.
Pros:
Standard picture and macro continuous shooting modes ;
Performs well in low light conditions
Superior video capture capability
Depth from Defocus technology for balanced images with a shallow depth of field
Performs similar to a DSLR camera
Cons:
The plastic camera body could be less sturdy
The manual focus may be lacking
It might benefit from a touchscreen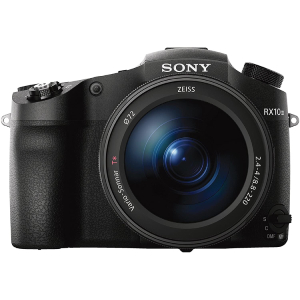 Our luxury choice for a birding bridge camera is the Sony RX10 III. It has a top-quality design with a super-wide zoom range, perfect for bird photography. It also facilitates stunning image quality.
This superzoom camera features 20.1 megapixels and 25x optical zoom. This establishes optimal image quality throughout the zoom range. It is also equipped with an F2.4-4 Zeiss Vario-Sonar T* zoom lens with 24-600 mm equivalent focal length. This lens gives you a wide field of view and advanced precision. These features combined make this one of the best bridge cameras around.
The super-fast autofocus system is another feature that makes this an excellent superzoom camera for birding. It facilitates sharp images at rapid speeds, so you never have to miss your shot. Added image stabilisation also helps you maintain steadiness, even at maximum zoom. The range of versatility provided by this bridge camera also means it is excellent for photographing more than just birds.
Compact and lightweight, the Sony RX10 III comes with pro video features. It produces high resolution 4K movies for a professional finished product. It also has a tilting touchscreen to enable versatile shooting angles. This feature often comes in handy when capturing birds in flight or birds in treetops. This bridge camera is also WiFi-enabled to help you transfer your files as quickly as possible.
We believe that this superzoom camera performs decently in low light conditions. However, when compared to other top options, it could be lacking. In addition, the manual override option may be somewhat complex, and the camera might be a bit noisier than expected. For long-distance shooting, this may not be a concern. However, you may want to keep this in mind for close-range photos.
Pros:
Tilting touchscreen facilitates multi-angle shooting
Powerful 25x optical zoom with a 24-600 mm equivalent focal length lens
Pro video features including 4K capability
Super-fast autofocus system
Image stabilisation for sharp images
Cons:
The manual override option may be somewhat complex
It may not perform as well in low light conditions
It might be a bit noisier than other options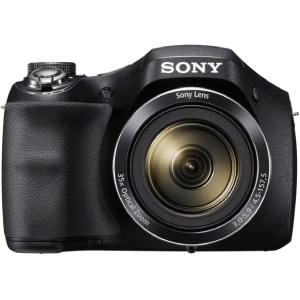 Great for beginners, the Sony DSCH300 bridge camera makes another fantastic choice for bird photography. This camera stands out because of its excellent value paired with an intuitive design and easy-to-use interface. Instead of worrying about how to use it, this camera allows you to get straight to the fun part, shooting photos. It automatically adjusts for twilight shots, a huge perk for birding.
The Sony DSCH300 bridge is built with a 20.1 super HAD CCD megapixel sensor for high-resolution images. With a 35x optical zoom capability, this can easily be considered a superzoom camera. For birding, this makes photographing distant subjects more straightforward and more attainable. A 1cm minimum focus distance also enables macro photography. The zoom lens has an f4.5-157.5mm to top it off, which is an equivalent focal length giving you a range of possibilities.
Digital cameras often find it difficult to remain steady at maximum zoom. This camera features Optical SteadyShot image stabilisation, which can counteract this common issue. It also has an Advanced Flash system for better lighting versatility. The system boosts sensitivity settings automatically to help you capture both brighter and lower light images.
In addition to shooting still images, these superzoom cameras are capable of 720p video capture. The HD video it produces makes this an excellent choice for birding and other styles of video production as well.
While this superzoom camera makes a fantastic value choice, it has the potential to produce less sharp images. Compared to other top options, the autofocus might be a bit slower. Also, it might not be ideal for more advanced photographers, but it still makes a superb choice for a new or intermediate user.
Pros:
Optical SteadyShot image stabilisation increases clarity
Powerful 35x optical zoom lens
Excellent value option for birding
Advanced Flash system technology for better low light image quality
1 cm minimum focus distance enables macro photography
Cons:
The autofocus system may lock on the target somewhat slower than other options
It might not be ideal for more advanced photographers
The image quality could be comparatively less sharp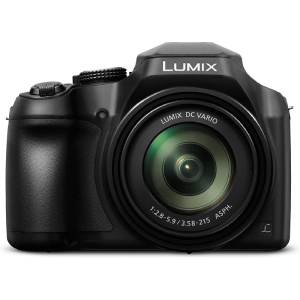 In our opinion, the Panasonic LUMIX DC-FZ82EB-K is the best superzoom camera for birding. Its extreme zoom capabilities make it easier to photograph birds at varying distances. Like other Panasonic cameras, it also boasts a top-quality build that promises to perform for years to come.
This Panasonic LUMIX model camera was designed with a 20-1200mm equivalent focal length in its wide lens. This feature establishes a far-reaching field of view and allows you to take pictures with expansive depth. The lens also facilitates detailed images in varying light conditions, so filming birds at dusk and dawn should not be an issue.
The zoom capability also makes this option stand out for bird photography purposes. It has a massive zoom range that can reach a 60x optical zoom and 120x with the enhanced digital zoom.
For speed, this superzoom camera has a fast autofocus system. It is also able to shoot 30 frames per second. Once you get all the shots you want, Post Focus and Focus Stacking photo editing features ensure excellent image quality. The Post Focus feature is beneficial when photographing moving birds.
These superzoom cameras for birding facilitate 2160p video capture. This high level of videography makes this an excellent camera for vloggers and bird photographers. To make things even easier, it also features WiFi connectivity so you can upload files straight away. There is no need to delay, and you won't have to fiddle with any additional cords.
Panasonic LUMIX DC-FZ82EB-K superzoom cameras for birding might be heavier than some photographers prefer. We also believe WiFi connectivity might benefit from an upgrade as transferring files might not be the easiest. Lastly, some images may not be as sharp as expected. But overall, it is still one of the best superzoom cameras available on the market today.
Pros:
Wide zoom range with 60x optical zoom and 120x digital zoom
Wide 20-1200mm equivalent focal length
Capture video in top quality 2160p
Post Focus and Focus Stacking features for advanced editing purposes
Performs well in various light conditions
Cons:
Some images may be less sharp than expected
The WiFi file transfer process may not be the easiest to use
It might be a bit heavy for some users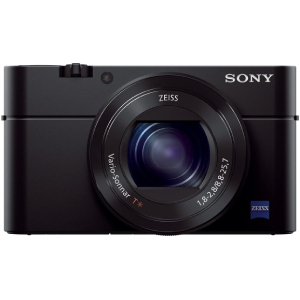 When looking for the best bridge cameras, you should prioritise the excellent image quality feature. We feel confident choosing the Sony RX100 III to join our top 7 list. It facilitates stunning image quality and features a comfortable viewfinder for ease of use.
This bridge camera features a large electronic viewfinder. For some photographers, this can be a highly sought after trait. Looking through an electronic viewfinder helps eliminate the delay between the screen and helps establish steadier images overall. Even the shortest delay can cause a bird photographer to miss their shot. Hence the popularity of viewfinders.
A large image sensor with 20.1 megapixels produces high-resolution photos. The Sony RX100 III bridge camera also contains an autofocus system with motion-tracking and image stabilisation to help you capture birds in flight. When combined, these features also take clear photos with minimal noise. You can also easily view your images with the tilting digital display in real-time.
When it comes to video, this camera can film in 1080p. While this may not be the highest resolution on our list, it still outperforms many competitors. Inbuilt WiFi capabilities also increase user ease and convenience when it comes time to transfer your files. A wide focus range and excellent optics make this a perfect tool for portable bird photography.
This bridge camera could benefit from the addition of a touchscreen. However, this may not be a concern if you prefer to use the viewfinder. In addition, the battery life might be a bit shorter than expected. The screen on the rear might benefit from an upgrade. You may also find that it may be dim in direct sunlight.
Pros:
Steady images are made easy with the electronic viewfinder
Advanced autofocus system with motion tracking
Tilting touchscreen monitor for multi-angle shooting
Top-notch optics for enhanced image quality
Wide focus range and zoom range
Cons:
The screen on the rear may be a bit dim in direct sunlight
It might benefit from the addition of a touchscreen display
The battery life might be a bit shorter than you would expect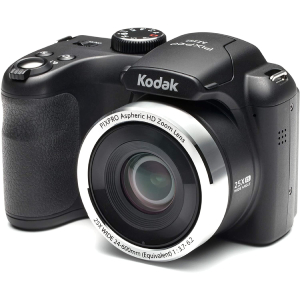 The Kodak AZ252 Astro Zoom bridge camera makes a fantastic choice for beginners and intermediate photographers. This camera features advanced technology and an optical configuration to help you achieve the perfect shot while birding.
Even for a beginner, this camera remains easy to use with its intuitive design. The Kodak AZ252 Astro Zoom contains 16 megapixels, a 25x optical zoom capability, and a 24-600 mm equivalent focal length. This superzoom bridge camera produces high-quality images in various light conditions. Thanks to its optical configuration, this can make capturing birds in their natural environment much more attainable.
This bridge camera features optical image stabilisation to support superb image quality further. Even at the higher end of the zoom range, you can expect to take clear photos without interference from camera movement. A fast autofocus system also enables you to get every shot, even with moving targets like birds.
Moreover, it has a large LCD screen built into the camera body. The bright display helps you capture the perfect shot and view your work as you go. You can also view any video you choose to record directly on the camera screen. Speaking of video, you'll be able to shoot HD video in 720p. This camera gets the job done whether you want to edit video to make still images or simply film birds.
This superzoom camera for birding might not live up to the expectations of more advanced photographers. It could also have somewhat shorter battery life and relatively lower resolution images when compared to other options on our list. But even though that's the case, we still strongly recommend this bridge camera for beginner to intermediate level users.
Pros:
Easy to use for beginner bird photographers
Large LCD screen for convenient viewing
Optical image stabilisation helps prevent camera shake
Fast to focus and capture images
Good zoom lens with a 24-600 mm equivalent focal length
Cons:
It might not entirely meet the expectations of pro bird photographers
It may have a shorter battery life than expected
It could have a lower resolution for images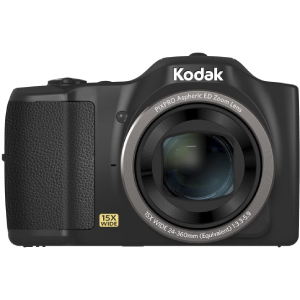 The Kodak PIXPRO FZ152 bridge camera is another fantastic option on our list that is uncomplicated to use. It easily slides into a pocket for portability, and it features intuitive, easy-to-manipulate controls. Whether you are a beginner photographer or a more advanced one, this bridge camera provides you with features essential for bird photography.
With 16 megapixels and 15x optical zoom, capturing shots of birds becomes fun and accessible with this bridge camera. This camera enables continuous shooting to help you capture moving birds. A wide 24mm camera lens also gives you free rein over a wide field of view. This is particularly handy when you are waiting to spot birds and are unsure where they may become visible.
Image stabilisation in this point and shoot camera helps to keep the zoom capabilities steady and eliminates camera shake. A large LCD screen facilitates easy viewing in real-time. The screen also allows you to evaluate your shots before transferring them to a different device for editing.
Slim and compact overall, you can bring this camera anywhere without worrying about additional weight. Bird photographers may also enjoy the 720p video capability of this option. More than that, you can use the video alone or just as a supplement to digital photography.
The Kodak PIXPRO FZ152 might be a bit slower to react when you try to capture changing scenery. It could also have lower image quality and shorter battery life when compared to other top options on our list. However, if you are new to photography or looking for a compact, lighter camera option, this could be the right bridge camera.
Pros:
The slim and compact camera body is easy to transport
24mm lens establishes a wide field of view
A large LCD screen facilitates easy viewing
Optical image stabilisation for steadier image production
Easy-to-use controls are great for beginners
Cons:
It could have a relatively shorter battery life
The autofocus might react somewhat slower to changing scenery
You may experience slightly lower image quality
Choosing a Bridge Camera: Buying Guide
That's all for our best bridge camera reviews. Now let's answer some common questions and determine how to choose the best model for your needs.
What Is a Bridge Camera?
Bridge cameras get their name because they "bridge" the gap between digital SLR cameras and basic compact digital cameras.
Bridge cameras are similar to traditional digital cameras but have more advanced features. They tend to be compact, making them highly portable. They also have a wide zoom range and varying focal lengths. Bridge cameras can often be referred to as superzoom cameras as well.
How Do Bridge Cameras Compare to Other Cameras?
DSLR cameras, bridge, and mirrorless cameras possess top-level features that make them excellent for indoor and outdoor photography. However, there are a few differences to keep in mind.
For example, both DSLR and mirrorless cameras allow you to easily switch out interchangeable lenses for various subjects and situations. While bridge cameras do not facilitate interchangeable lenses, they can still produce high-quality images.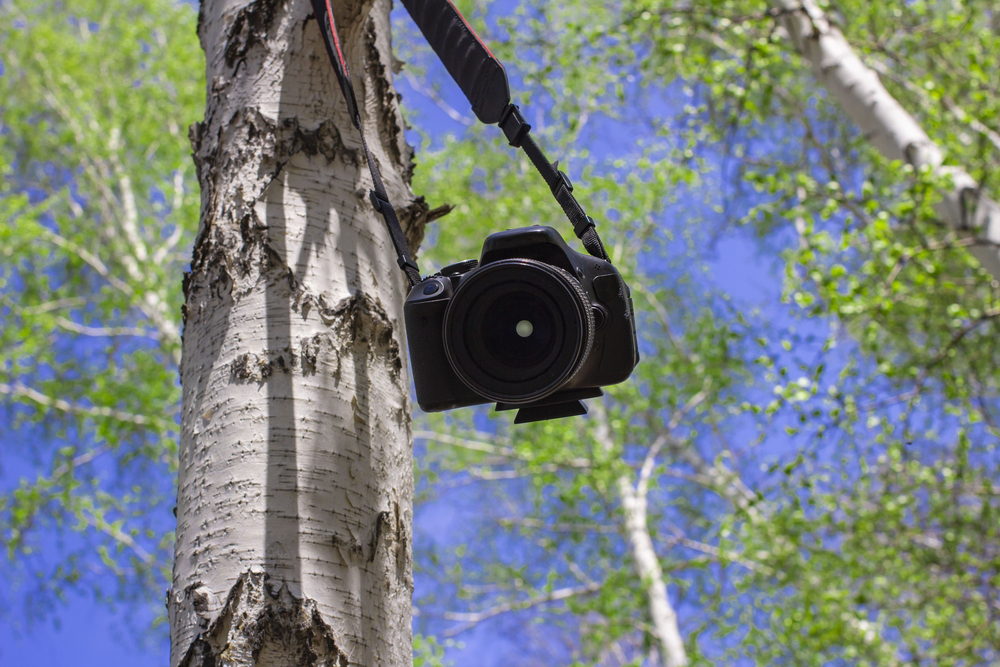 DSLR cameras feature a single lens with a mirror to reflect light. This gives you a direct path for viewing the image with no digital processing in the middle. They were generally considered the camera choice for professional photographers.
Unlike a DSLR, a mirrorless camera does not contain a mirror. But you may have guessed that by now. Instead, light travels into the lens and directly into the camera's sensor. Like a bridge camera, the sensor processes the information received and displays it on the screen. The main drawback to this design is that it can produce a slight delay. But many companies now make their most advanced cameras mirrorless. Mirrorless cameras are also currently making significant advances in technology and performance.
DSLR and mirrorless cameras are usually faster than bridge cameras in terms of speed. They also tend to have better zoom capability than the latter.
However, if you put a premium on portability, both mirrorless and bridge cameras are smaller and more portable than DSLR cameras. Bridge cameras also have fewer accessories to fiddle with while on the go.
Are Bridge Cameras Any Good for Bird and Wildlife Photography?
The best bridge camera for wildlife photography can easily handle birding as well. Bridge cameras make a fantastic portable option. You won't have to worry about switching out lenses quickly either. Simply adjust the zoom based on your subject's location and shoot. Additionally, they tend to have a more straightforward interface than more advanced options, perfect for beginner birding.
What to Look For in Bridge Cameras for Birding
The following traits will give you a good idea of what you are looking for in a bridge camera for birding. No single feature is likely to make or break your whole experience. However, when combined, they can certainly improve it significantly. Look for the traits you value most and ensure the camera you choose has the best quality possible. That way, you should not be disappointed.
Zoom
The optical configuration of a camera is one of the most important things to consider, especially the zoom lens capability. The best superzoom camera for birding will offer a wide zoom range with the ability to shoot far away subjects.
We highly recommend superzoom cameras for birding with a minimum of 20x optical zoom and digital zoom that reaches even further. This will allow you to shoot birds at various distances. Considering most photography of birds is done from a distance, this can make a world of difference.
Low Light Performance
The best bridge cameras for birding should also perform well in low light conditions. Some options have fancy technology to help automatically compensate for various situations. However, the easiest way to assess a camera's low light ability is to look at the focal length.
The focal length of a camera indicates how much light can be let into the lens. The more light allowed to enter, the brighter your images will be. Therefore, a longer focal length will result in better low light performance. Bridge cameras typically feature an equivalent focal length range making them highly versatile.
Speed
You can not depend on birds to sit still while filming and photographing them. For this reason, the best bridge camera should also be fast. Cameras with high shutter speeds facilitate continuous shooting so that you can capture many shots in a single second.
With birds, this helps to minimise the chance of you missing your perfect shot. The more frames per second a camera can be capable of, the better.
Autofocus System
In addition to shutter speed, the autofocus system on a birding bridge camera should also be fast. If not, it won't matter how quick the shutter speed is; your photos will be blurry. Most cameras also give you the option of a manual focus. However, with quick-moving targets like birds, many photographers choose to take advantage of their autofocus.
Look for bridge cameras with a multitude of autofocus points. The more, the better. Image tracking can also significantly improve your photography skill level and help you capture the best bird images possible. Image tracking enables you to keep moving or flying bird focused regardless of their often erratic behaviour.
If you plan on capturing images of birds at a closer range, you may also want to look for a camera with a quiet autofocus system. A loud camera or constantly making noise at a close range can easily disrupt your bird subjects. Remember that birds are often skittish and can easily be scared away, even if you remain silent while shooting them. However, if you plan to primarily do long-distance photography of birds, this factor wouldn't be a big deal in deciding on the best camera.
Image Stabilisation
A top quality image stabilisation system is another critical bridge camera trait for birding. Considering the typically small size of bridge cameras, most photographers use them in a handheld style. They often have a way to connect to a tripod, but using them as a point-and-shoot camera is usually easier.
While this sounds great, it can pose problems with steadiness. Also, the problem often becomes worse the more zoom you utilise. Therefore, image stabilisation becomes an essential trait for birding superzoom cameras. Don't worry; most bridge cameras come equipped with this trait standard.
Image Quality
Finally, you will want to consider the image quality overall. While many of the previous traits we have discussed contribute to better image quality, examining it as a whole can help you choose a better product. Bird photographers rely on their cameras to help them take beautiful photos without noise or harsh edges. Look for these traits, and you can't go wrong.
In addition to the quality of still images, examine a camera's video capability. The best video quality should have a higher resolution. If RAW format video is something you seek, search it out specifically.
The Right Bridge Camera for You
We have provided you with all the information you need when buying your first bridge camera. Please keep in mind that the best bridge camera for birding depends on your preferred specifications and needs. However, if you haven't decided which product to choose, we highly recommend the Panasonic LUMIX DMC-FZ1000EB bridge camera, which is our Editor's Choice.
We love the Panasonic LUMIX DMC-FZ1000EB because it performs excellently in image quality and speed. It is equipped with a powerful 25mm lens, 16x optical zoom, and 4K video capabilities. It also features an advanced autofocus system, excels in low light conditions, and has standard picture plus macro shooting modes. These traits make the Panasonic LUMIX DMC-FZ1000EB the best bridge camera for bird photography, which can cater to beginners or pros in birdwatching.
Do you consider buying this bridge camera anytime soon, or are you eyeing something else? If you do, then what do you like best about it? We would like to know your thoughts. Let us know what you think in the comments below.
Additional Resources
Sam loves to learn about animals and their habitats. He has been a nature lover from a very young age, and has been writing papers and articles about wildlife for as long as he can remember.