Last Updated on
Of the 2500 known moths in Great Britain and Ireland, one of the most recognisable is the Jersey tiger moth (euplagia quadripunctaria). They belong to the genus Euplagia and family Erebidae, and are named for the distinctive markings on their wings, which resemble a tiger's stripes.
Identification
Moth
Jersey tigers are considered medium to large-sized, with a wingspan of approximately 52-65mm. They can have several different colourings and are easily differentiated from other tiger moths. It has a dark forewing wing, primarily with a base colour being black, and the markings normally range from pale yellow (almost white) to orange. They also have a small number of black spots on the hindwings.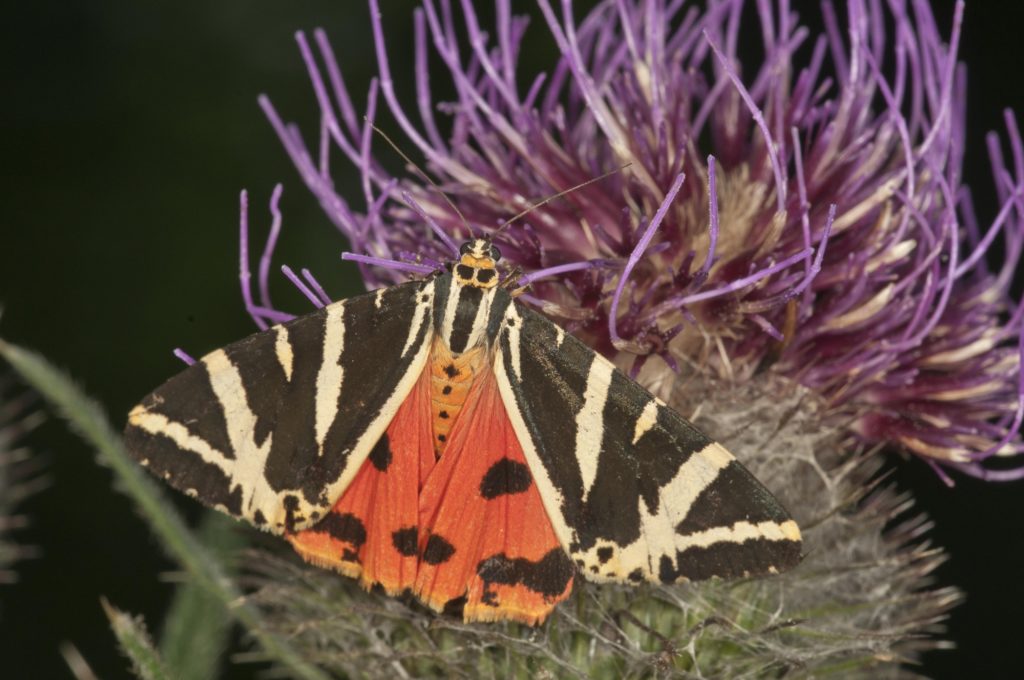 Caterpillar
The caterpillar stage of this insect is made up of hundreds of tiny hairs on its body that are covered in a waxy substance that makes it look fuzzy and brown. The colour of their caterpillars are generally black with numerous small orange dots.
Are Jersey Tiger Moths Rare?
Although the jersey tiger moth is not endangered or threatened, it is extremely localised and so is considered somewhat rare in the UK. Unlike other moths, it has been unaffected by climate change and the general population trend for this species is on the rise.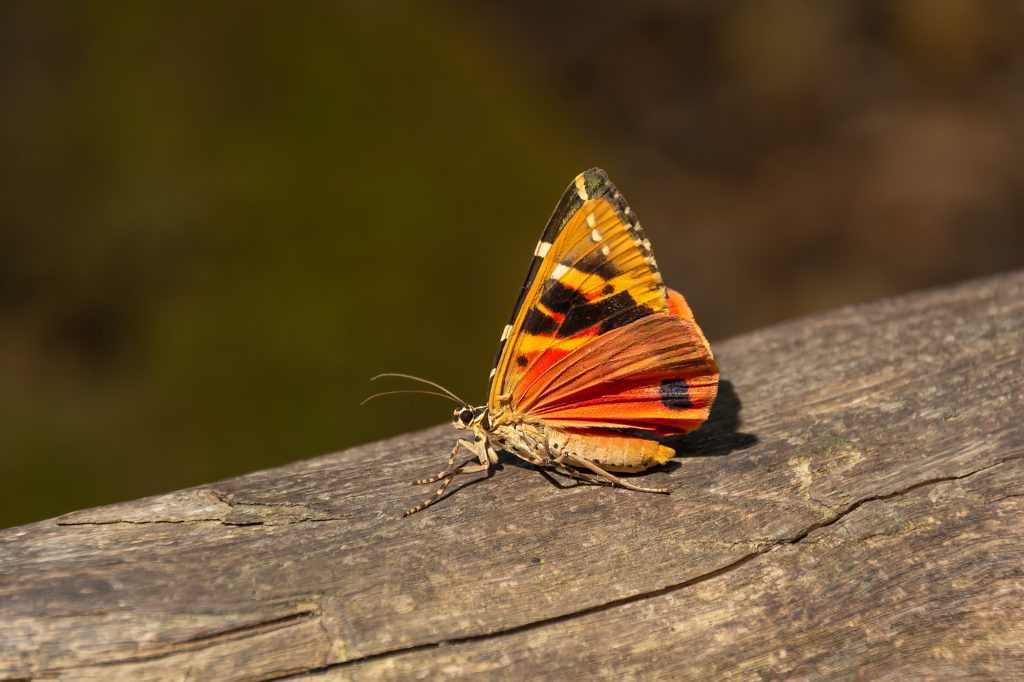 Where Can You See Jersey Tiger Moths?
Jersey tigers can be seen between July and September. You'll often spot the jersey tiger flying around on warm days but sometimes at night too when they are attracted to light.
Geographic
The Jersey tiger moth is rarely seen around the British Isles, but is prevalent around the south coast of England, especially around South Devon and Cornwall. More recently the euplagia quadripunctaria population growing around the Isle Of Wight. This species of moth is also becoming increasingly common around South London.
Habitats
A jersey tiger moth's main habitat includes gardens, coastal cliffs and beaches. They will appear in areas where they can find oak trees as they will spend their young caterpillar stage inside these trees until they mature and turn into moths.
What Do They Eat?
The caterpillars feed on a wide variety of herbaceous plants, some that are considered weeds, such as dandelions, common nettle, white dead nettle, borage ground-ivy and bramble.
The adult jersey tiger moth prefers nectar from flowers. Like the scarlet tiger moth, jersey tigers do not have mouths to eat or drink, so the moths fly from plant to plant searching to find nectar for nourishment. They are able to suck it up through their proboscis, which allows them to eat through a straw-like structure.
Sources and References
Sam loves to learn about animals and their habitats. He has been a nature lover from a very young age, and has been writing papers and articles about wildlife for as long as he can remember.