The Brazilian wandering spider (Phoneutria nigriventer), also known as the armed spider or banana spider, is a deadly spider native to South America. This large, venomous arachnid is widely recognised as one of the most venomous spiders in the world. With a range of fascinating behaviours and unique adaptations, the Brazilian wandering spider has become a subject of interest for scientists and enthusiasts alike.
Physical Characteristics
Brazilian wandering spiders are known for their robust build, long legs, and powerful fangs. They are large spiders, with an average leg span of up to 6 inches (15 cm) and a body length that ranges from 1.7 to 2 inches (4.3 to 5 cm). Their size makes them particularly intimidating to encounter, as they are one of the largest spiders in their region.
The spider's colouration varies depending on the species, but most Brazilian wandering spiders are brownish in colour with black or dark markings. This colouration enables them to blend into their natural habitat, making it easier for them to ambush their prey.
Anatomically, these spiders have a robust body, long and thick legs, and powerful fangs that can deliver venomous bites. Their eyes are arranged in two rows, with a total of eight eyes, which gives them a wide field of vision and the ability to detect motion from various angles. Their chelicerae (fang-bearing mouthparts) are large and powerful, capable of piercing the skin and delivering venom to their prey.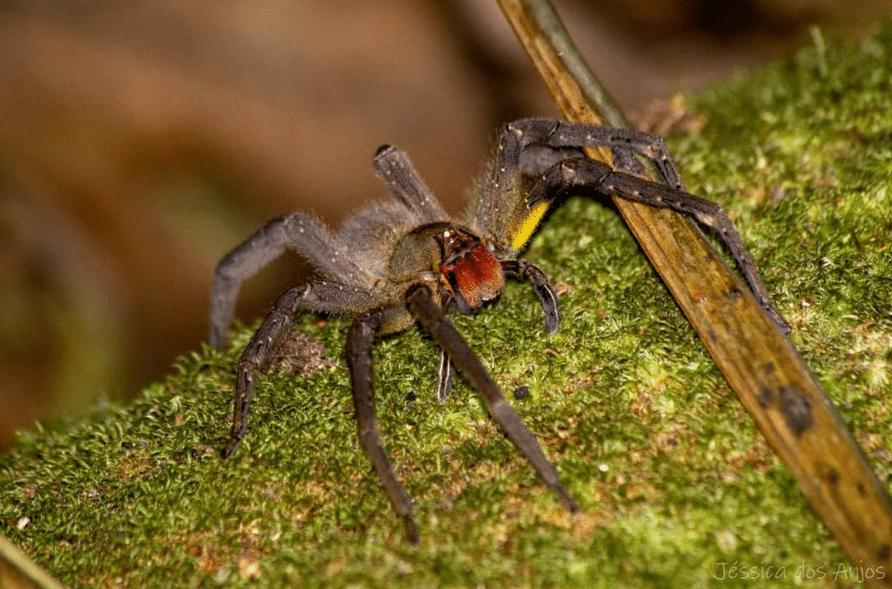 Habitat
Brazilian wandering spiders are primarily found in the tropical rainforests of South America, especially in Brazil, and one species in North America. Their preferred habitat includes a variety of environments ranging from the forest floor to trees and shrubs. The dense vegetation of the rainforest provides them with ample hiding spots, making it easier for them to ambush their prey.
These spiders are highly adaptable and can survive in a range of environments. They have even been found in human settlements, particularly in rural areas where there is less disturbance. In such cases, they may seek refuge in homes, barns, or other structures, especially during periods of heavy rain or when searching for food.
Diet and Hunting Techniques
Brazilian wandering spiders are carnivorous predators that primarily feed on insects, other spiders, and small vertebrates such as lizards and frogs. They have a diverse diet and can consume a wide range of prey, depending on their size and availability.
Unlike many other spiders, Brazilian wandering spiders do not spin webs to catch their prey. Instead, they actively hunt for food, relying on their acute senses, speed, and agility to catch their prey. They use a combination of stealth and ambush tactics to get close to their prey, and then swiftly strike with a venomous bite, immobilising their victim.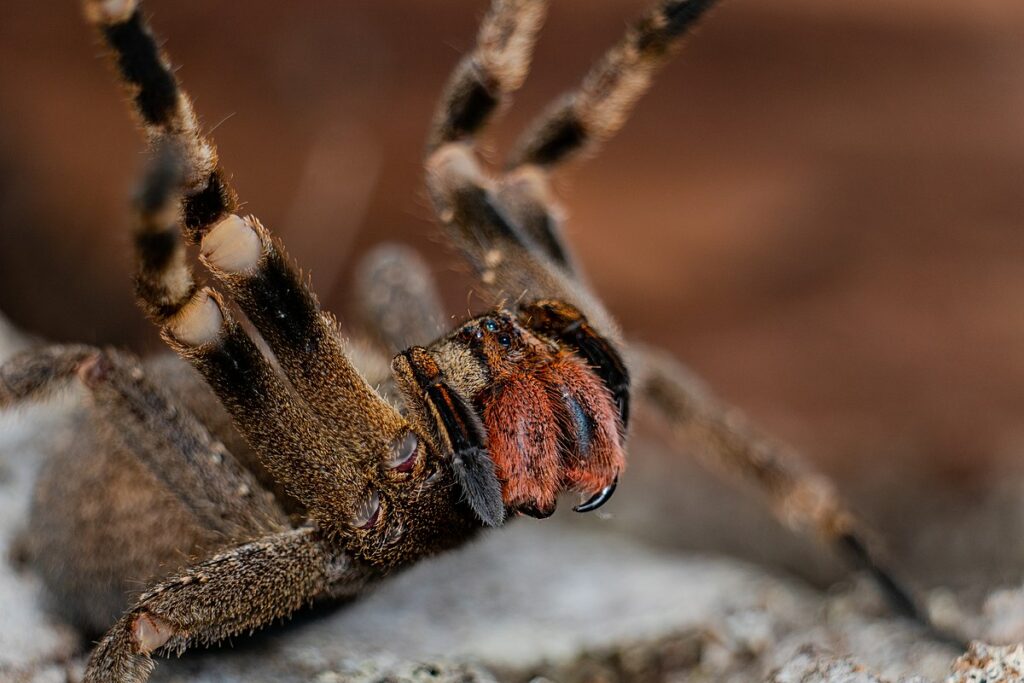 Behaviour
The wandering behaviour of these spiders is what gives them their name. Instead of building a permanent web and waiting for prey to come to them, Brazilian wandering spiders actively search for food. This makes them highly mobile and increases their chances of encountering a wide variety of prey.
When threatened, Brazilian wandering spiders are known for their aggressive behaviour. They may raise their front legs and display their fangs in a defensive posture. This behaviour is a warning to potential predators that they are armed with venom and ready to strike if necessary.
Reproduction
The reproduction process in Brazilian wandering spiders begins with courtship rituals. Males initiate mating by approaching females and signalling their intentions through vibrations and leg movements. Once the female is receptive, the male deposits his sperm into the female's reproductive organs.
After mating, the female lays a clutch of eggs and guards them until they hatch. The spiderlings then disperse to start their independent lives. As they grow, they moult several times, shedding their exoskeletons and developing into mature spiders.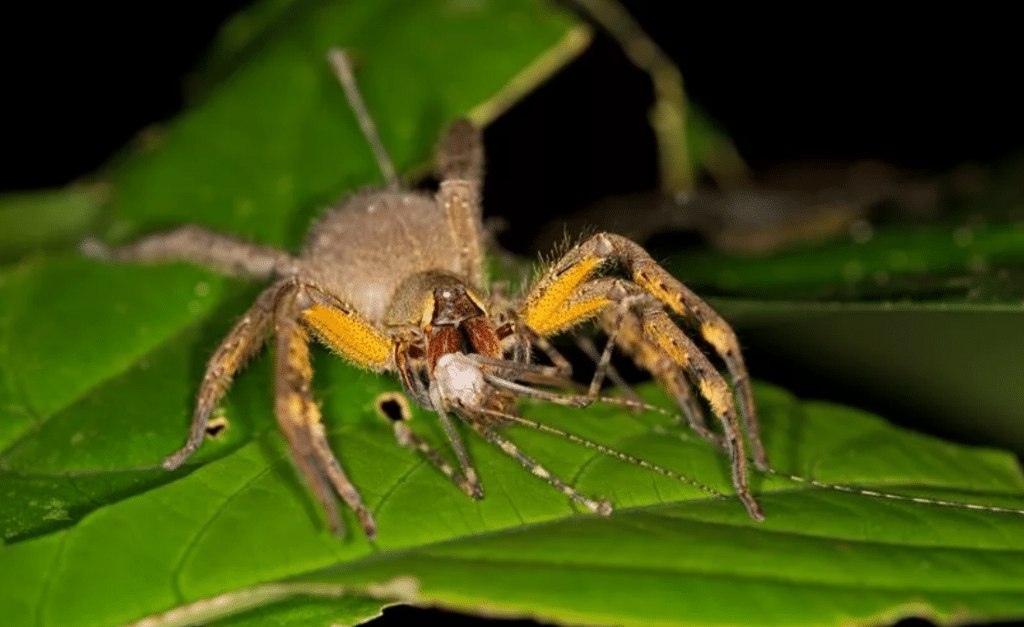 Venom
The Brazilian wandering spider venom is highly potent and contains a mix of toxins, including neurotoxins, proteins, and enzymes. This venom is highly effective at immobilising their prey, making it easier for the spider to consume it.
In humans, the venom can cause a range of symptoms, including intense pain, swelling, excessive sweating, blurred vision, and elevated heart rate. In rare cases, Brazilian wandering spider bite can lead to severe complications or even death. However, with prompt medical treatment, most victims recover without long-term effects.
Brazilian Wandering Spider and Humans
Brazilian wandering spiders are known to occasionally enter human settlements, especially in rural areas. While these encounters can be unnerving, the spiders generally prefer to avoid confrontation with humans.
If you encounter a Brazilian wandering spider, it is important to stay calm and avoid provoking it. If you are bitten, seek medical attention immediately, as prompt treatment is crucial for minimising the effects of the venom.
Conservation Efforts
Conservation efforts are essential for Brazilian wandering spiders, as their natural habitat is increasingly threatened by deforestation, agriculture, and urbanisation. Protecting the rainforests and other natural habitats of these spiders is crucial for their survival.
Interesting Facts
The venom of the Brazilian wandering spider is being studied for potential medical applications, including pain relief and anti-venom development.
Despite their reputation as highly venomous spiders, Brazilian wandering spiders play an important role in controlling insect populations in their ecosystems.
These spiders are also known as "banana spiders" because they have been found in shipments of bananas.
Conclusion
The Brazilian wandering spider (Phoneutria nigriventer) is a remarkable arachnid with unique adaptations and behaviours. Despite their fearsome reputation, these spiders are an essential part of their ecosystems and play a vital role in controlling pest populations. Understanding and respecting these spiders is crucial for their conservation and coexistence with humans.
Sam loves to learn about animals and their habitats. He has been a nature lover from a very young age, and has been writing papers and articles about wildlife for as long as he can remember.